Lion Brand® Truboo Yarn
Lion Brand® Truboo Yarn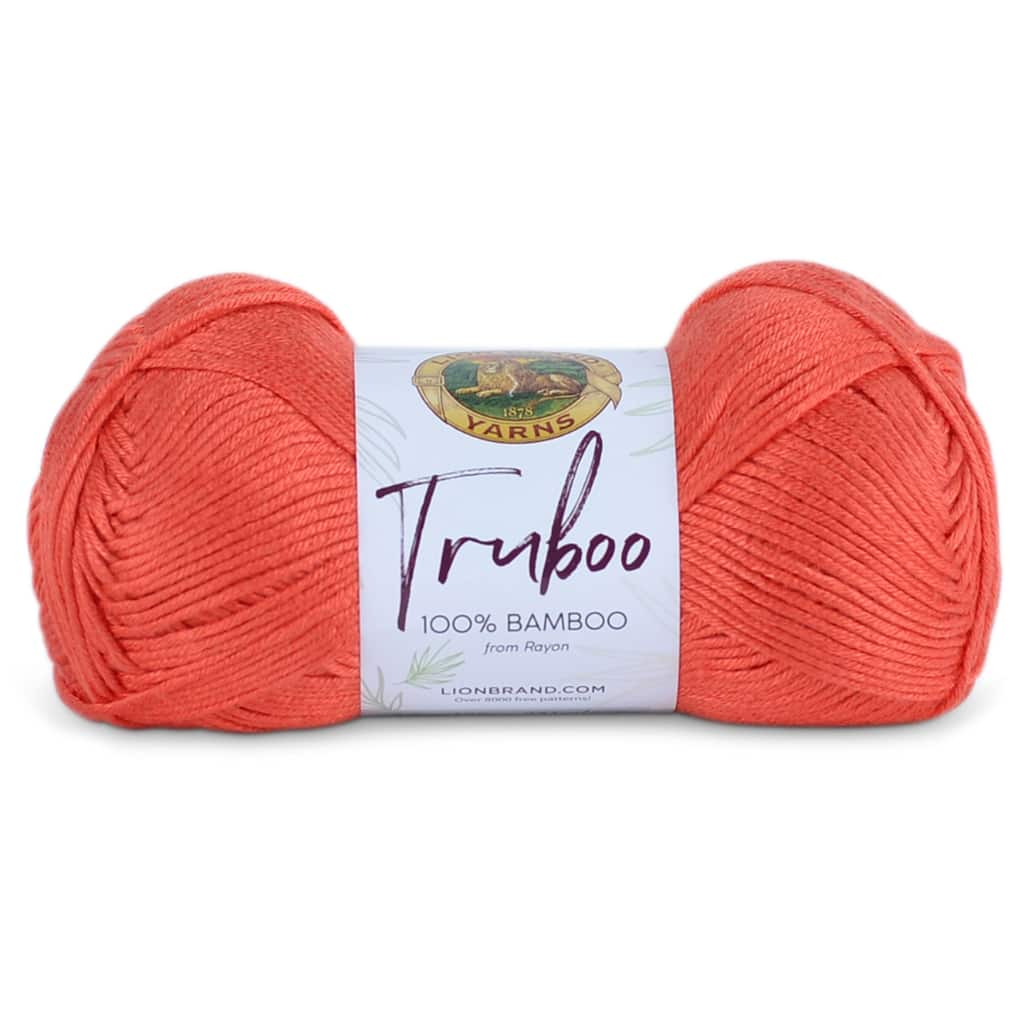 Details
https://canada.michaels.com/en/lion-brand-truboo-yarn/M20002182.html
Variations
Size:

Please Select a Size
---
Oh-so-soft and with a subtle sheen, Truboo is a 100% bamboo yarn with amazing drape. This CYC 3 (light) yarn works up into breezy garments that are perfect for transitioning from spring into summer.

Weight: Light (3)

Contents: 100% rayon from bamboo
Skein Weight: 3.5 oz / 100 g
Yardage: 241 yd / 220 m

Knitting Gauge:
23 sts - 16 rows = 4" (10 cm)
Crochet Gauge:
18 sc - 20 row = 4" (10 cm)

Suggested Knitting Needle:
4mm, US - 6
Suggested Crochet Hook:
4mm, US - G/6
Oh-so-soft and with a subtle sheen, Truboo is a 100% bamboo yarn with amazing drape. This CYC 3 (light) yarn works up into breezy garments that are perfect for transitioning from spring into summer.

Weight: Light (3)

Contents: 100% rayon from bamboo
Skein Weight: 3.5 oz / 100 g
Yardage: 241 yd / 220 m

Knitting Gauge:
23 sts - 16 rows = 4" (10 cm)
Crochet Gauge:
18 sc - 20 row = 4" (10 cm)

Suggested Knitting Needle:
4mm, US - 6
Suggested Crochet Hook:
4mm, US - G/6
jump
---
Oh-so-soft and with a subtle sheen, Truboo is a 100% bamboo yarn with amazing drape. This CYC 3 (light) yarn works up into breezy garments that are perfect for transitioning from spring into summer.

Weight: Light (3)

Contents: 100% rayon from bamboo
Skein Weight: 3.5 oz / 100 g
Yardage: 241 yd / 220 m

Knitting Gauge:
23 sts - 16 rows = 4" (10 cm)
Crochet Gauge:
18 sc - 20 row = 4" (10 cm)

Suggested Knitting Needle:
4mm, US - 6
Suggested Crochet Hook:
4mm, US - G/6
Oh-so-soft and with a subtle sheen, Truboo is a 100% bamboo yarn with amazing drape. This CYC 3 (light) yarn works up into breezy garments that are perfect for transitioning from spring into summer.

Weight: Light (3)

Contents: 100% rayon from bamboo
Skein Weight: 3.5 oz / 100 g
Yardage: 241 yd / 220 m

Knitting Gauge:
23 sts - 16 rows = 4" (10 cm)
Crochet Gauge:
18 sc - 20 row = 4" (10 cm)

Suggested Knitting Needle:
4mm, US - 6
Suggested Crochet Hook:
4mm, US - G/6
Shipping & Returns
jump
---
Shipping & Returns
Shipping
Most products may be shipped via standard ground (delivered in 3-7 business days) or Expedited (1 business day). Orders placed by 11:00 AM Central Time using the Expedited option will ship the same day. View Full Shipping Policy and Pricing ›
Returns
If your Michaels purchase does not meet your satisfaction, you may return it within six months (180 days) of purchase. To return an item, the item must be new, unused and in its original packaging. You may return the item to a Michaels store or by mail. View Full Return Policy ›
From the Manufacturer
jump
Customer Reviews
Lion Brand® Truboo Yarn
is rated out of
5
by
13
.
Rated

5

out of

5
by
LaurenBest
from
Super silky yarn
This yarn is super silky. I love the way it feels and drapes. I use it for weaving and it is strong enough to stand up to any amount of tension I put on it. It's so silky that it's prone to slide out of place as it rolls onto my front beam. I'm able to shift it back into place as I take it off my loom, and it doesn't seem to move much after fulling. Overall I love it. It's so soft, if a little annoying to work with.
Date published: 2020-12-21
Rated

5

out of

5
by
Carie69
from
Truboo yarn
Roses crocheted from this product are beautiful! Could create delicate scarf, purse, and camisole shells.
Date published: 2020-12-08
Rated

5

out of

5
by
Anonymous
from
Better than silk!
Usually I do not buy craft store yarns. I knit and sell shawls from high end natural fibers that I get from yarn stores. However, I just happened to see this yarn at my local Michaels and had to buy some. It feels better than silk! Amazingly soft, shiny and cool to touch that I greatly appreciate in Florida. Unfortunately, my store did not have enough of the colorway I wanted, so I ordered it online and am considering getting more in other colorways. I am willing deal with splittiness to get heavenly garments.
Date published: 2020-12-03
Rated

4

out of

5
by
Legacy
from
So soft!
I've bought this yarn in four colours. So far. While it does split easily, I just have to slow down a bit. Maybe a larger hook would help too. I really like it.
Date published: 2020-12-01
Rated

1

out of

5
by
Nevada Nell
from
Splits
Although this yarn is beautiful to look at, it's extremely hard to work with. It's too splitty, and too slick. I used my bamboo knitting needles and it still slid off my needles. I've been a knitter for 60 years, but this stuff is not fun to work with. I bought 4 skeins and will be returning 3 of them.
Date published: 2020-11-22
Rated

5

out of

5
by
She Tried It
from
Crochet Dress
I was able to make a lovely crochet dress with this beautiful yarn! Its is extremely soft and has the best drape I have ever experienced with any other yarn so far. I will definitely be using this again. I even did a review of it on my youtube channel. She Tried It!
Date published: 2020-11-05
Rated

4

out of

5
by
ilovelowly
from
Silky and heavy
Really nice feeling yarn, very silky with a nice sheen. Nice heavy feeling. Only problem is that the strands separate easily so you have to be careful as you work. I plan to buy 6 more balls tomorrow.
Date published: 2020-11-02
Rated

5

out of

5
by
anisee
from
Feels like a dream, works up like a nightmare
Finally, bamboo yarn is becoming accessible! This yarn is super silky and soft. It's also VERY splitty and slippery. This doesn't mean the yarn is bad quality--that's just how bamboo fibers are, and why the yarn feels so smooth and great. Just be prepared for that. If you have metal hooks or needles, I wouldn't recommend using them, as the yarn will be even more slippery on such a surface. It'd be worth using tools with a little more grip, like certain types or plastic or wood--maybe even bamboo? I love this yarn, and I love bamboo, and hope to see more bamboo and bamboo blends available. It's difficult to work with, but I think the end result--a wonderfully soft garment with a bit of a shine to it--is worth it to me! But it won't be to everyone. Pure bamboo isn't as elastic as some other natural fibers, too, so keep that in mind if stretchiness is important to any project you'd like to use it with!
Date published: 2020-10-13