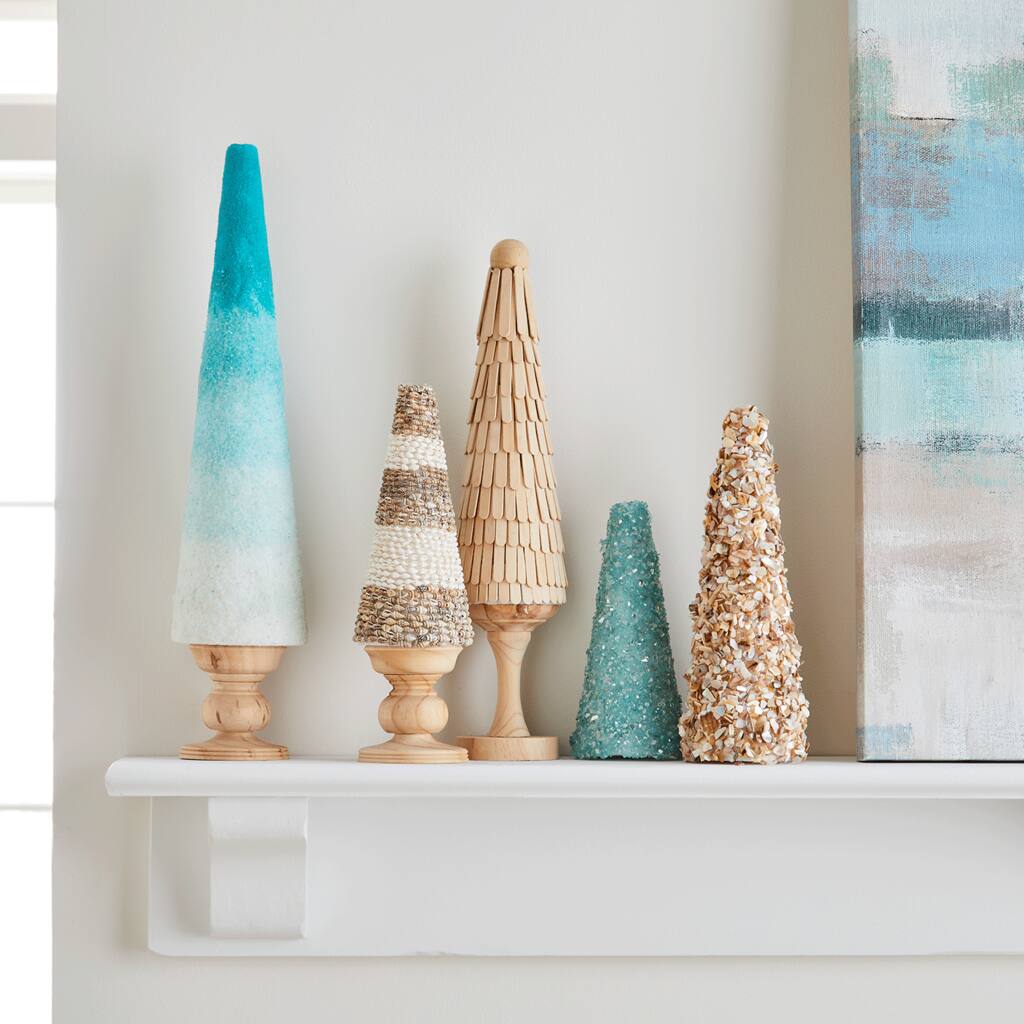 Over an hour
Intermediate
Intermediate
You're somewhat experienced with the skills necessary to complete this project, but you haven't mastered all the elements, yet.
coastal styrofoam® cones
These uniquely covered cones of coastal textures are the perfect complement to your nautical-themed room. Make a grouping for a large impact or even one for a simple accent.
Step 1
These uniquely covered cones of costal textures are the perfect complement to your nautical-themed room. Make a grouping for a large impact or even one for a simple accent. TIP: The crushed glass and crushed shell cones use the same technique for crafting them. Step 1 To make the crushed shell cone, pour some shells onto a wax (or palette) paper. Step 2 Add a 2"x2" section of hot glue to a Styrofoam® cone. While the glue is hot, roll it into the pile of shells. Allow the glue to cool down so the shells adhere to the cone. Step 3 Repeat Steps 1-2 until you have completely covered your cone in crushed shells. TIP: Once finished, look at the overall cone and add more shells or crushed glass as needed. Step 4 Repeat Steps 1-3 with crushed glass. Set them aside. Step 5 To make the ombré sand cone, pour about ½ cup of decoupage glue into your disposable cup. Add some turquoise sand, a little at a time, and stir with a craft stick until the mixture becomes thick and sand is more dominant than glue. Step 6 Use a large paintbrush to "paint" the mixture onto the top 1/5 of a cone. TIP: For best results when making the ombré sand cone, mix one layer of sand at a time to keep mixture fresh while applying. Step 7 For the ombré look, repeat Steps 5-6, for the next layer but this time, add less blue sand and some white sand in the mix. Apply the next, slightly lighter blue layer, to the next 1/5 of your cone. Overlay slightly to blend. Step 8 Repeat Step 7 to continue working down your cone until the last layer is almost all white with a very small hint of blue. Let dry overnight. Step 9 For the unfinished wood cone, use the wire cutters to trim about ½" off the top of each craft stick for your first layer. TIP: you will work from the bottom up to the top with your craft stick layers. Step 10 With the curved side down, attach the craft sticks around the bottom of your cone. The curved end should be flush the with bottom edge. Step 11 Now, add another layer of uncut craft sticks around your cone above the first layer. They should overlap a little to "blend" the layers. Use image as a guide. Step 12 Repeat Step11 to work your way up to the top of your cone. TIP: Trim craft sticks, only as needed, for layer coverage. Step 13 Glue the wooden doll head, flat-side down, to the top of the cone to finish off your cone; then set aside. TIP: Use a watered-down paint finish to fit the colors or style of your home décor and make it a unique piece for your favorite space! Step 14 Finally, to make the seashell cone, find the end where the garland is tied a cut one side of the knot. Remove four (or five) shells. Use the excess string to tie around the next shell and secure with a double knot. Step 15 Use hot glue to attach the double knot to the top flat part of a cone. Begin gluing the strand onto the cone in a circular motion, working in small sections at a time until the cone is covered. TIP: Personalize this project by creating your own pattern on the cone! Step 16 Display your assortment of coastal embellished Styrofoam® cones on wood pedestals at varying heights of wood pedestals and/or flat on your surface. Share your project photos with #MakeItWithMichaels
https://canada.michaels.com/en/coastal-styrofoam%C2%AE-cones/B_89075.html
Products

915464280

You'll Need:

1

Color: Clear
Size: 0.28" x 4"
Count: 18

Color: Clear
Size: 0.28" x 4"
Count: 18

Color: Clear
Size: 0.28" x 4"
Count: 18
https://canada.michaels.com/en/floracraft-florafom-cone-green/10102528.html
Wax (or Palette) Paper
Disposable Cups
Step 1
These uniquely covered cones of costal textures are the perfect complement to your nautical-themed room. Make a grouping for a large impact or even one for a simple accent. TIP: The crushed glass and crushed shell cones use the same technique for crafting them. Step 1 To make the crushed shell cone, pour some shells onto a wax (or palette) paper. Step 2 Add a 2"x2" section of hot glue to a Styrofoam® cone. While the glue is hot, roll it into the pile of shells. Allow the glue to cool down so the shells adhere to the cone. Step 3 Repeat Steps 1-2 until you have completely covered your cone in crushed shells. TIP: Once finished, look at the overall cone and add more shells or crushed glass as needed. Step 4 Repeat Steps 1-3 with crushed glass. Set them aside. Step 5 To make the ombré sand cone, pour about ½ cup of decoupage glue into your disposable cup. Add some turquoise sand, a little at a time, and stir with a craft stick until the mixture becomes thick and sand is more dominant than glue. Step 6 Use a large paintbrush to "paint" the mixture onto the top 1/5 of a cone. TIP: For best results when making the ombré sand cone, mix one layer of sand at a time to keep mixture fresh while applying. Step 7 For the ombré look, repeat Steps 5-6, for the next layer but this time, add less blue sand and some white sand in the mix. Apply the next, slightly lighter blue layer, to the next 1/5 of your cone. Overlay slightly to blend. Step 8 Repeat Step 7 to continue working down your cone until the last layer is almost all white with a very small hint of blue. Let dry overnight. Step 9 For the unfinished wood cone, use the wire cutters to trim about ½" off the top of each craft stick for your first layer. TIP: you will work from the bottom up to the top with your craft stick layers. Step 10 With the curved side down, attach the craft sticks around the bottom of your cone. The curved end should be flush the with bottom edge. Step 11 Now, add another layer of uncut craft sticks around your cone above the first layer. They should overlap a little to "blend" the layers. Use image as a guide. Step 12 Repeat Step11 to work your way up to the top of your cone. TIP: Trim craft sticks, only as needed, for layer coverage. Step 13 Glue the wooden doll head, flat-side down, to the top of the cone to finish off your cone; then set aside. TIP: Use a watered-down paint finish to fit the colors or style of your home décor and make it a unique piece for your favorite space! Step 14 Finally, to make the seashell cone, find the end where the garland is tied a cut one side of the knot. Remove four (or five) shells. Use the excess string to tie around the next shell and secure with a double knot. Step 15 Use hot glue to attach the double knot to the top flat part of a cone. Begin gluing the strand onto the cone in a circular motion, working in small sections at a time until the cone is covered. TIP: Personalize this project by creating your own pattern on the cone! Step 16 Display your assortment of coastal embellished Styrofoam® cones on wood pedestals at varying heights of wood pedestals and/or flat on your surface. Share your project photos with #MakeItWithMichaels
+ View More