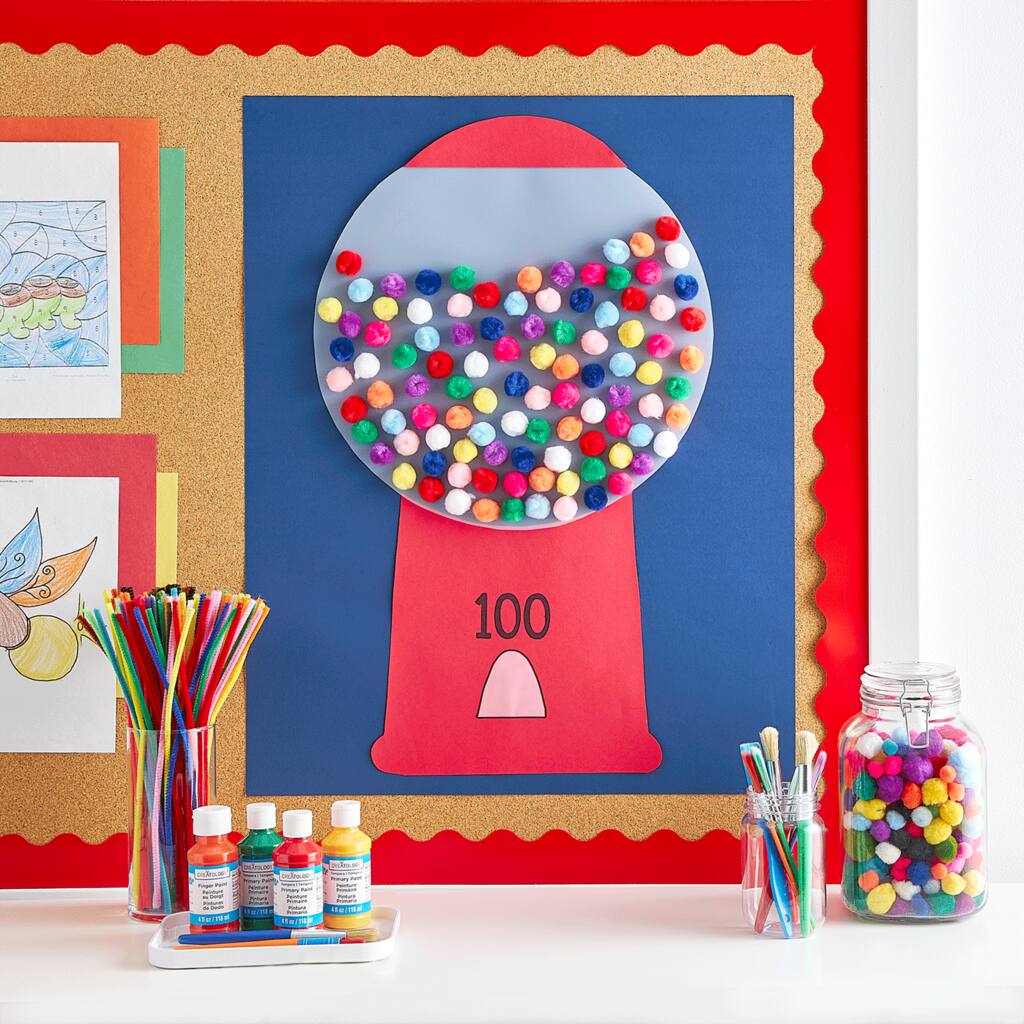 About 30 minutes
Beginner
Beginner
You're new to the skills necessary to complete this project, or maybe you've tried them just once or twice before.
100 days of school gumball machine poster
When it's time to celebrate 100 days of school this colorful poster will make all the kids excited! It is simple to make and creates a colorful tactile experience.
Step 1
When it's time to celebrate 100 days of school this colorful poster will make all the kids excited! It is simple to make and creates a colorful tactile experience. Step 1 Trace the outside of the large wood ring onto the clear poster board. Cut out the circle. Step 2 Draw the base of a gumball machine on a piece of red poster board. Draw a portion of the circle on red poster board to represent the top of the machine. Cut out both pieces. Step 3 Cut a half oval shape out of the clear poster board to represent the opening. Step 4 Glue the base of the gumball machine to a blue full sheet of poster board. Glue on the large clear circle and add the slice of red to the top of the circle. Step 5 Count 100 pom-poms and glue to the clear poster board to represent gumballs for 100 days. Step 6 Finish the poster by writing 100 over the dispenser with a black marker. Share your project photos with #MakeItWithMichaels
https://canada.michaels.com/en/100-days-of-school-gumball-machine-poster/B_88526.html
https://canada.michaels.com/en/pacon-plastic-poster-board-clear/10378153.html
Step 1
When it's time to celebrate 100 days of school this colorful poster will make all the kids excited! It is simple to make and creates a colorful tactile experience. Step 1 Trace the outside of the large wood ring onto the clear poster board. Cut out the circle. Step 2 Draw the base of a gumball machine on a piece of red poster board. Draw a portion of the circle on red poster board to represent the top of the machine. Cut out both pieces. Step 3 Cut a half oval shape out of the clear poster board to represent the opening. Step 4 Glue the base of the gumball machine to a blue full sheet of poster board. Glue on the large clear circle and add the slice of red to the top of the circle. Step 5 Count 100 pom-poms and glue to the clear poster board to represent gumballs for 100 days. Step 6 Finish the poster by writing 100 over the dispenser with a black marker. Share your project photos with #MakeItWithMichaels
+ View More