Craft Smart® Pigment Ink Pad
This ink pad allows you to add vibrant colors or stylish embossing to paper crafts and art projects. Perfect for use with your favorite stamps or embossing powders, this pigment-based ink is slow drying and acid free, so you have time and flexibility to be as creative as you want.
Details:
Available in multiple colors
Acid free
Nontoxic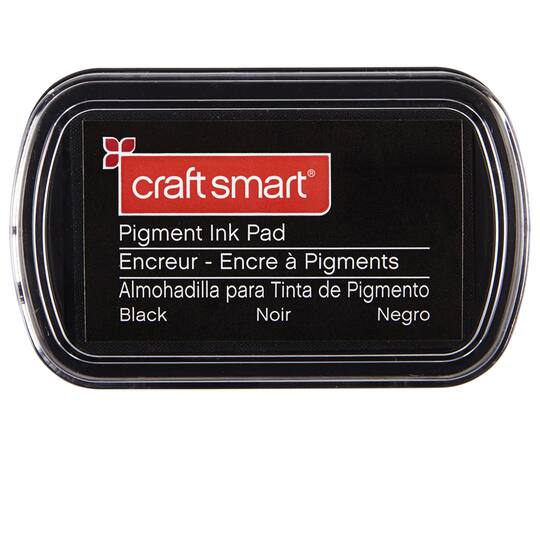 Craft Smart® Pigment Ink Pad is rated out of 5 by 40.
Rated 1 out of 5
by
stampingal
from
Hardly Visible
I bought this stamp set to work on a wedding project. The ink pad either came dried or the ink isn't bright/bold/strong enough to show up on plain white paper.
Date published: 2019-05-25
Rated 1 out of 5
by
SZ8713
from
DOESNT DRY!
I stamped a bunch of bags with this ink 5 days ago and its STILL NOT DRY! I used an embossing heat gun to even try and speed things along. Its still transfering. No idea what to do at this point. And because of this the items I stamped are basically a waste because I don't want to give them out and people have issues with ink transfer. Great.
Date published: 2019-03-18
Rated 2 out of 5
by
Jojo13
from
Won't dry!
I LOVED the color of how it came out against my navy card stock for stationary. It's so rich and vibrant. One problem, it's been two days and remains wet! I'm a little disappointed now
Date published: 2019-02-15
Rated 1 out of 5
by
frannmack
from
Not worth it
I didn't have any problems with pad dryness (though we'll see how it holds up over time). My issue was after use, it never dries! I applied with different amounts of ink on the stamps, on different mediums, etc. and after waiting more than 24 hrs it was still wet and smearing.
Date published: 2019-01-30
Rated 3 out of 5
by
Firefighterfan
from
Stamp pad came in handy
Well i had to used this stamp pad to remember my dog before he was put to sleep. Not that i get a tattoo of his paws but also remember the good times. Now i have stamp pad do some scrapbooking n used the ink to do some projects
Date published: 2018-12-23
Rated 1 out of 5
by
Arzi
from
Not great
The pad was either dried out or the color not mixed well. The color didn't show a nice gold, it was sort of oily and separated.
Date published: 2018-10-21
Rated 4 out of 5
by
ethnicb85
from
Good product
Serves a distinct purpose well. For the price, I'm satisfied.
Date published: 2018-09-06
Rated 5 out of 5
by
Crafting For Me
from
My Mocha Looks Lovely
I was very excited to find the chocolate brown pigment at an affordable price. I could not wait to get home and emboss my coffee beverages on the cards.They are so adorable.
Date published: 2018-06-18