Feather Faux Leather Earrings
These trendy Feather Earrings, made from faux leather, are a cinch to make without the fussy measuring or cutting. So turn on your Cricut® machine and click the provided link, found in the instructions below, to make a pair for yourself!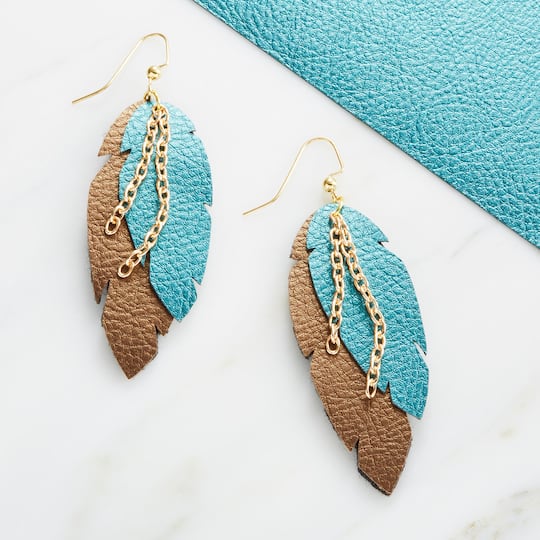 Materials
Instructions
Step 1 This design is all ready for you in Cricut® Design Space™. To go straight there, just click here.
Step 2 Click 'Make It' in the upper right of your screen; then 'Continue' in the lower right of the next screen.
Step 3 Select 'Faux Leather (Paper Thin)'; then place your material, faux leather-side down, onto your cutting mat. Load it into your Cricut® machine and push the blinking Cricut® icon button. When it's done cutting, unload the cutting mat and peel away the material.
Step 4 Repeat Step 3 with your second color of faux leather.
Step 5 Open a jump ring.
TIP: To open and close a jump ring, just grasp the jump ring on both sides with chain nose pliers; then twist the ring open from side to side. Never pull the jump ring's sides apart to open it, which can distort the ring's shape.
Step 6 Take one of each size/color faux leather feathers and slide them onto the open jump ring with the pebbled side of the leather facing the same direction.
Step 7 Cut 3" of Gold chain. Slide the link that is about 1¾" from one end of the chain onto the jump ring in front of the feathers.
Step 8 Slide the loop at the bottom of a fishhook ear wire behind the feathers on the jump ring. Now, close the jump ring.
TIP: Make sure the fishhook earring is facing the right direction to wear, so the chain is the front.
Step 9 Repeat Steps 5-8 for the second earring.
Share your project photos with #MakeItWithMichaels