Fireside Buffalo Check Wood Crate
Bring a touch of cozy farmhouse style to your holiday with our Buffalo Check Wood Crate! We'll show you how easy it is to recreate this iconic plaid pattern in our instructions below. Line up your supplies; then make this rustic DIY!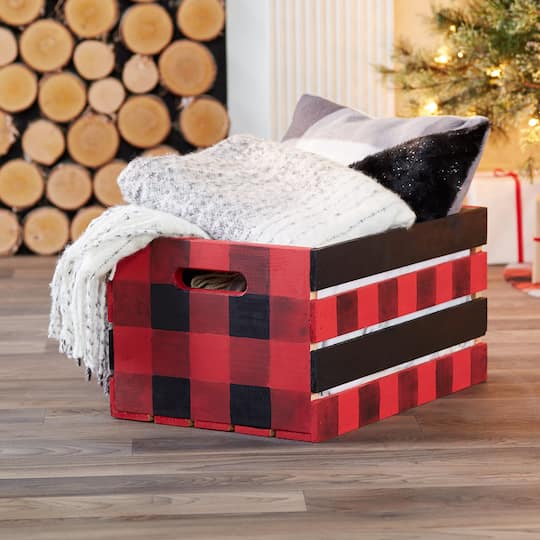 Materials
Instructions
Step 1 First, paint both outside (short) ends of the crate with Ladybug acrylic paint; then let the paint dry. If you'd like more coverage, add a second coat of paint and let that dry, too.
Step 2 Next, paint the slats on both long sides of the crate, alternating Ladybug and Beetle Black acrylic paints. Let this paint dry.
Step 3 Now, you'll paint a buffalo check pattern on each short end of the crate (over the Ladybug paint you added in Step 1). Here's how:
Measure and make a mark every 6 cm across the top and down the side of the crate's short ends.
Draw light pencil lines through each set of marks, horizontally and vertically, to make your grid.
When you're done, each short end's grid should measure five squares across and four squares down, for a total of 20 squares.
Step 4 At one short end of the crate, use Beetle Black paint to fill the squares in a buffalo check pattern. To make the light gray color, just dilute the same black paint with a little water until it becomes translucent. Once you've painted all the checks, let the paint dry and repeat at the crate's opposite end.
TIP: Use the project photo as a guide to make and paint your buffalo check pattern. Or, if you prefer, go rogue and create your own painted design.
Step 5 To finish, paint the inside of the crate with either Ladybug or Beetle Black paint and let the crate dry one more time.
TIP: If you'd like to continue the buffalo check pattern on the red slats across the long sides of the crate, just measure and mark every 5 cm, then use the same technique as in Step 4 to paint every other square.
Share your project photos with #MakeItWithMichaels