Gray Wash Wood Baby Plaque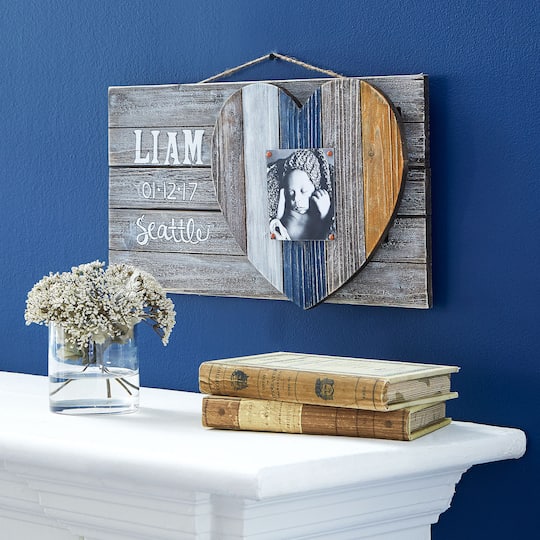 Materials
Instructions
Step 1 Choose the letter stencils needed for the name and place the stencils on top of the plaque. Use a stencil brush to coat each letter to spell out a name. Remove the stencil and let dry. Outline the letters with a fine point black paint pen. Let dry.
TIP: You can also line up the letters one at a time and use a pencil to trace each letter of the name. To finish, fill each of the letters in with a detail brush and white paint.
Step 2 Use a pencil to lightly trace the rest of the information onto the plaque and finish with white paint. Let dry.
Step 3 Print photo of choice and add brads to the corners of the print.
Step 4 Attach the photo to the heart plaque using the dimensional foam dots to raise it up. Use hot glue on the foam dots for additional reinforcement.
Step 5 Use hot glue to attach the heart plaque onto the rectangle plaque to the right of the text.
Share your project photos with #MakeItWithMichaels