Loops & Threads® Vivid Swirl Knit Hat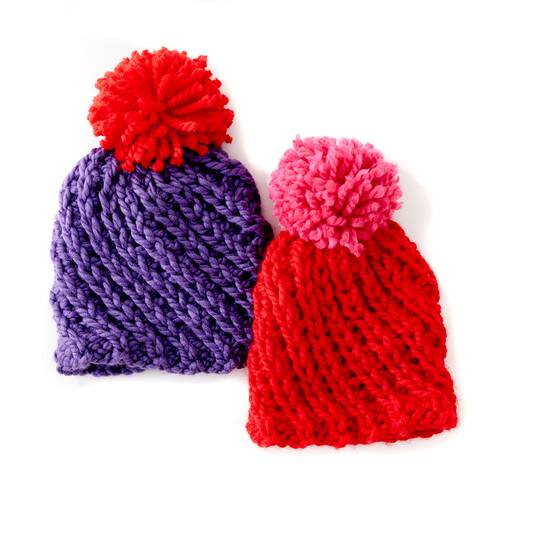 Materials
Instructions
SIZES: Sized for Toddler (Child)
GAUGE: 10 sts and 20 rnds = 4" [10 cm] with larger needles in Pattern.
Project Notes:
Main Color (MC) – Wild Fire or Passion
Contrast A – Passion or Snappy
ABBREVIATIONS
Approx = Approximately
Beg = Beginning
K = Knit
LT = Left twist. Skip next stitch. Knit 2nd stitch through back loop without slipping it off needle. Knit skipped stitch, letting both stitches drop from needle.
P = Purl
Pat = Pattern
Rem = Remaining
Rep = Repeat
Rnd(s) = Round(s)
Sl1 = Slip next stitch purlwise with yarn at back
Ssk = Slip next 2 stitches knitwise, one at a time. Pass them back onto left-hand needle, then knit through back loops together
St(s) = Stitch(es)
INSTRUCTIONS
The instructions are written for smallest size. If changes are necessary for larger size the instructions will be written thus ( ). When only one number is given, it applies to both sizes.
With larger circular needle and MC, cast on 39 (45) sts. Join in rnd, being careful not to twist sts, and place marker for beg of rnd.
1st rnd: *K1. P2. Rep from * around.
2nd rnd: As 1st rnd.
3rd rnd: *Sl1. P2. Rep from * around.
4th rnd: *LT. P1. Rep from * around.
5th rnd: P1. *Sl1. P2. Rep from * to last 2 sts. Sl1. P1.
6th rnd: *P1. LT. Rep from * around.
7th rnd: *P2. Sl1. Rep from * around.
8th rnd: K1. *P1. LT. Rep from * to last st. Note: To work last LT, skip last st. Remove marker. Knit next st. Replace marker. Knit skipped st. This is now the first st in rnd.
Rep 3rd to 8th rnds for pat 3 (4) times more. Hat from beg measures approx 6 (7)" [15 (18) cm].
Note: Change to set of double pointed needles when necessary during shaping.
Shape crown: 1st rnd: *ssk. P1. Rep from * around. 26 (30) sts.
2nd rnd: *Sl1. P1. Rep from * around.
3rd rnd: *ssk. Rep from * around. 13 (15) sts.
Cut yarn, leaving a long end. Thread end through rem sts tightly and fasten securely.
Pom pom: Wind A around 4 fingers 60 times. Tie tightly in the middle and leave a long end for attaching to Hat. Cut loops at both ends and trim to smooth round shape. Sew securely to top of Hat.