Lion Brand® Truboo Yarn
Lion Brand® Truboo Yarn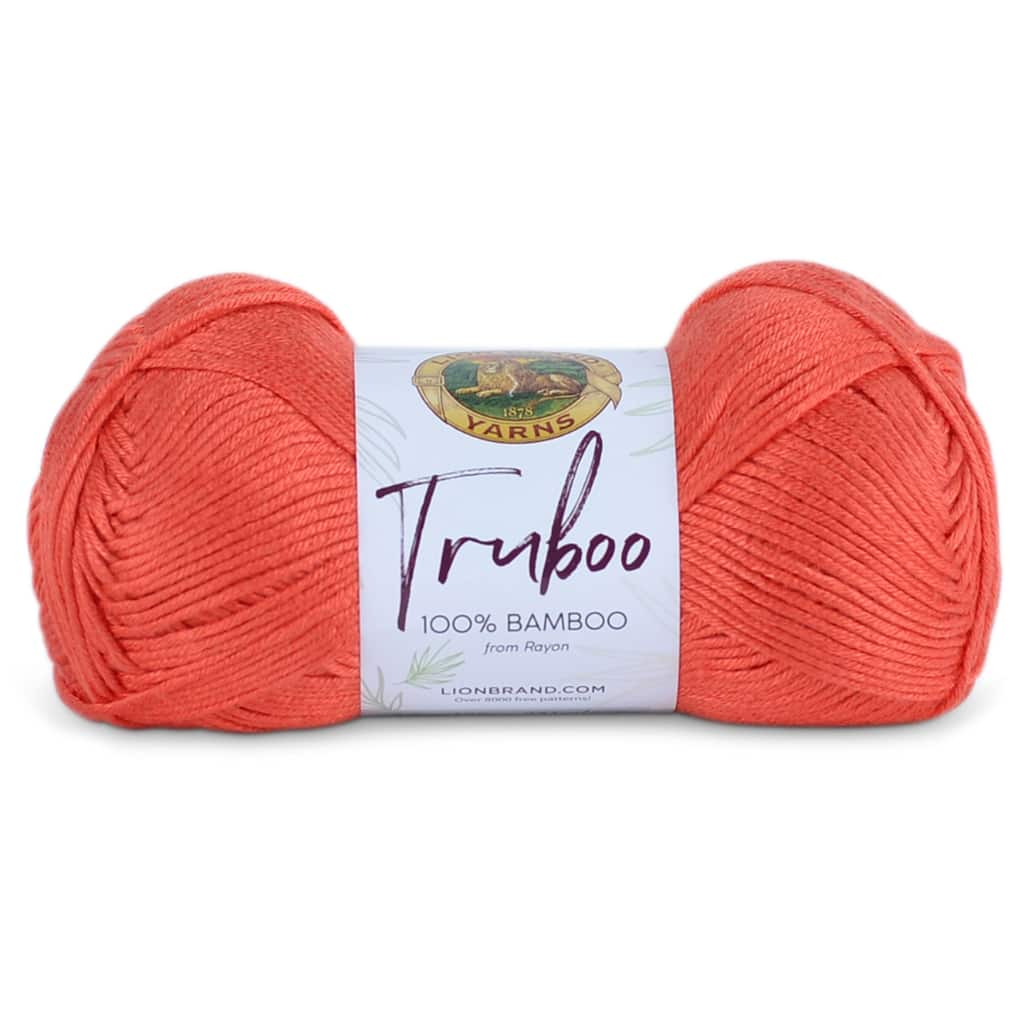 Details
https://canada.michaels.com/en/lion-brand-truboo-yarn/M20002182.html
Variations
Size:

Please Select a Size
---
Oh-so-soft and with a subtle sheen, Truboo is a 100% bamboo yarn with amazing drape. This CYC 3 (light) yarn works up into breezy garments that are perfect for transitioning from spring into summer.

Weight: Light (3)

Contents: 100% rayon from bamboo
Skein Weight: 3.5 oz / 100 g
Yardage: 241 yd / 220 m

Knitting Gauge:
23 sts - 16 rows = 4" (10 cm)
Crochet Gauge:
18 sc - 20 row = 4" (10 cm)

Suggested Knitting Needle:
4mm, US - 6
Suggested Crochet Hook:
4mm, US - G/6
Oh-so-soft and with a subtle sheen, Truboo is a 100% bamboo yarn with amazing drape. This CYC 3 (light) yarn works up into breezy garments that are perfect for transitioning from spring into summer.

Weight: Light (3)

Contents: 100% rayon from bamboo
Skein Weight: 3.5 oz / 100 g
Yardage: 241 yd / 220 m

Knitting Gauge:
23 sts - 16 rows = 4" (10 cm)
Crochet Gauge:
18 sc - 20 row = 4" (10 cm)

Suggested Knitting Needle:
4mm, US - 6
Suggested Crochet Hook:
4mm, US - G/6
jump
---
Oh-so-soft and with a subtle sheen, Truboo is a 100% bamboo yarn with amazing drape. This CYC 3 (light) yarn works up into breezy garments that are perfect for transitioning from spring into summer.

Weight: Light (3)

Contents: 100% rayon from bamboo
Skein Weight: 3.5 oz / 100 g
Yardage: 241 yd / 220 m

Knitting Gauge:
23 sts - 16 rows = 4" (10 cm)
Crochet Gauge:
18 sc - 20 row = 4" (10 cm)

Suggested Knitting Needle:
4mm, US - 6
Suggested Crochet Hook:
4mm, US - G/6
Oh-so-soft and with a subtle sheen, Truboo is a 100% bamboo yarn with amazing drape. This CYC 3 (light) yarn works up into breezy garments that are perfect for transitioning from spring into summer.

Weight: Light (3)

Contents: 100% rayon from bamboo
Skein Weight: 3.5 oz / 100 g
Yardage: 241 yd / 220 m

Knitting Gauge:
23 sts - 16 rows = 4" (10 cm)
Crochet Gauge:
18 sc - 20 row = 4" (10 cm)

Suggested Knitting Needle:
4mm, US - 6
Suggested Crochet Hook:
4mm, US - G/6
Shipping & Returns
jump
---
Shipping & Returns
Shipping
Most products may be shipped via standard ground (delivered in 3-7 business days) or Expedited (1 business day). Orders placed by 11:00 AM Central Time using the Expedited option will ship the same day. View Full Shipping Policy and Pricing ›
Returns
If your Michaels purchase does not meet your satisfaction, you may return it within six months (180 days) of purchase. To return an item, the item must be new, unused and in its original packaging. You may return the item to a Michaels store or by mail. View Full Return Policy ›
From the Manufacturer
jump
Customer Reviews
Lion Brand® Truboo Yarn
is rated out of
5
by
18
.
Rated

4

out of

5
by
sara37
from
Pretty good
Super soft and looks amazing. The only downside is that it splits a lot. It's ok once you get the hang of it but not really as good as other yarn. I still love it though
Date published: 2021-03-29
Rated

5

out of

5
by
Leeloo5
from
This product is marvelous.
I'm not an expert ln crochet, but when I sow this yarn l just love it.t Is soft and silky and drapes beautifully it's worth the effort, not to Let it split, is a fabulous yarn. Wish they have more colors.
Date published: 2021-03-13
Rated

5

out of

5
by
SusieSunshine
from
Beautiful natural fiber!
First of all, ignore the bad reviews that complain about it splitting. It's a NATURAL fiber that doesn't contain chemical binders! If your tension is too loose, its going to split. Tighten up, pay attention, and you will be fine. The end result is a gorgeous, silky masterpiece well worth your time investment.
Date published: 2021-03-06
Rated

5

out of

5
by
BusyMimi
from
Excellent for crochet
Have used it in making crochet items and it works up beautifully. Will purchase again for sure!
Date published: 2021-03-04
Rated

5

out of

5
by
Ladyknit
from
No problems
Due to the reviews with issues of splitting, I was hesitant to buy, but I had to try for myself. I have only made a large swatch but I found no splitting issues nor did it slip off the needles. And I was using my Addi Turbo needles which makes any yarn move on smoother and faster. I started with 4mm needles as recommended, with good result, then switched to 3.5 mm and the result was superior. Now I am planning a Fairisle pattern. Off to the store to buy more colors.
Date published: 2021-01-26
Rated

5

out of

5
by
LaurenBest
from
Super silky yarn
This yarn is super silky. I love the way it feels and drapes. I use it for weaving and it is strong enough to stand up to any amount of tension I put on it. It's so silky that it's prone to slide out of place as it rolls onto my front beam. I'm able to shift it back into place as I take it off my loom, and it doesn't seem to move much after fulling. Overall I love it. It's so soft, if a little annoying to work with.
Date published: 2020-12-21
Rated

5

out of

5
by
Carie69
from
Truboo yarn
Roses crocheted from this product are beautiful! Could create delicate scarf, purse, and camisole shells.
Date published: 2020-12-08
Rated

5

out of

5
by
Anonymous
from
Better than silk!
Usually I do not buy craft store yarns. I knit and sell shawls from high end natural fibers that I get from yarn stores. However, I just happened to see this yarn at my local Michaels and had to buy some. It feels better than silk! Amazingly soft, shiny and cool to touch that I greatly appreciate in Florida. Unfortunately, my store did not have enough of the colorway I wanted, so I ordered it online and am considering getting more in other colorways. I am willing deal with splittiness to get heavenly garments.
Date published: 2020-12-03