Bernat® Handicrafter® Yarn, Ombres
Visit your local store for pricing
Bernat® Handicrafter® Yarn, Ombres
Visit your local store for pricing
Bernat® Handicrafter® Yarn, Ombres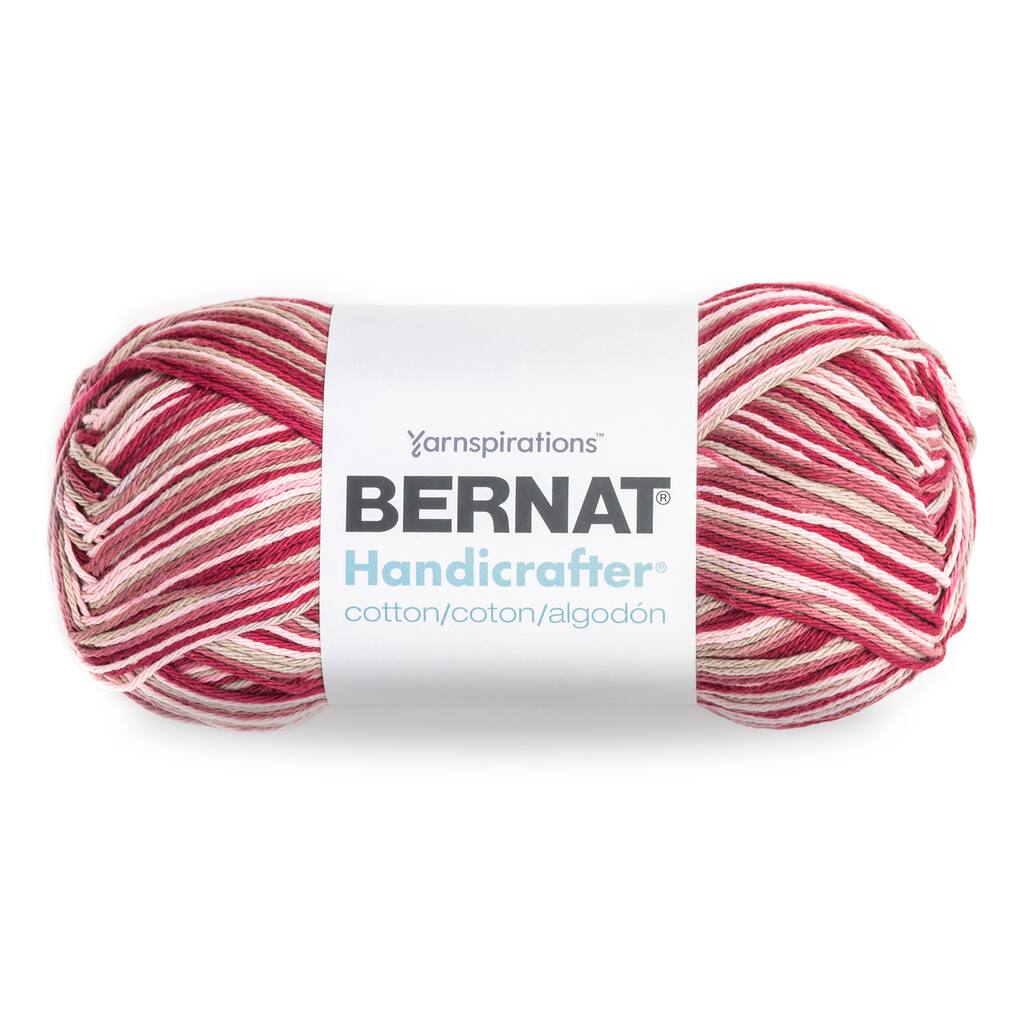 Visit your local store for pricing
Details
https://canada.michaels.com/en/bernat-handicrafter-yarn-ombres/M20001400.html
Variations
Please Select a Color

Size:

Please Select a Size
---
Bernat Handicrafter Yarn Ombres in the economical big ball size is a natural, grown cotton yarn. The perfect choice for your knit and crochet kitchen and home décor needs. Handicrafter is a versatile worsted weight yarn, that's great for small projects like dishcloths and potholders, to home décor staples like afghans! Conveniently machine washable and dry-able for easy care.

Weight: 4 Medium

Content: 100% Cotton
Skein Weight: 12 oz / 340 g
Yardage: 573 yd / 524 m

Knitting Gauge:
20 sts - 26 rows = 4" (10 cm)
Crochet Gauge:
13 sc - 14 rows = 4" (10 cm)

Suggested Knitting Needle:
4.5mm, US-7
Suggested Crochet Hook:
5mm, US- H/8
Bernat Handicrafter Yarn Ombres in the economical big ball size is a natural, grown cotton yarn. The perfect choice for your knit and crochet kitchen and home décor needs. Handicrafter is a versatile worsted weight yarn, that's great for small projects like dishcloths and potholders, to home décor staples like afghans! Conveniently machine washable and dry-able for easy care.

Weight: 4 Medium

Content: 100% Cotton
Skein Weight: 12 oz / 340 g
Yardage: 573 yd / 524 m

Knitting Gauge:
20 sts - 26 rows = 4" (10 cm)
Crochet Gauge:
13 sc - 14 rows = 4" (10 cm)

Suggested Knitting Needle:
4.5mm, US-7
Suggested Crochet Hook:
5mm, US- H/8
jump
---
Bernat Handicrafter Yarn Ombres in the economical big ball size is a natural, grown cotton yarn. The perfect choice for your knit and crochet kitchen and home décor needs. Handicrafter is a versatile worsted weight yarn, that's great for small projects like dishcloths and potholders, to home décor staples like afghans! Conveniently machine washable and dry-able for easy care.

Weight: 4 Medium

Content: 100% Cotton
Skein Weight: 12 oz / 340 g
Yardage: 573 yd / 524 m

Knitting Gauge:
20 sts - 26 rows = 4" (10 cm)
Crochet Gauge:
13 sc - 14 rows = 4" (10 cm)

Suggested Knitting Needle:
4.5mm, US-7
Suggested Crochet Hook:
5mm, US- H/8
Bernat Handicrafter Yarn Ombres in the economical big ball size is a natural, grown cotton yarn. The perfect choice for your knit and crochet kitchen and home décor needs. Handicrafter is a versatile worsted weight yarn, that's great for small projects like dishcloths and potholders, to home décor staples like afghans! Conveniently machine washable and dry-able for easy care.

Weight: 4 Medium

Content: 100% Cotton
Skein Weight: 12 oz / 340 g
Yardage: 573 yd / 524 m

Knitting Gauge:
20 sts - 26 rows = 4" (10 cm)
Crochet Gauge:
13 sc - 14 rows = 4" (10 cm)

Suggested Knitting Needle:
4.5mm, US-7
Suggested Crochet Hook:
5mm, US- H/8
Shipping & Returns
jump
---
Shipping & Returns
Shipping
Most products may be shipped via standard ground (delivered in 3-5 business days) or Expedited (1 business day). Orders placed by 11:00 AM Central Time using the Expedited option will ship the same day. View Full Shipping Policy and Pricing ›
Returns
If your Michaels purchase does not meet your satisfaction, you may return it within two months (60 days) of purchase. To return an item, the item must be new, unused and in its original packaging. You may return the item to a Michaels store or by mail. Effective 11/27/2022 (or November 27, 2022) Clearance sales are considered final, sold AS IS and are not returnable for a refund or exchange. View Full Return Policy ›
From the Manufacturer
jump
Customer Reviews
Bernat® Handicrafter® Yarn, Ombres
is rated out of
5
by
5
.
Rated

5

out of

5
by
Lazy Lizzy
from
Great yarn
Love this yarn, if only Michaels could be competitive in pricing. Walmart's pricing is $5.00 less. No brainer as to where I'll shop
Date published: 2021-08-14
Rated

2

out of

5
by
Jostrut
from
Way Overpriced!
As other reviewers have stated I don't know how Michael's gets away with charging so much more for the exact same product that Walmart sells for $5 less every day!
Date published: 2021-08-06
Rated

4

out of

5
by
toniiii
from
Rough but nice!
I made a market bag & it feels really nice & durable
Date published: 2021-05-25
Rated

5

out of

5
by
BerryEastTor
from
Honest review of the actual yarn
I absolutely love Bernat Handicrafter. Hands down it is my go-to for throws, Afghans, blankets, etc. It works up beautifully and gets softer and softer as time goes on. It's a hardy yarn that ensure your finished piece is an heirloom and not just something you have for a few years. Photographed is the blanket I made for my mom that has been used every night for three years and has held up wonderfully.
Date published: 2020-12-29
Rated

1

out of

5
by
Anonymous
from
Too expensive
1.99÷1.75= 1.14$ per ounce 14.99÷12= 1.25$per ounce It's actually cheaper to buy the smaller packaging !!!! These used to be 10$
Date published: 2020-11-07