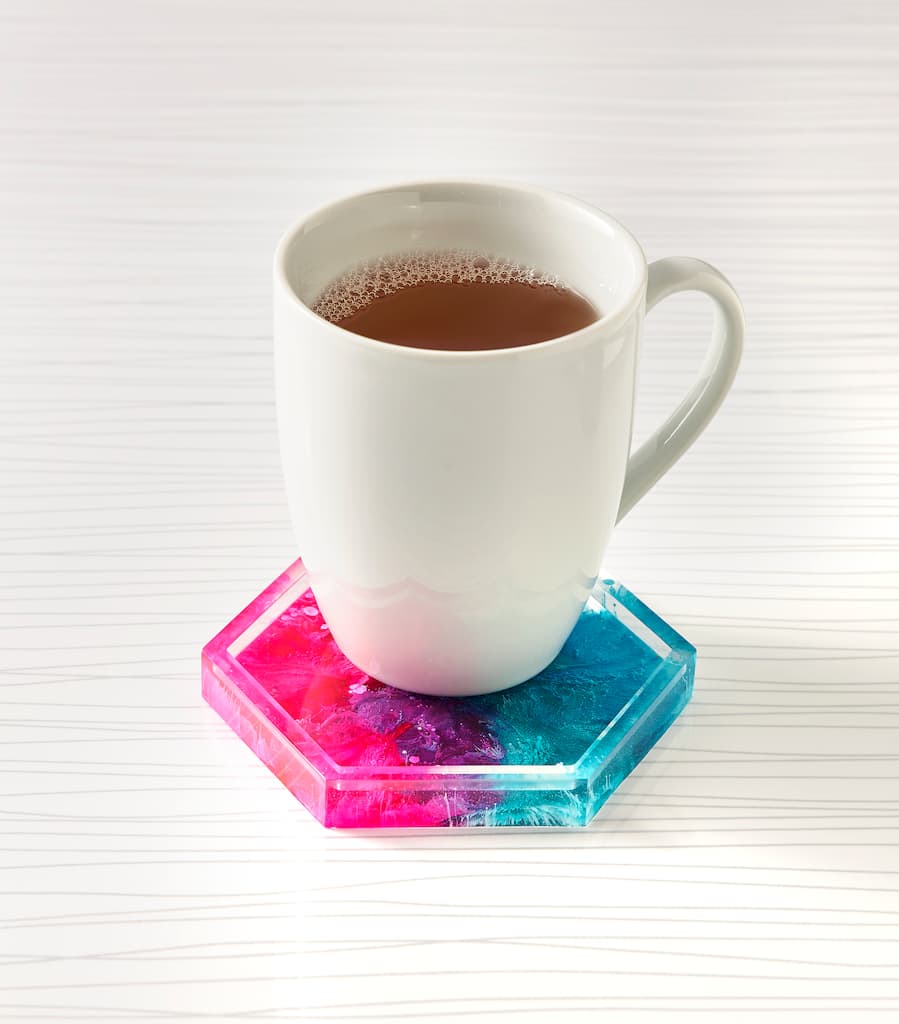 15 minutes or less
Beginner
Beginner
You're new to the skills necessary to complete this project, or maybe you've tried them just once or twice before.
pink and teal uv resin coaster
Try this quick way to make resin beautiful resin coasters! The resin doesn't harden until you expose it to a UV light and the colours are already mixed!
Step 1
Try this quick way to make resin beautiful resin coasters! The resin doesn't harden until you expose it to a UV light and the colors are already mixed! Step 1 Prepare your work area with a plastic drop cloth and wear gloves. Step 2 Fill the resin mold to about 75% on a level surface. Step 3 Place the UV heat lamp over your filled mold and heat as directed on packaging. Step 4 Put the resin mold (with your clear coaster) on a 30° angle using any type of hard surface. Step 5 Pour Hot Pink VU resin in the mold so it fills close to half of the mold and repeat Step 3. Step 6 Turn the mold around and repeat Step 5 with Teal UV Resin. Step 7 Lay your mold flat again and pour purple UV resin down the center so it is level with the Hot Pink and Teal. Repeat Step 3. Step 8 Demold the finished coaster. Share your project photos with #MadeWithMichaels
https://canada.michaels.com/en/pink-and-teal-uv-resin-coaster/B_88664.html
https://canada.michaels.com/en/signature-crafts-light-cure-uv-resin-2.21oz./10625687.html
1 - American Crafts® Resin Molds – Coasters (10626109)
1 - UV Resin – Clear (10625687)
1 - UV Resin – Hot Pink (10625692)
1 - UV Resin – Teal (10625689)
1 - UV Resin – Purple (10625693)
1 - UV Resin Lamp (10626540)
Step 1
Try this quick way to make resin beautiful resin coasters! The resin doesn't harden until you expose it to a UV light and the colors are already mixed! Step 1 Prepare your work area with a plastic drop cloth and wear gloves. Step 2 Fill the resin mold to about 75% on a level surface. Step 3 Place the UV heat lamp over your filled mold and heat as directed on packaging. Step 4 Put the resin mold (with your clear coaster) on a 30° angle using any type of hard surface. Step 5 Pour Hot Pink VU resin in the mold so it fills close to half of the mold and repeat Step 3. Step 6 Turn the mold around and repeat Step 5 with Teal UV Resin. Step 7 Lay your mold flat again and pour purple UV resin down the center so it is level with the Hot Pink and Teal. Repeat Step 3. Step 8 Demold the finished coaster. Share your project photos with #MadeWithMichaels
+ View More