Phentex® Slipper & Craft Yarn
Phentex® Slipper & Craft Yarn
Phentex® Slipper & Craft Yarn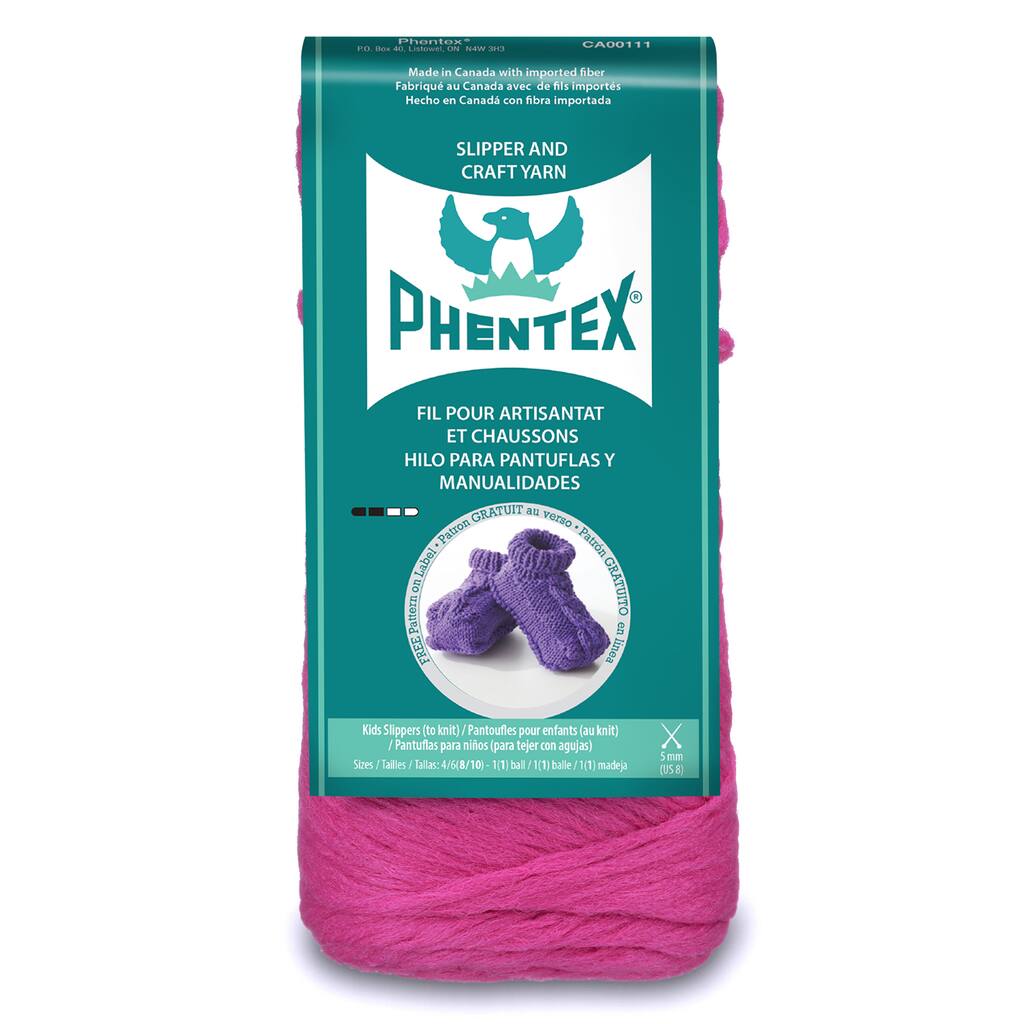 Details
https://canada.michaels.com/en/phentex-slipper-and-craft-yarn/M20001399.html
Variations
Size:

Please Select a Size
---
This slipper and craft yarn is perfect for DIY projects! Fade resistant and vibrant, the material is ideal for knitting, crocheting, and a variety of other activities. It's machine washable and easy to dry, making it effortless to maintain!

Weight: (Medium) (4)

Contents: 100% Olefin
Skein Weight: 3 oz. / 85 g
Yardage: 164 yd. /150 m

Knitting Gauge: 19 sts - 24 rows = 4" (10 cm)
Crochet Gauge: 14 sc - 15 rows = 4" (10 cm)

Suggested Knitting Needle:
4.5 mm (U.S. 7)

Suggested Crochet Hook:
5 mm (U.S. H/8)



This slipper and craft yarn is perfect for DIY projects! Fade resistant and vibrant, the material is ideal for knitting, crocheting, and a variety of other activities. It's machine washable and easy to dry, making it effortless to maintain!

Weight: (Medium) (4)

Contents: 100% Olefin
Skein Weight: 3 oz. / 85 g
Yardage: 164 yd. /150 m

Knitting Gauge: 19 sts - 24 rows = 4" (10 cm)
Crochet Gauge: 14 sc - 15 rows = 4" (10 cm)

Suggested Knitting Needle:
4.5 mm (U.S. 7)

Suggested Crochet Hook:
5 mm (U.S. H/8)



jump
---
This slipper and craft yarn is perfect for DIY projects! Fade resistant and vibrant, the material is ideal for knitting, crocheting, and a variety of other activities. It's machine washable and easy to dry, making it effortless to maintain!

Weight: (Medium) (4)

Contents: 100% Olefin
Skein Weight: 3 oz. / 85 g
Yardage: 164 yd. /150 m

Knitting Gauge: 19 sts - 24 rows = 4" (10 cm)
Crochet Gauge: 14 sc - 15 rows = 4" (10 cm)

Suggested Knitting Needle:
4.5 mm (U.S. 7)

Suggested Crochet Hook:
5 mm (U.S. H/8)



This slipper and craft yarn is perfect for DIY projects! Fade resistant and vibrant, the material is ideal for knitting, crocheting, and a variety of other activities. It's machine washable and easy to dry, making it effortless to maintain!

Weight: (Medium) (4)

Contents: 100% Olefin
Skein Weight: 3 oz. / 85 g
Yardage: 164 yd. /150 m

Knitting Gauge: 19 sts - 24 rows = 4" (10 cm)
Crochet Gauge: 14 sc - 15 rows = 4" (10 cm)

Suggested Knitting Needle:
4.5 mm (U.S. 7)

Suggested Crochet Hook:
5 mm (U.S. H/8)



Shipping & Returns
jump
---
Shipping & Returns
Shipping
Most products may be shipped via standard ground (delivered in 3-5 business days) or Expedited (1 business day). Orders placed by 11:00 AM Central Time using the Expedited option will ship the same day. View Full Shipping Policy and Pricing ›
Returns
If your Michaels purchase does not meet your satisfaction, you may return it within two months (60 days) of purchase. To return an item, the item must be new, unused and in its original packaging. You may return the item to a Michaels store or by mail. Effective 11/27/2022 (or November 27, 2022) Clearance sales are considered final, sold AS IS and are not returnable for a refund or exchange. View Full Return Policy ›
From the Manufacturer
jump
Customer Reviews
Phentex® Slipper & Craft Yarn
is rated out of
5
by
20
.
Rated

5

out of

5
by
KKDesigns
from
Best & only yarn I would use to make slippers.
This yarn makes wonderful slippers. They stretch to fit your feet but don't stretch out of shape. Very warm and non- slippery on most floors.
Date published: 2021-04-22
Rated

5

out of

5
by
Jeannette3
from
Best yarn for slippers
This is the best yarn for slippers! Can't beat it's durability. I have been making slippers with this yarn for 35 years. Slippers will last for years.
Date published: 2021-03-28
Rated

1

out of

5
by
Keekee616
from
Very hard to work with
Bought a couple of balls to make a pair of slippers and found it extremely hard to work with, kept on snagging and cause it doesn't stretch didn't help. Material was scratchy to touch, not comfortable to wear
Date published: 2021-03-09
Rated

2

out of

5
by
Ginette T.
from
Phentex slippers
Why is the Phentex slipper yarn thinner than what it used to be years ago? In the year 70 and 80, I used to be able to knit 1 pair of adult slipper and one pair for children with 2 balls for the corn slipper pattern. Now, the yarn seems to be thinner and I can knit only 1 adult pair of slipper. I have approximately 8 feet of yarn left. I have to double the yarn to make the slippers to last longer. Without this approach, they are too thin. Therefore, I have to use 4 balls of yarns to knit a pair of slippers if I want them to last at least a year.
Date published: 2021-03-06
Rated

3

out of

5
by
S.B.
from
Very durable but rough
Not suitable for anything that will touch bare skin. It's rough and sturdy, holds its shape really well. Difficult to crochet, splits a lot.
Date published: 2021-01-08
Rated

3

out of

5
by
Anonymous
from
well packaged
I bought this to make socks. It is well packaged. The material is strong. However, I do not have carpeting. I have linoleum and hard wood floors. I would not recommend this product for those floors as it poses a risk for slipping and falling. That is why I gave it 3 stars.
Date published: 2019-09-10