Phentex® Slipper & Craft Yarn
Phentex® Slipper & Craft Yarn
Phentex® Slipper & Craft Yarn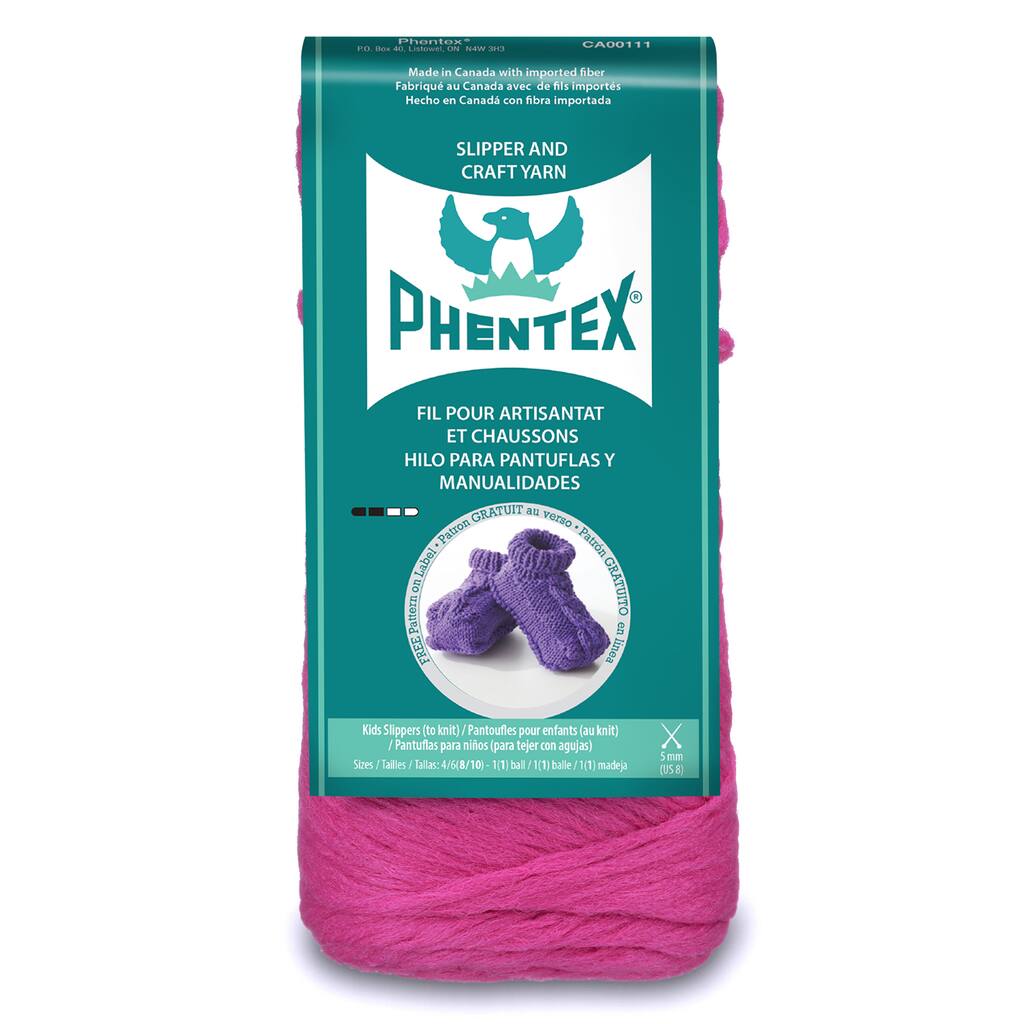 Details
https://canada.michaels.com/en/phentex-slipper-and-craft-yarn/M20001399.html
Variations
Size:

Please Select a Size
---
This slipper and craft yarn is perfect for DIY projects! Fade resistant and vibrant, the material is ideal for knitting, crocheting, and a variety of other activities. It's machine washable and easy to dry, making it effortless to maintain!

Weight: (Medium) (4)

Contents: 100% Olefin
Skein Weight: 3 oz. / 85 g
Yardage: 164 yd. /150 m

Knitting Gauge: 19 sts - 24 rows = 4" (10 cm)
Crochet Gauge: 14 sc - 15 rows = 4" (10 cm)

Suggested Knitting Needle:
4.5 mm (U.S. 7)

Suggested Crochet Hook:
5 mm (U.S. H/8)



This slipper and craft yarn is perfect for DIY projects! Fade resistant and vibrant, the material is ideal for knitting, crocheting, and a variety of other activities. It's machine washable and easy to dry, making it effortless to maintain!

Weight: (Medium) (4)

Contents: 100% Olefin
Skein Weight: 3 oz. / 85 g
Yardage: 164 yd. /150 m

Knitting Gauge: 19 sts - 24 rows = 4" (10 cm)
Crochet Gauge: 14 sc - 15 rows = 4" (10 cm)

Suggested Knitting Needle:
4.5 mm (U.S. 7)

Suggested Crochet Hook:
5 mm (U.S. H/8)



jump
---
This slipper and craft yarn is perfect for DIY projects! Fade resistant and vibrant, the material is ideal for knitting, crocheting, and a variety of other activities. It's machine washable and easy to dry, making it effortless to maintain!

Weight: (Medium) (4)

Contents: 100% Olefin
Skein Weight: 3 oz. / 85 g
Yardage: 164 yd. /150 m

Knitting Gauge: 19 sts - 24 rows = 4" (10 cm)
Crochet Gauge: 14 sc - 15 rows = 4" (10 cm)

Suggested Knitting Needle:
4.5 mm (U.S. 7)

Suggested Crochet Hook:
5 mm (U.S. H/8)



This slipper and craft yarn is perfect for DIY projects! Fade resistant and vibrant, the material is ideal for knitting, crocheting, and a variety of other activities. It's machine washable and easy to dry, making it effortless to maintain!

Weight: (Medium) (4)

Contents: 100% Olefin
Skein Weight: 3 oz. / 85 g
Yardage: 164 yd. /150 m

Knitting Gauge: 19 sts - 24 rows = 4" (10 cm)
Crochet Gauge: 14 sc - 15 rows = 4" (10 cm)

Suggested Knitting Needle:
4.5 mm (U.S. 7)

Suggested Crochet Hook:
5 mm (U.S. H/8)



Shipping & Returns
jump
---
Shipping & Returns
Shipping
Most products may be shipped via standard ground (delivered in 3-5 business days) or Expedited (1 business day). Orders placed by 11:00 AM Central Time using the Expedited option will ship the same day. View Full Shipping Policy and Pricing ›
Returns
If your Michaels purchase does not meet your satisfaction, you may return it within two months (60 days) of purchase. To return an item, the item must be new, unused and in its original packaging. You may return the item to a Michaels store or by mail. Effective 11/27/2022 (or November 27, 2022) Clearance sales are considered final, sold AS IS and are not returnable for a refund or exchange. View Full Return Policy ›
From the Manufacturer
jump
Customer Reviews
Phentex® Slipper & Craft Yarn
is rated out of
5
by
11
.
Rated

3

out of

5
by
Evelynmast
from
Phentex wool
I wish have more colors then what you have
Date published: 2023-01-11
Rated

3

out of

5
by
Evelyn55
from
Phentex wool
I have been looking for dark green, this the only place I can get my wool from
Date published: 2022-12-27
Rated

1

out of

5
by
omgitsstar
from
worst yarn i've ever used!
i bought this yarn for my first attempt at crochet, and all i gotta say is do NOT make my mistake. the yarn made a horrible squeaking sound whenever you touched the skein, it felt like cheap, rough plastic while crocheting, and it kept getting snagged on my hook because the fibres are not twisted together whatsoever! i had to work at a snail's pace through my project, and i was so relieved when i ran out of yarn before my project was done. easy to say that i don't recommend this yarn whatsoever, acrylic yarn has been such a dream to work with in comparison to this, but i would recommend literally any other yarn besides this.
Date published: 2022-11-01
Rated

3

out of

5
by
Evemm
from
Phentex
I wish you have more colors
Date published: 2022-11-01
Rated

3

out of

5
by
Karen
from
It was the best of yarns, it was the worst of yarns
Phentex has to be one of the most frustrating yarns to work with! It feels horrible in the hands and on a scale of softness, it's akin to sandpaper. That being said, I have a weird fondness for it. It makes the best, sturdiest exfoliating bath scrubby mitts that don't get moldy or smelly. I've found that using a bamboo crochet hook with a blunt tip makes this yarn a bit more user-friendly. The fibers of this yarn are super durable, but not really spun and split terribly with other more pointed hooks.
Date published: 2022-02-02
Rated

5

out of

5
by
KKDesigns
from
Best & only yarn I would use to make slippers.
This yarn makes wonderful slippers. They stretch to fit your feet but don't stretch out of shape. Very warm and non- slippery on most floors.
Date published: 2021-04-22
Rated

5

out of

5
by
Jeannette3
from
Best yarn for slippers
This is the best yarn for slippers! Can't beat it's durability. I have been making slippers with this yarn for 35 years. Slippers will last for years.
Date published: 2021-03-28
Rated

1

out of

5
by
Keekee616
from
Very hard to work with
Bought a couple of balls to make a pair of slippers and found it extremely hard to work with, kept on snagging and cause it doesn't stretch didn't help. Material was scratchy to touch, not comfortable to wear
Date published: 2021-03-09