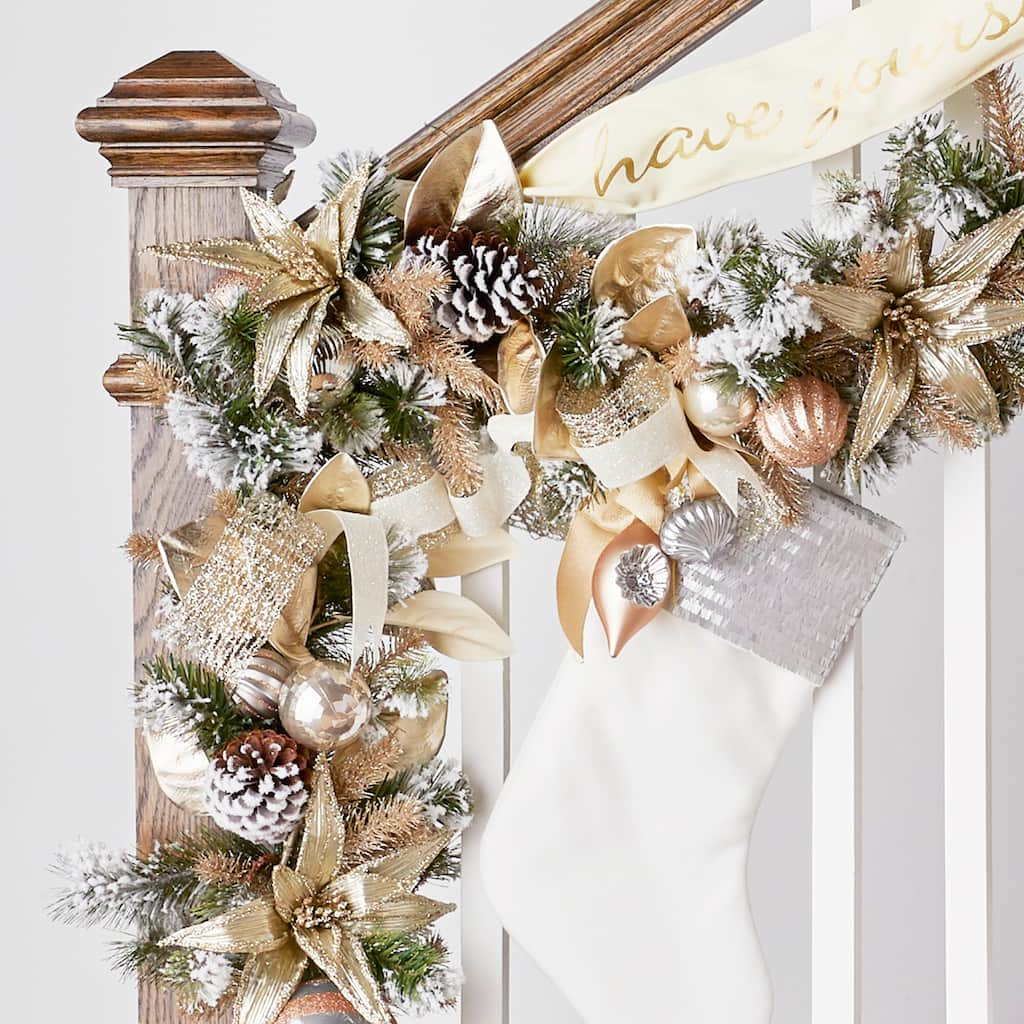 About an hour
Intermediate
Intermediate
You're somewhat experienced with the skills necessary to complete this project, but you haven't mastered all the elements, yet.
christmas décor guide: metallic christmas staircase garland
This elegant garland will impress any guest. The metallic tones, textures and words together create a statement to your staircase but especially look classy next to a colour coordinated tree.
Step 1
This elegant garland will impress any guest. The metallic tones, textures and words together create a statement to your staircase but especially classy next to a color coordinated tree. Step 1 Fluff your greenery garland so the branches are separated. Lay a Gold glitter garland on top of the greenery one and twist the branches around so it looks like one full garland. TIP: Build this garland on the floor or a table where you can spread it out and fluff the branches for a professional look. Step 2 Trim the stem of the poinsettia to 6"-8" long. Shape the petals and leaves to look like a real flower. Tuck the stem into the garland and use wire to attach. Repeat this until all stems are spaced out and attached. Step 3 Cut metallic magnolia leaves into sections and wire them into the garland. Step 4 Cut cluster three ornaments together with wire. Be sure to cut the wire long enough to also wire into the garland. Build clusters in threes with all of your ornaments, then wire them into the garland between the poinsettia and leaves. Step 5 Now, wire ribbons in sections to the garland and make large loops. Weave the ribbon throughout the garland in grand curves for a dramatic statement. Step 6 At the ends of the garland, add a large ribbon bow and allow long tails to hang from the bows. Step 7 Attach your garland to the bannister of your staircase with Gold wire (or even Command™ hooks!). Step 8 Finally, layer a large banner ribbon across the garland. Share your project photos with #MakeItWithMichaels
https://canada.michaels.com/en/metallic-christmas-staircase-garland/B_87935.html
https://canada.michaels.com/en/metallic-christmas-staircase-garland/B_87935.html
Step 1
This elegant garland will impress any guest. The metallic tones, textures and words together create a statement to your staircase but especially classy next to a color coordinated tree. Step 1 Fluff your greenery garland so the branches are separated. Lay a Gold glitter garland on top of the greenery one and twist the branches around so it looks like one full garland. TIP: Build this garland on the floor or a table where you can spread it out and fluff the branches for a professional look. Step 2 Trim the stem of the poinsettia to 6"-8" long. Shape the petals and leaves to look like a real flower. Tuck the stem into the garland and use wire to attach. Repeat this until all stems are spaced out and attached. Step 3 Cut metallic magnolia leaves into sections and wire them into the garland. Step 4 Cut cluster three ornaments together with wire. Be sure to cut the wire long enough to also wire into the garland. Build clusters in threes with all of your ornaments, then wire them into the garland between the poinsettia and leaves. Step 5 Now, wire ribbons in sections to the garland and make large loops. Weave the ribbon throughout the garland in grand curves for a dramatic statement. Step 6 At the ends of the garland, add a large ribbon bow and allow long tails to hang from the bows. Step 7 Attach your garland to the bannister of your staircase with Gold wire (or even Command™ hooks!). Step 8 Finally, layer a large banner ribbon across the garland. Share your project photos with #MakeItWithMichaels
+ View More