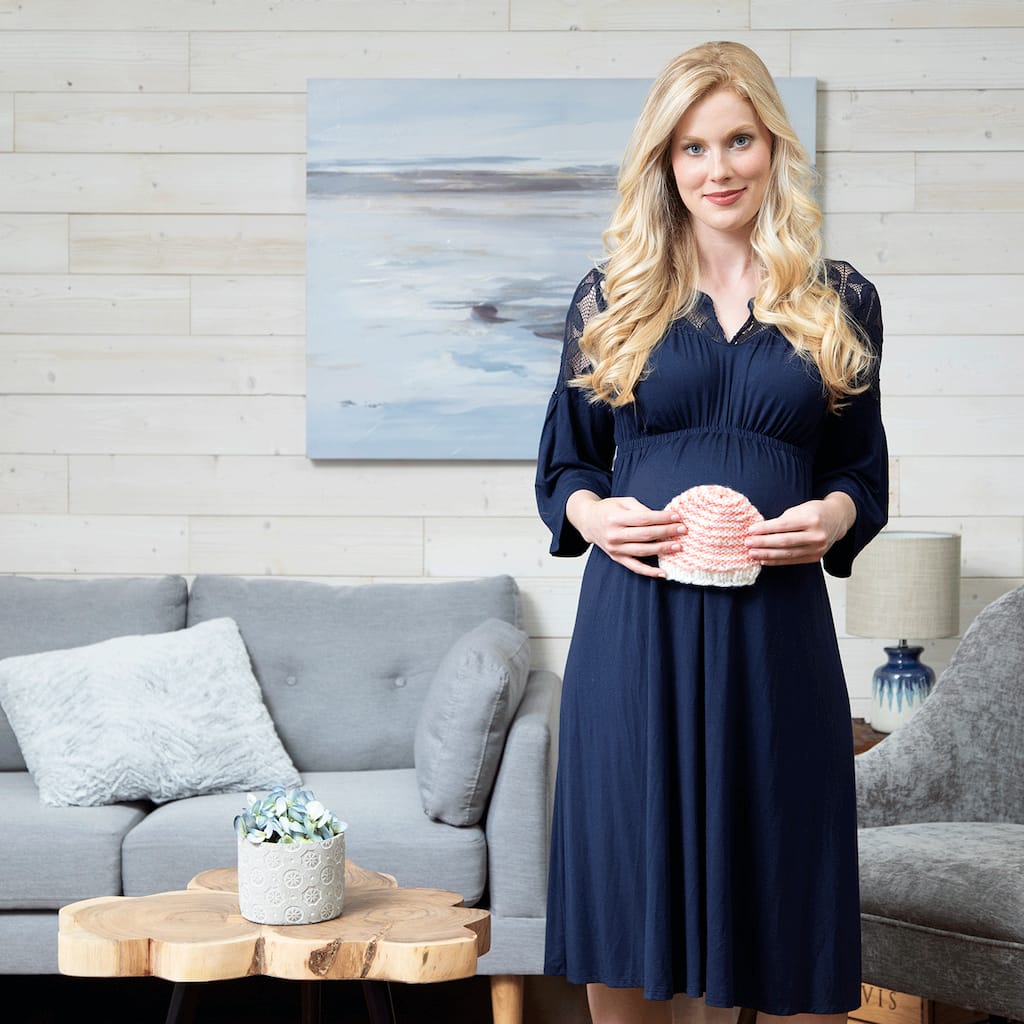 Over an hour
Intermediate
Intermediate
You're somewhat experienced with the skills necessary to complete this project, but you haven't mastered all the elements, yet.
loops & threads® charisma® knit pixelated hat
Keep your head toasty this winter with a chunky knit hat in Charisma®. The dappled colour effect is created while using just one colour at a time. With sizes for Preemie through Adult Large all sizes are covered for the whole family.
Step 1
SIZES: Preemie (Newborn, 3-6 Month, 6-12 Month, Toddler, Child, Adult Small, Adult Medium, Adult Large)
FINISHED MEASUREMENTS: Circumference = 10" (12", 14", 15", 16", 17", 19", 20", 22") [25 cm (30 cm, 36 cm, 38 cm, 41 cm, 43 cm, 48 cm, 51 cm, 56 cm)] and Length = 4" (5", 6", 6", 6½", 7", 8", 9", 9½") [10 cm (13 cm, 15 cm, 15 cm, 17 cm, 18 cm, 20 cm, 23 cm, 24 cm)]
GAUGE: 12 sts x 16 rows = 4" (10 cm); save time and check your gauge
Step 2
INSTRUCTIONS:
With White, cast on 30 (36, 42, 45, 48, 51, 57, 60, 66) sts.
Place marker and join to work in the rnd, being careful not to twist sts.
Ribbing
Rnd 1: *K2, p1; rep from * around.
Repeat Rnd 1, 2 (2, 2, 3, 3, 3, 5, 5, 5) more times.
Body
Join Coral & begin working in stripes, *1 round Coral, 1 round White; rep from * throughout remainder of hat, do not twist yarn when changing colours, just pick up the previous colour and continue working. Colours will form a natural spiral without any holes or sharp lines where you change colours.
Purl every rnd until Hat measures 2½ (3, 3¾, 3¼, 3¾, 3¾, 4½, 5½, 5¾)" [6 cm (7.6 cm, 9.5 cm, 8.2 cm, 9.5 cm, 9.5 cm, 11.4 cm, 14 cm, 14.6 cm)].
6-12 Month (Child, Adult Small) Only: *P13 (15, 17), p2tog; rep from * 2 more times – 42 (48, 54) sts.
Decrease Section (All Sizes)
Rnd 1: *P5 (6, 7, 7, 8, 8, 9, 10, 11), place marker; rep from * 5 more times.
Rnd 2: *Purl to 2 sts before marker, p2tog; rep from * 5 more times – 6 sts dec'd.
Rnd 3: Purl.
Repeat Rnds 2-3, 1 (2, 2, 2, 3, 3, 3, 4, 4) more times – 18 (18, 24, 24, 24, 24, 30, 30, 36) sts.
Repeat Rnd 2, 2 (2, 3, 3, 3, 3, 4, 4, 5) times – 6 sts.
Cut yarn and thread tail onto tapestry needle and draw through remaining sts.
Finishing: Weave in ends
Step 3
ABBREVIATIONS:
Dec'd = Decreased
K = Knit
P = Purl
P2tog = Purl 2 Sts Together (1 St Dec'd)
Rep = Repeat(ing)
Rnd(s) = Round(s)
St(s) = Stitch(es)

Share your project photos with #MakeItWithMichaels
https://canada.michaels.com/en/loops-threads-charisma-knit-pixelated-hat/B_88117.html
https://canada.michaels.com/en/loops-threads-charisma-knit-pixelated-hat/B_88117.html
Step 1
SIZES: Preemie (Newborn, 3-6 Month, 6-12 Month, Toddler, Child, Adult Small, Adult Medium, Adult Large)
FINISHED MEASUREMENTS: Circumference = 10" (12", 14", 15", 16", 17", 19", 20", 22") [25 cm (30 cm, 36 cm, 38 cm, 41 cm, 43 cm, 48 cm, 51 cm, 56 cm)] and Length = 4" (5", 6", 6", 6½", 7", 8", 9", 9½") [10 cm (13 cm, 15 cm, 15 cm, 17 cm, 18 cm, 20 cm, 23 cm, 24 cm)]
GAUGE: 12 sts x 16 rows = 4" (10 cm); save time and check your gauge
Step 2
INSTRUCTIONS:
With White, cast on 30 (36, 42, 45, 48, 51, 57, 60, 66) sts.
Place marker and join to work in the rnd, being careful not to twist sts.
Ribbing
Rnd 1: *K2, p1; rep from * around.
Repeat Rnd 1, 2 (2, 2, 3, 3, 3, 5, 5, 5) more times.
Body
Join Coral & begin working in stripes, *1 round Coral, 1 round White; rep from * throughout remainder of hat, do not twist yarn when changing colours, just pick up the previous colour and continue working. Colours will form a natural spiral without any holes or sharp lines where you change colours.
Purl every rnd until Hat measures 2½ (3, 3¾, 3¼, 3¾, 3¾, 4½, 5½, 5¾)" [6 cm (7.6 cm, 9.5 cm, 8.2 cm, 9.5 cm, 9.5 cm, 11.4 cm, 14 cm, 14.6 cm)].
6-12 Month (Child, Adult Small) Only: *P13 (15, 17), p2tog; rep from * 2 more times – 42 (48, 54) sts.
Decrease Section (All Sizes)
Rnd 1: *P5 (6, 7, 7, 8, 8, 9, 10, 11), place marker; rep from * 5 more times.
Rnd 2: *Purl to 2 sts before marker, p2tog; rep from * 5 more times – 6 sts dec'd.
Rnd 3: Purl.
Repeat Rnds 2-3, 1 (2, 2, 2, 3, 3, 3, 4, 4) more times – 18 (18, 24, 24, 24, 24, 30, 30, 36) sts.
Repeat Rnd 2, 2 (2, 3, 3, 3, 3, 4, 4, 5) times – 6 sts.
Cut yarn and thread tail onto tapestry needle and draw through remaining sts.
Finishing: Weave in ends
Step 3
ABBREVIATIONS:
Dec'd = Decreased
K = Knit
P = Purl
P2tog = Purl 2 Sts Together (1 St Dec'd)
Rep = Repeat(ing)
Rnd(s) = Round(s)
St(s) = Stitch(es)

Share your project photos with #MakeItWithMichaels
+ View More