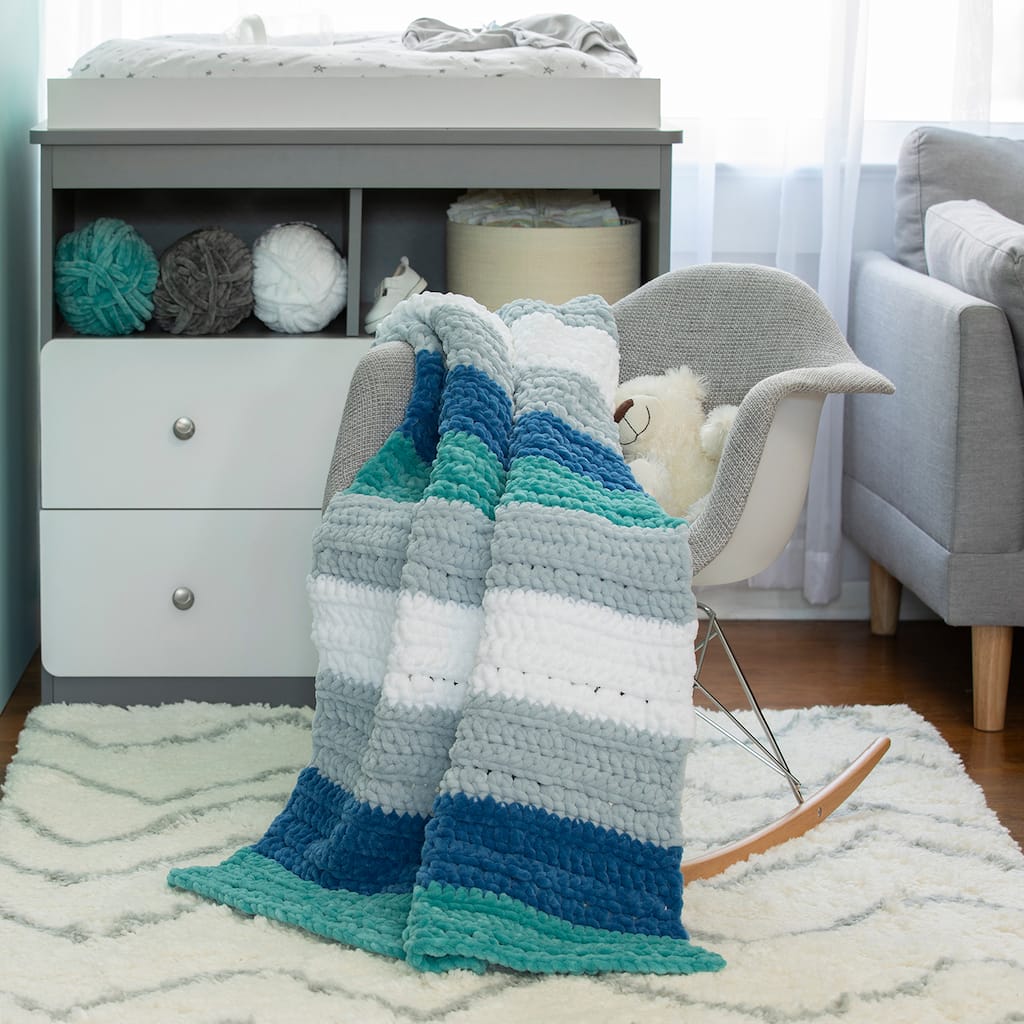 Over an hour
Beginner
Beginner
You're new to the skills necessary to complete this project, or maybe you've tried them just once or twice before.
loops & threads® sweet snuggles™ crochet surf blanket
Beachy blues and white make this easy blanket a perfect choice for gifting. Crochet this project over a weekend in Sweet Snuggles™ for a soft plush blanket.
Step 1
FINISHED MEASUREMENTS: Length = 44" (112cm) and Width = 65" (165cm)
GAUGE: 7 sts x 5 rows = 5" (13cm); save time and check your gauge


Stripe Sequence: 4 rows Teal, 4 rows Silver, 4 rows White, 4 rows Silver, 4 rows Denim.
With Denim, ch 62.

Row 1 (WS): Hdc in 3rd ch from hook, hdc in each ch across, turn – 61 hdc.
Work in back loop only from here through remainder of baby blanket.

Row 2 (RS): Ch 3 (counts as 1st dc here and throughout), dc in each hdc across, turn – 61 dc.

Row 3: Ch 2 (counts as 1st hdc here and throughout), hdc in each dc across, turn.

Row 4: Ch 3, [sk next hdc, 2 dc in next hdc] across, turn – 61 dc.
Cut Denim.
Join Teal and begin working Stripe Sequence.

Rows 5 & 7: Ch 2 (counts as 1st hdc here and throughout), hdc in each dc across, turn.

Row 6: Ch 3 (counts as 1st dc here and throughout), dc in each hdc across, turn – 61 dc.

Row 8: Ch 3, [sk next hdc, 2 dc in next hdc] across, turn – 61 dc.
Repeat Rows 5-8, 11 more times, completing the Stripe Sequence twice.
Fasten off.

Finishing: Weave in ends.

Share your project photos with #MakeItWithMichaels

Step 2
ABBREVIATIONS:
Ch = Chain
Dc = Double Crochet
Hdc = Half Double Crochet
RS = Right Side
Sk = Skip
St(s) = Stitch(es)
WS = Wrong Side
https://canada.michaels.com/en/loops-and-threads%C2%AE-sweet-snuggles%E2%84%A2-crochet-surf-baby-blanket/B_88378.html
https://canada.michaels.com/en/sweet-snuggles-yarn-by-loops-and-threads/10610042.html
Step 1
FINISHED MEASUREMENTS: Length = 44" (112cm) and Width = 65" (165cm)
GAUGE: 7 sts x 5 rows = 5" (13cm); save time and check your gauge


Stripe Sequence: 4 rows Teal, 4 rows Silver, 4 rows White, 4 rows Silver, 4 rows Denim.
With Denim, ch 62.

Row 1 (WS): Hdc in 3rd ch from hook, hdc in each ch across, turn – 61 hdc.
Work in back loop only from here through remainder of baby blanket.

Row 2 (RS): Ch 3 (counts as 1st dc here and throughout), dc in each hdc across, turn – 61 dc.

Row 3: Ch 2 (counts as 1st hdc here and throughout), hdc in each dc across, turn.

Row 4: Ch 3, [sk next hdc, 2 dc in next hdc] across, turn – 61 dc.
Cut Denim.
Join Teal and begin working Stripe Sequence.

Rows 5 & 7: Ch 2 (counts as 1st hdc here and throughout), hdc in each dc across, turn.

Row 6: Ch 3 (counts as 1st dc here and throughout), dc in each hdc across, turn – 61 dc.

Row 8: Ch 3, [sk next hdc, 2 dc in next hdc] across, turn – 61 dc.
Repeat Rows 5-8, 11 more times, completing the Stripe Sequence twice.
Fasten off.

Finishing: Weave in ends.

Share your project photos with #MakeItWithMichaels

Step 2
ABBREVIATIONS:
Ch = Chain
Dc = Double Crochet
Hdc = Half Double Crochet
RS = Right Side
Sk = Skip
St(s) = Stitch(es)
WS = Wrong Side
+ View More