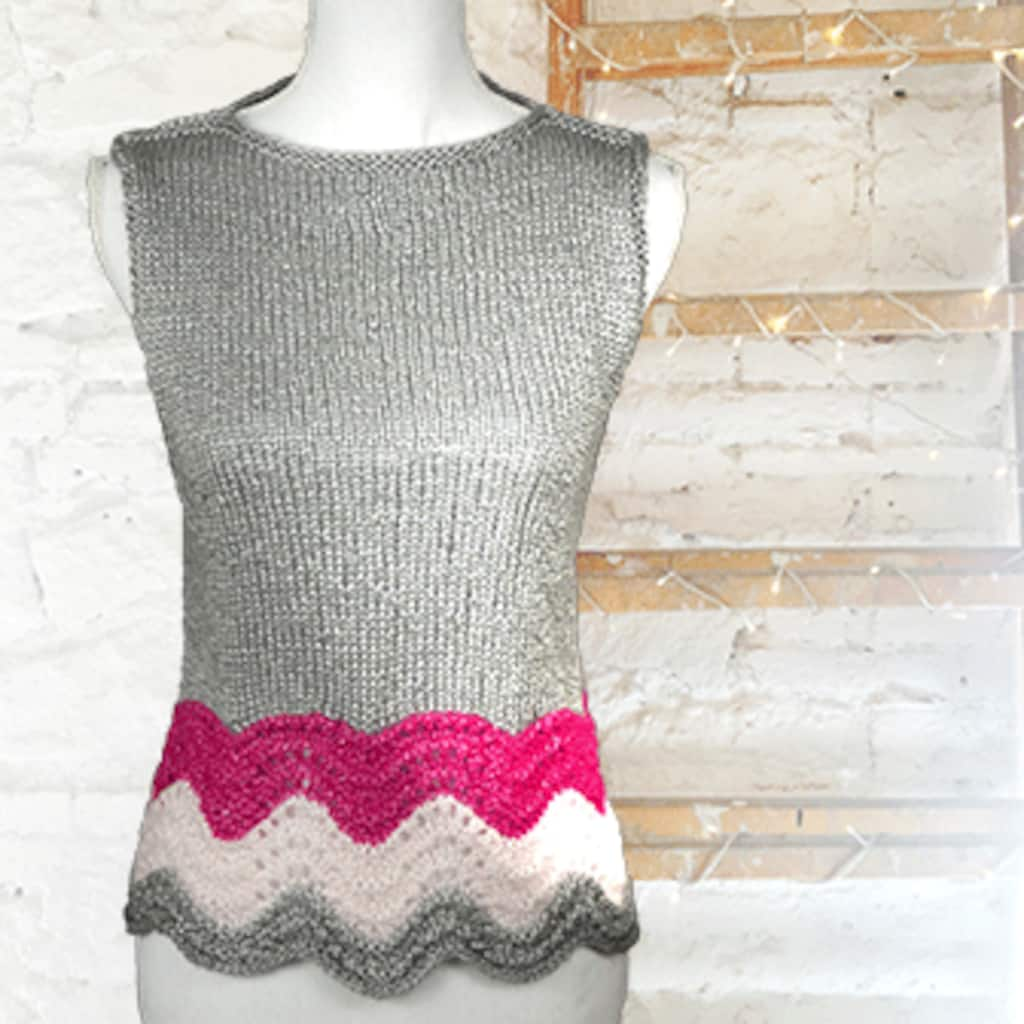 Over an hour
Intermediate
Intermediate
You're somewhat experienced with the skills necessary to complete this project, but you haven't mastered all the elements, yet.
loops & threads® metallic luxe™ dogwood knit top
Glam up your knit and crochet projects with the wide range of stunning colors available in Metallic Luxe™ yarn. This super soft acrylic blend features a metallic finish that is sure to add shimmer and shine to your Dogwood Knit Top.
Step 1
Glam up your knit and crochet projects with the wide range of stunning colors available in Metallic Luxe™ yarn. This super soft acrylic blend features a metallic finish that is sure to add shimmer and shine to your Dogwood Knit Top. SIZES: X-Small (Small, Medium, Large, X-Large) 1 (1, 2, 2, 2) - Loops & Threads® Metallic Luxe™ – Platinum FINISHED MEASUREMENTS: Bust = 34" (37¾", 41½", 45¼", 49") and Length = 21 ½ (22, 23 ¼, 25, 26 ½)" GAUGE: 17 sts x 23 rows = 4" in stockinette on larger needles; save time and check your gauge INSTRUCTIONS: With A and larger needle, cast on 153 (170, 187, 204, 221) sts. Place marker and join to work in the rnd, being careful not to twist sts. Body Rnd 1: Purl. Rnds 2-3: Knit. Rnd 4: *(K2tog) 3 times, (yo, k1) 5 times, yo, (ssk) 3 times; rep from * around. Rnd 5: Purl. Repeat Rnds 2-5 once more. Cut A and join B. Repeat Rnds 2-5, 3 times with B. Cut B and join C. Repeat Rnds 2-5, 3 times with C. Cut C and join A. Decrease Rnd: *K2tog, k15; rep from * around – 144 (160, 176, 192, 208) sts. With A knit every rnd until Body measures 13" (13½", 14½", 15", 15½"). Divide for Front/Back: Bind off 10 (10, 10, 12, 12) sts, knit 62 (70, 78, 84, 92) including st left from bind-off, bind off next 10 (10, 10, 12, 12) sts, knit to end. Front You'll be working on half of the stitches for the Front, leaving the remaining half of the stitches on the cable half of your circular needle unworked. Row 1 (WS): Purl to opposite set of bind-off stitches, turn – 62 (70, 78, 84, 92) sts for front. Row 2 (RS): K2, ssk, knit to last 4 sts, k2tog, k2 – 2 sts dec'd. Row 3: Purl. Repeat last 2 rows, 4 (4, 6, 6, 8) more times – 52 (60, 64, 70, 74) sts. Continue to work in stockinette (knit RS rows, purl WS rows), until front measures 8" (8", 8¼", 9½", 10½") from underarm bind-off, ending with a RS row. Change to smaller circular needle and knit 3 rows. Bind off. Back Join A ready to work a WS row across remaining stitches from the body. Work as for Front. When you bind off, leave the last stitch on the needle and do not cut the yarn. Armhole Edging With smaller circular needle, starting with the stitch left from the Back bind-off, pick up and knit 3 stitches for every 4 rows along back armhole, 1 stitch in each underarm bind-off stitch, and 3 stitches for every 4 rows along front armhole. Knit 1 row. Bind off. With smaller circular needle, join A at end of Front bind-off and repeat armhole edging for opposite armhole. Finishing: Sew shoulders leaving 9" (23cm) open in center for neck. Weave in ends. ABBREVIATIONS: A = Platinum B = Pearl C = Garnet Dec'd = Decreased K = Knit K2tog = Knit 2 Sts Together (1 St Dec'd) Rep = Repeat(ing) Rnd(s) = Round(s) RS = Right Side Ssk = Slip Slip Knit (1 St Dec'd) St(s) = Stitch(es) WS = Wrong Side Yo = Yarn Over
https://canada.michaels.com/en/loops-and-threads%C2%AE-metallic-luxe%E2%84%A2-dogwood-knit-top/B_86950.html
https://canada.michaels.com/en/loops-and-threads%C2%AE-metallic-luxe%E2%84%A2-dogwood-knit-top/B_86950.html
1 (1-2-2-2) - Loops & Threads® Metallic Luxe™ Yarn – Platinum (10584639)
Step 1
Glam up your knit and crochet projects with the wide range of stunning colors available in Metallic Luxe™ yarn. This super soft acrylic blend features a metallic finish that is sure to add shimmer and shine to your Dogwood Knit Top. SIZES: X-Small (Small, Medium, Large, X-Large) 1 (1, 2, 2, 2) - Loops & Threads® Metallic Luxe™ – Platinum FINISHED MEASUREMENTS: Bust = 34" (37¾", 41½", 45¼", 49") and Length = 21 ½ (22, 23 ¼, 25, 26 ½)" GAUGE: 17 sts x 23 rows = 4" in stockinette on larger needles; save time and check your gauge INSTRUCTIONS: With A and larger needle, cast on 153 (170, 187, 204, 221) sts. Place marker and join to work in the rnd, being careful not to twist sts. Body Rnd 1: Purl. Rnds 2-3: Knit. Rnd 4: *(K2tog) 3 times, (yo, k1) 5 times, yo, (ssk) 3 times; rep from * around. Rnd 5: Purl. Repeat Rnds 2-5 once more. Cut A and join B. Repeat Rnds 2-5, 3 times with B. Cut B and join C. Repeat Rnds 2-5, 3 times with C. Cut C and join A. Decrease Rnd: *K2tog, k15; rep from * around – 144 (160, 176, 192, 208) sts. With A knit every rnd until Body measures 13" (13½", 14½", 15", 15½"). Divide for Front/Back: Bind off 10 (10, 10, 12, 12) sts, knit 62 (70, 78, 84, 92) including st left from bind-off, bind off next 10 (10, 10, 12, 12) sts, knit to end. Front You'll be working on half of the stitches for the Front, leaving the remaining half of the stitches on the cable half of your circular needle unworked. Row 1 (WS): Purl to opposite set of bind-off stitches, turn – 62 (70, 78, 84, 92) sts for front. Row 2 (RS): K2, ssk, knit to last 4 sts, k2tog, k2 – 2 sts dec'd. Row 3: Purl. Repeat last 2 rows, 4 (4, 6, 6, 8) more times – 52 (60, 64, 70, 74) sts. Continue to work in stockinette (knit RS rows, purl WS rows), until front measures 8" (8", 8¼", 9½", 10½") from underarm bind-off, ending with a RS row. Change to smaller circular needle and knit 3 rows. Bind off. Back Join A ready to work a WS row across remaining stitches from the body. Work as for Front. When you bind off, leave the last stitch on the needle and do not cut the yarn. Armhole Edging With smaller circular needle, starting with the stitch left from the Back bind-off, pick up and knit 3 stitches for every 4 rows along back armhole, 1 stitch in each underarm bind-off stitch, and 3 stitches for every 4 rows along front armhole. Knit 1 row. Bind off. With smaller circular needle, join A at end of Front bind-off and repeat armhole edging for opposite armhole. Finishing: Sew shoulders leaving 9" (23cm) open in center for neck. Weave in ends. ABBREVIATIONS: A = Platinum B = Pearl C = Garnet Dec'd = Decreased K = Knit K2tog = Knit 2 Sts Together (1 St Dec'd) Rep = Repeat(ing) Rnd(s) = Round(s) RS = Right Side Ssk = Slip Slip Knit (1 St Dec'd) St(s) = Stitch(es) WS = Wrong Side Yo = Yarn Over
+ View More