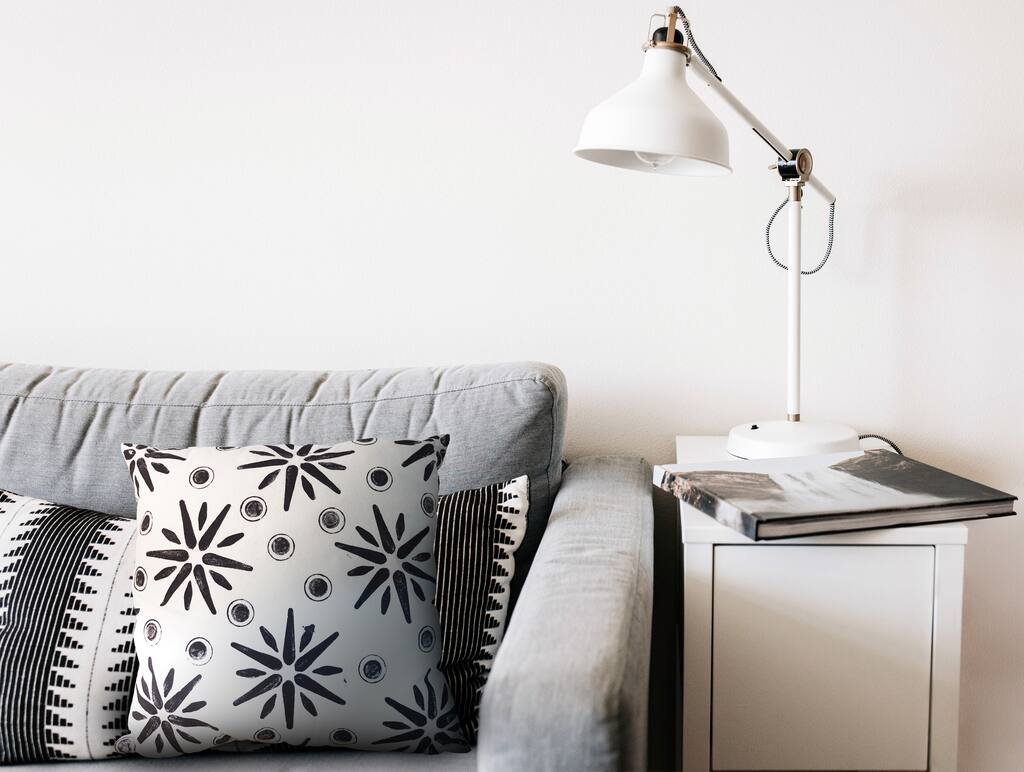 About an hour
Intermediate
Intermediate
You're somewhat experienced with the skills necessary to complete this project, but you haven't mastered all the elements, yet.
liquitex acrylic gouache palette print pillow
Feeling artsy and in need of a quick home décor refresh? Here's a new twist on painting to update your home décor. Take a simple plain pillow and create a fabulous original design and your own custom palette. Using Liquitex® Professional Acrylic Gouache™ in Ivory Black, you can create trendy matte black designs using palette knives and other common household items to bring this stylish update to your home.
Step 1
Feeling artsy and in need of a quick home décor refresh? Here's a new twist on painting to update your home décor. Take a simple plain pillow and create a fabulous original design and your own custom palette. Using Liquitex® Professional Acrylic Gouache™ in Ivory Black, you can create trendy matte black designs using palette knives and other common household items to bring this stylish update to your home. Step 1 Remove pillow form and insert a piece of cardboard between layers of pillowcase cover and smooth out flat. TIP: Using cardboard will allow for pushing the palette knife further into fabric to get a solid paint print. Step 2 Optional: Using a pencil, make light marks on the pillowcase cover where you want your designs to be placed to achieve a symmetrical look. Step 3 Using a brush, paint an even layer of the gouache on to the large palette knife, covering the entire surface. Press the painted palette knife down on to the canvas aligning with the pencil marks (where applicable). Continue this process, re-loading with paint as needed, until you have completed all the large palette knife areas. TIP: To avoid smudging or smearing any paint, allow approximately 20 minutes dry time between using each tool (steps 3 through 6). Step 4 Using the brush again, paint an even layer of the gouache on to the small palette knife, covering the entire surface. Press the small palette knife in between the large palette knife prints. Continue this process, re-loading with paint as needed, until you have completed all the small palette knife areas. Let dry. Step 5 Using the brush, take the cap of the gouache jar and brush the paint along just the thin part of the rim on the top of the cap. Stamp the painted cap in empty areas of the pillow to fill in the design, re-loading with paint as needed. Let dry; be sure to clean the top of the cap. Step 6 Using the brush, paint the top of the water bottle cap with the gouache and stamp inside of each of the gouache cap prints. Step 7 Let dry until the paint is no longer tacky to the touch. Once dry, remove the cardboard and insert the pillow form. Share your project photos with #MakeItWithMichaels
https://canada.michaels.com/en/liquitex-acrylic-gouache-palette-print-pillow/B_89487.html
https://canada.michaels.com/en/premium-pillow-form-by-loops-and-threads-/10161164.html
Fabric/Canvas Pillow Cover
Scrap Cardboard
Extra Water Bottle Cap
Liquitex® Professional Acrylic Gouache Paint – Ivory Black (SKU 10603469)
Step 1
Feeling artsy and in need of a quick home décor refresh? Here's a new twist on painting to update your home décor. Take a simple plain pillow and create a fabulous original design and your own custom palette. Using Liquitex® Professional Acrylic Gouache™ in Ivory Black, you can create trendy matte black designs using palette knives and other common household items to bring this stylish update to your home. Step 1 Remove pillow form and insert a piece of cardboard between layers of pillowcase cover and smooth out flat. TIP: Using cardboard will allow for pushing the palette knife further into fabric to get a solid paint print. Step 2 Optional: Using a pencil, make light marks on the pillowcase cover where you want your designs to be placed to achieve a symmetrical look. Step 3 Using a brush, paint an even layer of the gouache on to the large palette knife, covering the entire surface. Press the painted palette knife down on to the canvas aligning with the pencil marks (where applicable). Continue this process, re-loading with paint as needed, until you have completed all the large palette knife areas. TIP: To avoid smudging or smearing any paint, allow approximately 20 minutes dry time between using each tool (steps 3 through 6). Step 4 Using the brush again, paint an even layer of the gouache on to the small palette knife, covering the entire surface. Press the small palette knife in between the large palette knife prints. Continue this process, re-loading with paint as needed, until you have completed all the small palette knife areas. Let dry. Step 5 Using the brush, take the cap of the gouache jar and brush the paint along just the thin part of the rim on the top of the cap. Stamp the painted cap in empty areas of the pillow to fill in the design, re-loading with paint as needed. Let dry; be sure to clean the top of the cap. Step 6 Using the brush, paint the top of the water bottle cap with the gouache and stamp inside of each of the gouache cap prints. Step 7 Let dry until the paint is no longer tacky to the touch. Once dry, remove the cardboard and insert the pillow form. Share your project photos with #MakeItWithMichaels
+ View More