Lion Brand® Truboo Yarn
Lion Brand® Truboo Yarn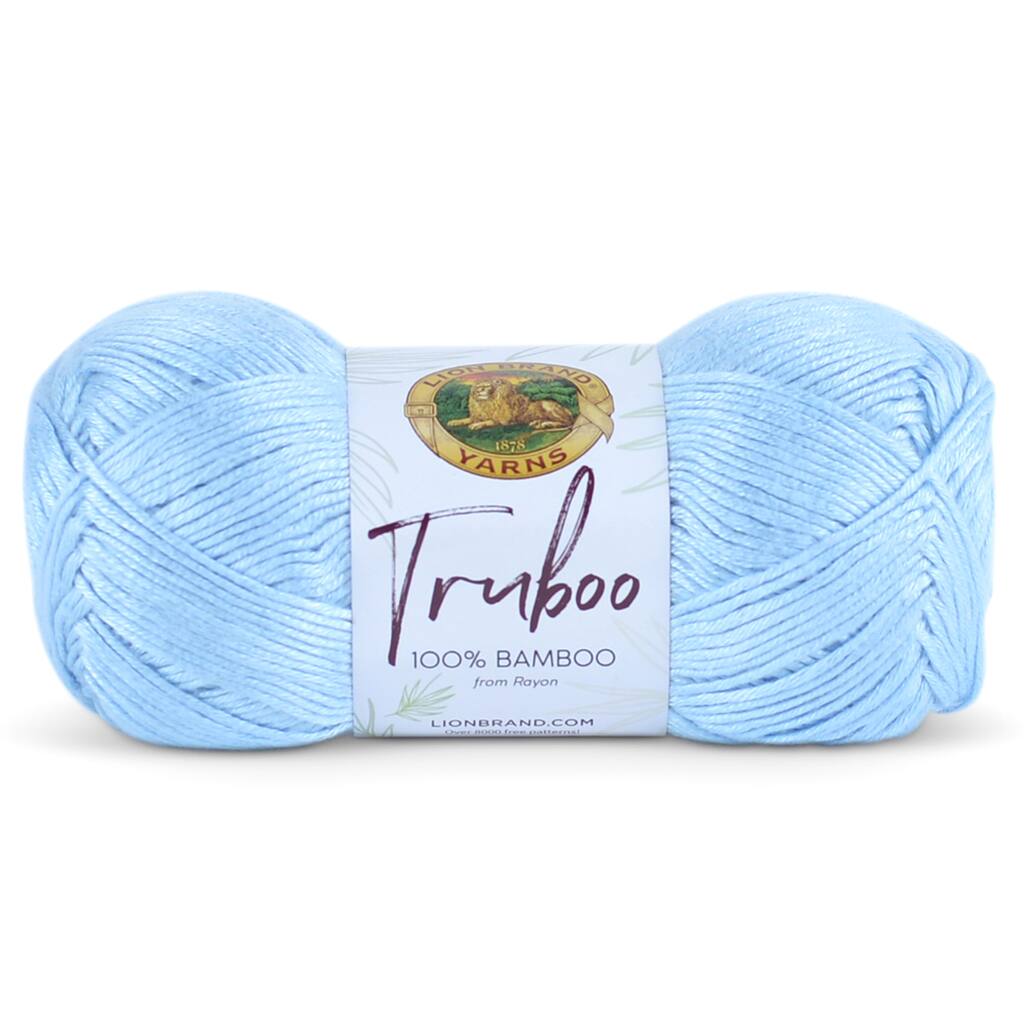 Details
https://canada.michaels.com/en/lion-brand-truboo-yarn/10633793.html
Variations
Size:

Please Select a Size
---
Oh-so-soft and with a subtle sheen, Truboo is a 100% bamboo yarn with amazing drape. This CYC 3 (light) yarn works up into breezy garments that are perfect for transitioning from spring into summer.

Weight: Light (3)

Contents: 100% rayon from bamboo
Skein Weight: 3.5 oz / 100 g
Yardage: 241 yd / 220 m

Knitting Gauge:
23 sts - 16 rows = 4" (10 cm)
Crochet Gauge:
18 sc - 20 row = 4" (10 cm)

Suggested Knitting Needle:
4mm, US - 6
Suggested Crochet Hook:
4mm, US - G/6
Oh-so-soft and with a subtle sheen, Truboo is a 100% bamboo yarn with amazing drape. This CYC 3 (light) yarn works up into breezy garments that are perfect for transitioning from spring into summer.

Weight: Light (3)

Contents: 100% rayon from bamboo
Skein Weight: 3.5 oz / 100 g
Yardage: 241 yd / 220 m

Knitting Gauge:
23 sts - 16 rows = 4" (10 cm)
Crochet Gauge:
18 sc - 20 row = 4" (10 cm)

Suggested Knitting Needle:
4mm, US - 6
Suggested Crochet Hook:
4mm, US - G/6
jump
---
Oh-so-soft and with a subtle sheen, Truboo is a 100% bamboo yarn with amazing drape. This CYC 3 (light) yarn works up into breezy garments that are perfect for transitioning from spring into summer.

Weight: Light (3)

Contents: 100% rayon from bamboo
Skein Weight: 3.5 oz / 100 g
Yardage: 241 yd / 220 m

Knitting Gauge:
23 sts - 16 rows = 4" (10 cm)
Crochet Gauge:
18 sc - 20 row = 4" (10 cm)

Suggested Knitting Needle:
4mm, US - 6
Suggested Crochet Hook:
4mm, US - G/6
Oh-so-soft and with a subtle sheen, Truboo is a 100% bamboo yarn with amazing drape. This CYC 3 (light) yarn works up into breezy garments that are perfect for transitioning from spring into summer.

Weight: Light (3)

Contents: 100% rayon from bamboo
Skein Weight: 3.5 oz / 100 g
Yardage: 241 yd / 220 m

Knitting Gauge:
23 sts - 16 rows = 4" (10 cm)
Crochet Gauge:
18 sc - 20 row = 4" (10 cm)

Suggested Knitting Needle:
4mm, US - 6
Suggested Crochet Hook:
4mm, US - G/6
Shipping & Returns
jump
---
Shipping & Returns
Shipping
Most products may be shipped via standard ground (delivered in 3-5 business days) or Expedited (1 business day). Orders placed by 11:00 AM Central Time using the Expedited option will ship the same day. View Full Shipping Policy and Pricing ›
Returns
If your Michaels purchase does not meet your satisfaction, you may return it within two months (60 days) of purchase. To return an item, the item must be new, unused and in its original packaging. You may return the item to a Michaels store or by mail. View Full Return Policy ›
From the Manufacturer
jump
Customer Reviews
Lion Brand® Truboo Yarn
is rated out of
5
by
25
.
Rated

2

out of

5
by
Joy35
from
Promising, then frustration
Bought multiple skeins to do a lacy openwork shell. First skein fine, 2nd skein had 4 knots where yarn was pieced together. That's a disaster when doing lacework. Had to repeatedly undo work to take it an edge, cut out the knot, start new section of yarn as if a new skein. Loss of yarn, if you keep pulling out work & dropping yarn lengths that won't go across the line of pattern. Started 3 skein, already found 1st knot. Will finish this project, but won't be using this product again.
Date published: 2021-09-09
Rated

2

out of

5
by
SadCupcake
from
Tragic loss
Exactly what the other reviews said. PLUS I washed and flat air dried my finished project, it stretched more than 5 inches lengthwise. I'm devastated.
Date published: 2021-07-23
Rated

5

out of

5
by
SheTriedIt
from
Summer Tee
I was able to make this awesome summer tee with this gorgeous, flowy yarn. I have a video all about it on my youtube channel, She Tried It.
Date published: 2021-07-19
Rated

5

out of

5
by
Hes1766
from
Great for summer knits
Love this bamboo yarn. Knits up beautifully a gives a lovely drape. Perfect for summer garments.
Date published: 2021-07-13
Rated

3

out of

5
by
le0ner
from
Soft, but splits and snags really easily
The yarn is extremely soft. Bought it to make chemo cap for a family friend, but I might have to try a different style where it doesn't have a crazy design on it. I just wanted to make her something nicer so she can go out with. I've never used this yarn before prior to this and I've tried the pink and the purple and they both split so far. Not sure if I'm doing something wrong, but I was crocheting this yarn.
Date published: 2021-07-03
Rated

4

out of

5
by
Marbob
from
Great if you can deal with splitting
This yarn is great for summer garments and those with sensitive skin. It is very soft and the colors are great. However, it does split (I think it's because the fibers are smoother than cotton or wool) and the colors shown online are very different in person. I got the color thistle and it is very purple even though the online pictures make it look like a nearly plain. blue. So make sure to read the reviews for the color you want or, better yet, take a look in person.
Date published: 2021-05-10
Rated

2

out of

5
by
Trina T
from
Not acceptable
I got 6 skeins of truboo in mint color. My first skein had big 3 knots that I was not very happy about it. I am on my second skein, and this is worst. I had the yarn inside out and look what happens? The yam is not in 1 piece, and not even tied as knot. I pulled out and it looked like scrap yarn they put inside the skein to make it 100 grams. NOT good quality. I hope my orher skeins won't be like these 2 skeins.
Date published: 2021-04-24
Rated

4

out of

5
by
sara37
from
Pretty good
Super soft and looks amazing. The only downside is that it splits a lot. It's ok once you get the hang of it but not really as good as other yarn. I still love it though
Date published: 2021-03-29