Lion Brand® Feels Like Butta™ Bonus Bundle® Yarn
Lion Brand® Feels Like Butta™ Bonus Bundle® Yarn
Lion Brand® Feels Like Butta™ Bonus Bundle® Yarn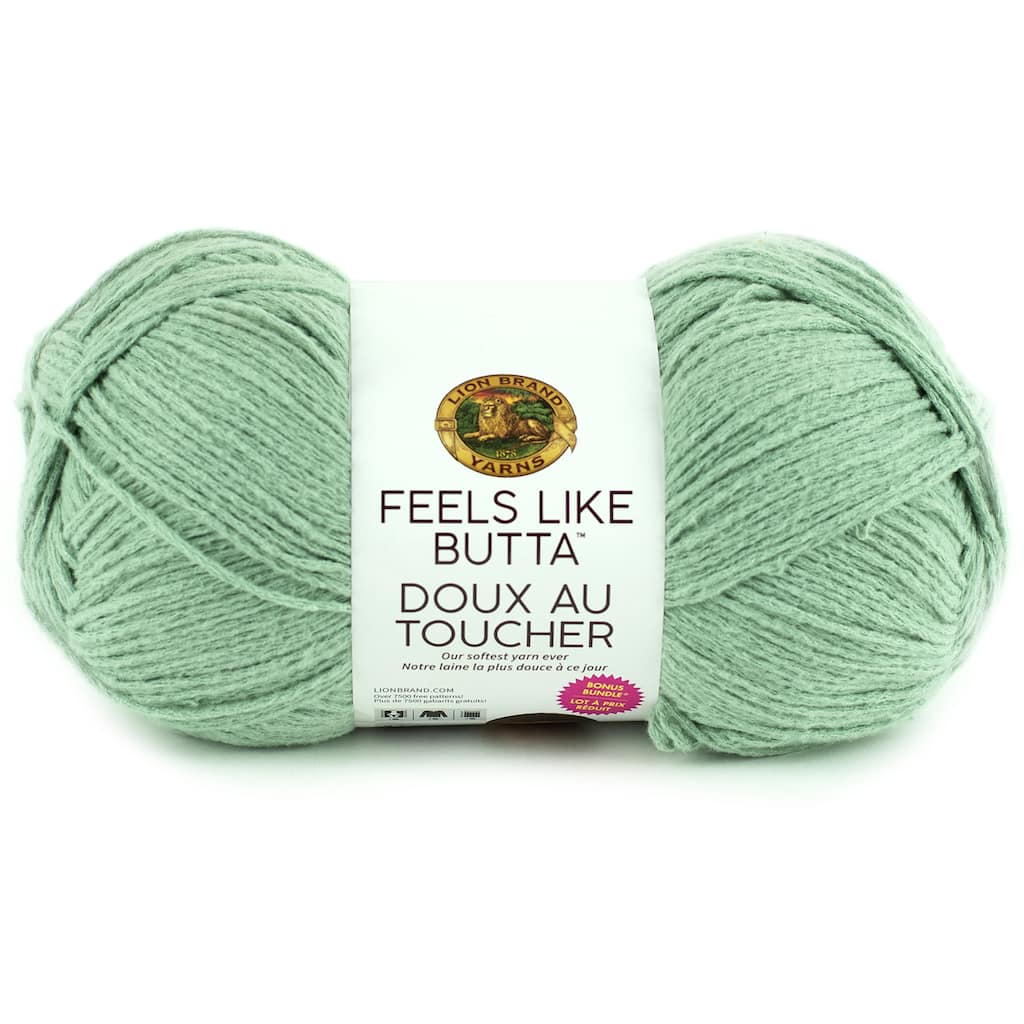 Details
https://canada.michaels.com/en/lion-brand-feels-like-butta-bonus-bundle-yarn/M20001745.html
Variations
Size:

Please Select a Size
---
Design comfy, stylish accessories and apparel with this butter-soft yarn. Use the washing machine-safe fabric to craft sweaters, baby blankets, scarves, and mittens. Your loved ones are guaranteed to appreciate the look and feel of this super cozy yarn.

Weight: Medium (4)

Contents: 100% polyester
Skein Weight: 9.7 oz. / 275 g
Yardage: 590 yd. / 540 m

Knitting Gauge:
18 sts - 26 rows = 4" (10 cm)
Crochet Gauge:
16 sc - 19 rows = 4" (10 cm)

Suggested Knitting Needle:
4.5 mm, US-7
Suggested Crochet Hook:
4 mm, US G/6


Design comfy, stylish accessories and apparel with this butter-soft yarn. Use the washing machine-safe fabric to craft sweaters, baby blankets, scarves, and mittens. Your loved ones are guaranteed to appreciate the look and feel of this super cozy yarn.

Weight: Medium (4)

Contents: 100% polyester
Skein Weight: 9.7 oz. / 275 g
Yardage: 590 yd. / 540 m

Knitting Gauge:
18 sts - 26 rows = 4" (10 cm)
Crochet Gauge:
16 sc - 19 rows = 4" (10 cm)

Suggested Knitting Needle:
4.5 mm, US-7
Suggested Crochet Hook:
4 mm, US G/6


jump
---
Design comfy, stylish accessories and apparel with this butter-soft yarn. Use the washing machine-safe fabric to craft sweaters, baby blankets, scarves, and mittens. Your loved ones are guaranteed to appreciate the look and feel of this super cozy yarn.

Weight: Medium (4)

Contents: 100% polyester
Skein Weight: 9.7 oz. / 275 g
Yardage: 590 yd. / 540 m

Knitting Gauge:
18 sts - 26 rows = 4" (10 cm)
Crochet Gauge:
16 sc - 19 rows = 4" (10 cm)

Suggested Knitting Needle:
4.5 mm, US-7
Suggested Crochet Hook:
4 mm, US G/6


Design comfy, stylish accessories and apparel with this butter-soft yarn. Use the washing machine-safe fabric to craft sweaters, baby blankets, scarves, and mittens. Your loved ones are guaranteed to appreciate the look and feel of this super cozy yarn.

Weight: Medium (4)

Contents: 100% polyester
Skein Weight: 9.7 oz. / 275 g
Yardage: 590 yd. / 540 m

Knitting Gauge:
18 sts - 26 rows = 4" (10 cm)
Crochet Gauge:
16 sc - 19 rows = 4" (10 cm)

Suggested Knitting Needle:
4.5 mm, US-7
Suggested Crochet Hook:
4 mm, US G/6


Shipping & Returns
jump
---
Shipping & Returns
Shipping
Most products may be shipped via standard ground (delivered in 3-7 business days) or Expedited (1 business day). Orders placed by 11:00 AM Central Time using the Expedited option will ship the same day. View Full Shipping Policy and Pricing ›
Returns
If your Michaels purchase does not meet your satisfaction, you may return it within six months (180 days) of purchase. To return an item, the item must be new, unused and in its original packaging. You may return the item to a Michaels store or by mail. View Full Return Policy ›
From the Manufacturer
jump
Customer Reviews
Lion Brand® Feels Like Butta™ Bonus Bundle® Yarn
is rated out of
5
by
18
.
Rated

5

out of

5
by
Akemp82
from
New favorite yarn
I bought this yarn for a baby blanket for someone who loves yellow. It's my new favorite yarn!!!! It is sooooo soft and feels like it's "broken in" not a stiff new blanket!!!! I just wish it came in more colors!!!!!
Date published: 2020-06-23
Rated

5

out of

5
by
Charmae
from
This is the nicest yarn I have ever used!
Feels Like Butta - really does feel that soft and it is so easy to work with! I love every project I have made with it. It is PERFECT for baby blankets! I have every colour that is available and wish it came in more - like navy blue.
Date published: 2020-06-20
Rated

5

out of

5
by
pepper6037
from
Feels Like Butta!!
This yarn is amazing! I love you use it for baby blankets and afghans. It is so soft and lightweight. No issues with this yarn except I wish I had more!!
Date published: 2020-06-15
Rated

5

out of

5
by
CSAngel
from
Super soft
I am in love with this yarn. I made a dress for my daughter and it turned out beautiful. I didn't have any issues with knots. It slides well on the hook and makes a beautiful fabric. I do find it is a light 4. Meaning it's not as thick as some 4's. I would go so far as to say it's closer to a 3. These balls are huge too :) I made the dress and still have a lot of yarn left.
Date published: 2020-06-12
Rated

4

out of

5
by
Robin52
from
Soft, soft, soft!!
Tried this yarn to make a sweater for my friend. It suited the pattern remarkably well and it's SO soft!! I also love the colour selection. However, I ran into quite a few knots and there were several "bunched" areas that I had to unravel before I could continue. Still...it's a good yarn and I'll use it again.
Date published: 2020-06-09
Rated

4

out of

5
by
ctan
from
Really soft!
This was a very soft yarn, and there is A LOT of it. I made this baby blanket out of just half a skein of each colour (Ice, Pink and White). It was easy to work with for the most part. The pink one, I had a ton of trouble finding the end at the beginning, so it made it difficult to detangle. Other than that, I would highly recommend if you want something soft and lightweight!
Date published: 2020-06-05
Rated

4

out of

5
by
Jesssyyk13
from
Soft and beautiful yarn
It was very soft and easy to work with...my only problem was i bought two skeins of yarn and both had small knots one had about 2 knots the second had about 4...My project was a cardigan that came out lovely...I used 2 full skeins and some from a third ball I had to buy to make sure I had extra and for the pockets and thankfully with the 3rd ball I had enough left over to make a top because I love making tops with my yarn this was my first big project and I loved it and although my yarn had knots I still loved it and plan on using again.
Date published: 2020-05-21
Rated

5

out of

5
by
Hillcrest
from
Very soft
Love this yarn. Haven't had any of the issues others have experienced. Have used it for baby projects and Amigurumi Was very happy when Micheal's started carrying it again.
Date published: 2020-04-23