Lemax® Spooky Town® Trick or Treating Dogs Set
Lemax® Spooky Town® Trick or Treating Dogs Set
Lemax® Spooky Town® Trick or Treating Dogs Set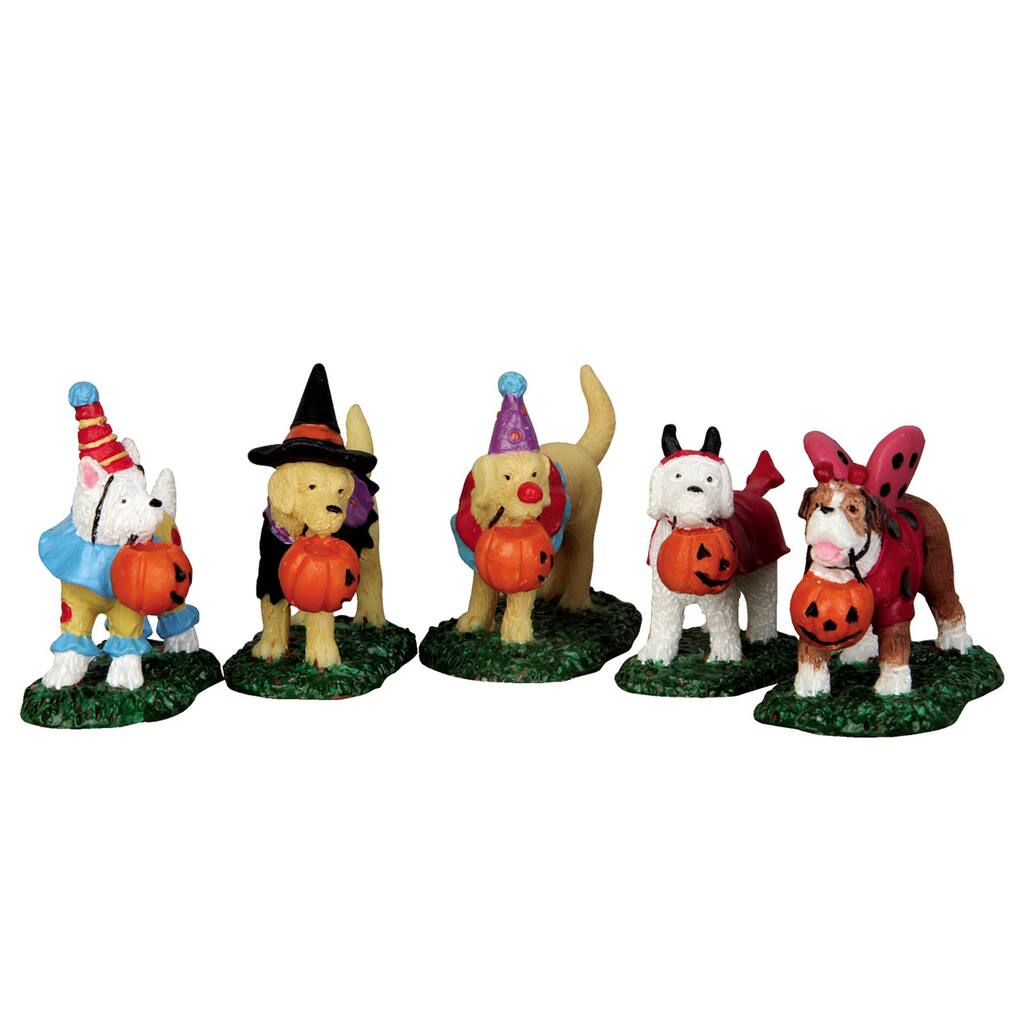 Details
https://canada.michaels.com/en/lemax-spooky-town-trick-or-treating-dogs-set/10627072.html
---
Every spooky town needs adorable dogs dressed in Halloween costumes. This set of 5 trick or treating dogs will look great together or spread throughout a festive display.

Approx. size (H x W x D): 1.26" x 3.77" x 1.77" (3.2cm x 9.6cm x 4.5cm)
Year Released: 2015
Made of: Polyresin
Product type: Polyresin figurine
Every spooky town needs adorable dogs dressed in Halloween costumes. This set of 5 trick or treating dogs will look great together or spread throughout a festive display.

Approx. size (H x W x D): 1.26" x 3.77" x 1.77" (3.2cm x 9.6cm x 4.5cm)
Year Released: 2015
Made of: Polyresin
Product type: Polyresin figurine
jump
---
Every spooky town needs adorable dogs dressed in Halloween costumes. This set of 5 trick or treating dogs will look great together or spread throughout a festive display.

Approx. size (H x W x D): 1.26" x 3.77" x 1.77" (3.2cm x 9.6cm x 4.5cm)
Year Released: 2015
Made of: Polyresin
Product type: Polyresin figurine
Every spooky town needs adorable dogs dressed in Halloween costumes. This set of 5 trick or treating dogs will look great together or spread throughout a festive display.

Approx. size (H x W x D): 1.26" x 3.77" x 1.77" (3.2cm x 9.6cm x 4.5cm)
Year Released: 2015
Made of: Polyresin
Product type: Polyresin figurine
Shipping & Returns
jump
---
Shipping & Returns
Shipping
Most products may be shipped via standard ground (delivered in 3-7 business days) or Expedited (1 business day). Orders placed by 11:00 AM Central Time using the Expedited option will ship the same day. View Full Shipping Policy and Pricing ›
Returns
If your Michaels purchase does not meet your satisfaction, you may return it within six months (180 days) of purchase. To return an item, the item must be new, unused and in its original packaging. You may return the item to a Michaels store or by mail. View Full Return Policy ›
From the Manufacturer
jump
Customer Reviews
Lemax® Spooky Town® Trick or Treating Dogs Set
is rated out of
5
by
5
.
Rated

5

out of

5
by
Tookerlee
from
Love the detail
The great store display encouraged me to buy! I love how michaels and lemax partner to bring me a great selection
Date published: 2020-08-07
Rated

4

out of

5
by
Halloween Person
from
Cute!
Great accessories for the Halloween village. Priced a little high for what they are, but the 20% off coupon definitely makes them worth it.
Date published: 2020-08-06
Rated

5

out of

5
by
Ktrice06
from
Spooky dogs
These dogs are too cute. They go perfectly with my new spooky town best buds treat house. I love them
Date published: 2020-08-05
Rated

3

out of

5
by
Janine622
from
Adorable and cute, but once again small
If Lemax is going to keep making these items smaller each year I will not purchase. They do not work with previous year's houses because they look out of place- almost like they belong in the fairy garden. I love Lemax spooky town but I can;t spend the money on smaller items. Please fix this! I cannot be the only one.
Date published: 2020-08-03
Rated

5

out of

5
by
Shawneemama
from
Extremely cute!
I'm not the person who buys stuff in full price, but I could not resist buying this one. I'm dog person and this was beyond adorable!! Soooo cute. Must buy. Also, the store staff were just sooo friendly and loved my dog. Never disappointed.
Date published: 2020-07-26