Lemax® Spooky Town® The Ghoulish Gourd Pub & Grill
Lemax® Spooky Town® The Ghoulish Gourd Pub & Grill
Lemax® Spooky Town® The Ghoulish Gourd Pub & Grill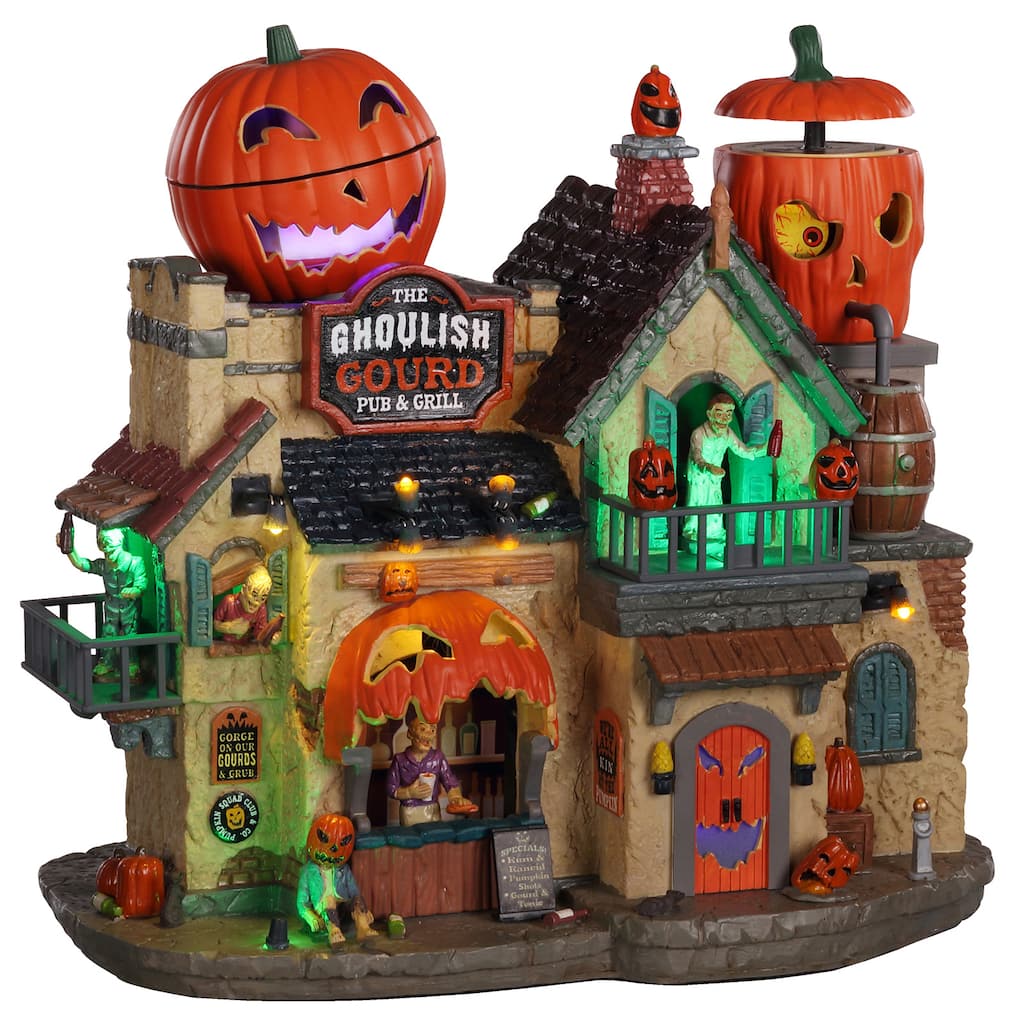 Details
https://canada.michaels.com/en/lemax-spooky-town-the-ghoulish-gourd-pub-and-grill/10627040.html
---
Get ready for a howling night at the Ghoulish Gourd Pub & Grill. Tonight's menu includes haunting fares, as lights flash on different sceneries coordinating with the script in the soundtrack playing. Living dead stalk the windows as spooky pumpkins spin on the roof. For the pumpkin on the rooftop towards the left, it pivots back and forth while its top half spins around to changes from a "good" to "evil" face. When the face changes, the colour of light also transitions. For the pumpkin on the rooftop towards the right, its top lip moves up and down lifting its eyelids to expose its pupils.

Approx. size (H x W x D): 9.92" x 10.04" x 6.5" (25.2cm x 25.5cm x 16.5cm)
Year Released: 2020
Made of: Polyresin
Product type: Sights & Sounds
Control switch: Volume Control and Power Switch for all functions
Electrical: Adaptor included
Current: This unit will draw approx. 550mA current at 4.5V DC



Get ready for a howling night at the Ghoulish Gourd Pub & Grill. Tonight's menu includes haunting fares, as lights flash on different sceneries coordinating with the script in the soundtrack playing. Living dead stalk the windows as spooky pumpkins spin on the roof. For the pumpkin on the rooftop towards the left, it pivots back and forth while its top half spins around to changes from a "good" to "evil" face. When the face changes, the colour of light also transitions. For the pumpkin on the rooftop towards the right, its top lip moves up and down lifting its eyelids to expose its pupils.

Approx. size (H x W x D): 9.92" x 10.04" x 6.5" (25.2cm x 25.5cm x 16.5cm)
Year Released: 2020
Made of: Polyresin
Product type: Sights & Sounds
Control switch: Volume Control and Power Switch for all functions
Electrical: Adaptor included
Current: This unit will draw approx. 550mA current at 4.5V DC



jump
---
Get ready for a howling night at the Ghoulish Gourd Pub & Grill. Tonight's menu includes haunting fares, as lights flash on different sceneries coordinating with the script in the soundtrack playing. Living dead stalk the windows as spooky pumpkins spin on the roof. For the pumpkin on the rooftop towards the left, it pivots back and forth while its top half spins around to changes from a "good" to "evil" face. When the face changes, the colour of light also transitions. For the pumpkin on the rooftop towards the right, its top lip moves up and down lifting its eyelids to expose its pupils.

Approx. size (H x W x D): 9.92" x 10.04" x 6.5" (25.2cm x 25.5cm x 16.5cm)
Year Released: 2020
Made of: Polyresin
Product type: Sights & Sounds
Control switch: Volume Control and Power Switch for all functions
Electrical: Adaptor included
Current: This unit will draw approx. 550mA current at 4.5V DC



Get ready for a howling night at the Ghoulish Gourd Pub & Grill. Tonight's menu includes haunting fares, as lights flash on different sceneries coordinating with the script in the soundtrack playing. Living dead stalk the windows as spooky pumpkins spin on the roof. For the pumpkin on the rooftop towards the left, it pivots back and forth while its top half spins around to changes from a "good" to "evil" face. When the face changes, the colour of light also transitions. For the pumpkin on the rooftop towards the right, its top lip moves up and down lifting its eyelids to expose its pupils.

Approx. size (H x W x D): 9.92" x 10.04" x 6.5" (25.2cm x 25.5cm x 16.5cm)
Year Released: 2020
Made of: Polyresin
Product type: Sights & Sounds
Control switch: Volume Control and Power Switch for all functions
Electrical: Adaptor included
Current: This unit will draw approx. 550mA current at 4.5V DC



Shipping & Returns
jump
---
Shipping & Returns
Shipping
Most products may be shipped via standard ground (delivered in 3-7 business days) or Expedited (1 business day). Orders placed by 11:00 AM Central Time using the Expedited option will ship the same day. View Full Shipping Policy and Pricing ›
Returns
If your Michaels purchase does not meet your satisfaction, you may return it within six months (180 days) of purchase. To return an item, the item must be new, unused and in its original packaging. You may return the item to a Michaels store or by mail. View Full Return Policy ›
From the Manufacturer
jump
Customer Reviews
Lemax® Spooky Town® The Ghoulish Gourd Pub & Grill
is rated out of
5
by
6
.
Rated

5

out of

5
by
Frumonkey
from
Great features
Fun piece was not to sure about it but it has become one of my favorites
Date published: 2020-08-02
Rated

5

out of

5
by
MGIS
from
Awesome building
From the exterior lighting to the big pumpkin movements to the sound this building is amazing.
Date published: 2020-08-02
Rated

5

out of

5
by
Vltsunflower
from
Always love these halloween decorations
This decoration is great. It has multiple moving pieces, lights and sound so it is well worth the money.
Date published: 2020-08-01
Rated

4

out of

5
by
frango
from
Amazing piece BUT hard to find one that worked
I had to exchange this 3 TIMES in order to find one that worked. The first one I purchased the pumpkin that spins kept getting stuck and the drinking pumpkin made a loud squeak. So I exchanged it and the next one the spinning pumpkin didn't work at all. Finally by the third, I tested it at michaels before driving all the way home and thankfully it worked perfect. It's honestly one of my favorite pieces I've seen by spooky town Lemax, but I just wish I hadn't had to deal with all the damaged ones, especially at $140 for this piece. Hopefully the one I have stays strong.
Date published: 2020-07-31
Rated

5

out of

5
by
Nic160
from
Must-have Piece
I fell in love with this piece after seeing it lit up in the dark! This is such a beautiful piece & it's even better in person. It's my first year collecting & I think Lemax outdid themselves with this collection! The different colors look so festive & the flashing lights sync up with the audio. The gourd on the left spins the top half of his head to reveal an evil face & the one on the right side has his head moving up & down to reveal bloodshot eyes that glow! If you're hesitant about purchasing this, I recommend doing so before it's gone. I'd wait on a coupon though as it is very expensive. When I was taking this out of the styrofoam I made the mistake of grabbing it from the balcony on the left side, I didn't realize what I was pulling up, and I broke the balcony off but was able to glue it back on. Just be cautious of how you remove this one from the box! Very excited to have this as one of the items to start my village off with!
Date published: 2020-07-29
Rated

5

out of

5
by
Dirtyfloat
from
The Ghoulish Gourd Pub & Grill
Grrat addition to current LeMax decor. Buy one every year.
Date published: 2020-07-27