Lemax® Spooky Town® Graveyard Party
Lemax® Spooky Town® Graveyard Party
Lemax® Spooky Town® Graveyard Party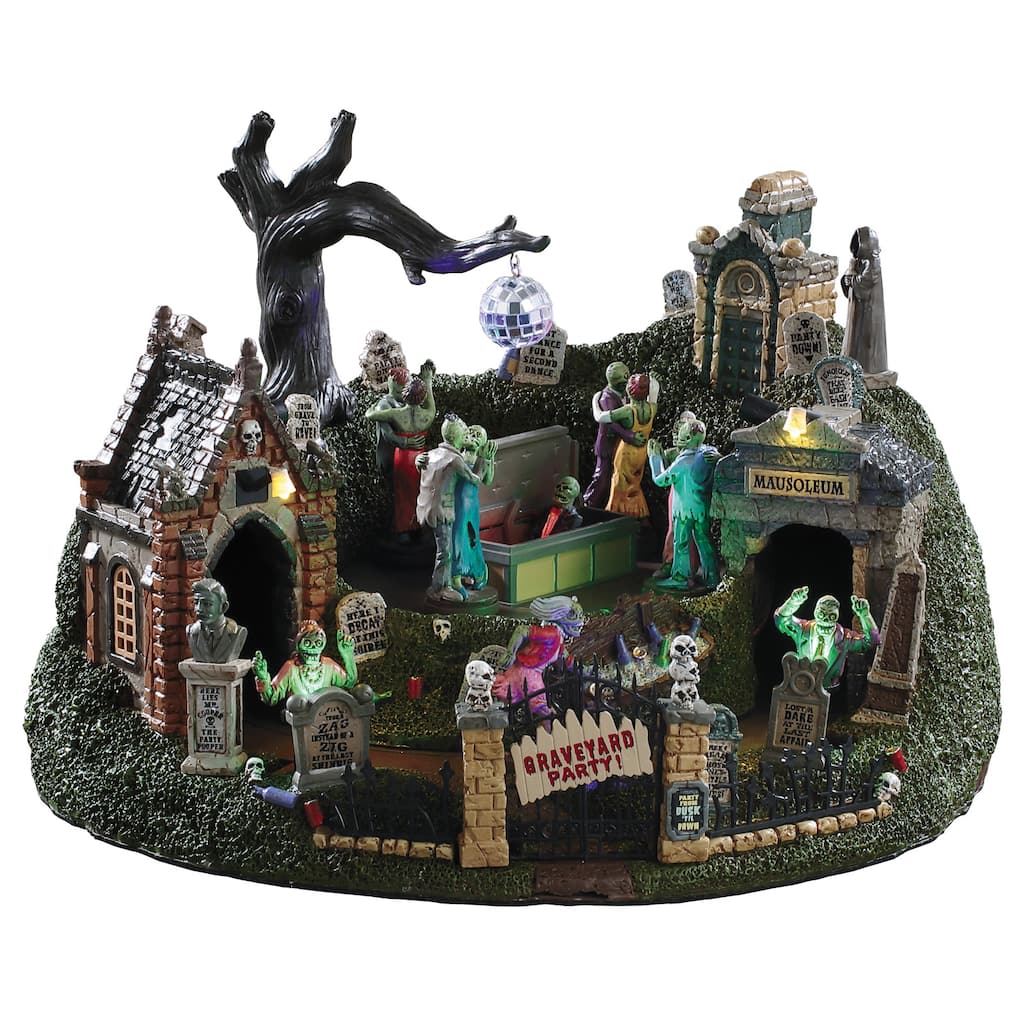 Details
https://canada.michaels.com/en/lemax-spooky-town-graveyard-party/10627036.html
---
A scary celebration has broken out at the Graveyard Party. Zombies are twirling around a coffin with their dance partners while others are popping out from behind tombstones or running through the mausoleum. A disco ball shines brightly above the fun!

Approx. size (H x W x D): 8.27" x 11.02" x 10.75" (21cm x 28cm x 27.3cm)
Year Released: 2019
Made of: Polyresin
Product type: Sights & Sounds
Control switch: Volume control and Power Switch for all functions
Electrical: Adaptor included
Current: This unit will draw approx. 380mA current at 4.5V DC
A scary celebration has broken out at the Graveyard Party. Zombies are twirling around a coffin with their dance partners while others are popping out from behind tombstones or running through the mausoleum. A disco ball shines brightly above the fun!

Approx. size (H x W x D): 8.27" x 11.02" x 10.75" (21cm x 28cm x 27.3cm)
Year Released: 2019
Made of: Polyresin
Product type: Sights & Sounds
Control switch: Volume control and Power Switch for all functions
Electrical: Adaptor included
Current: This unit will draw approx. 380mA current at 4.5V DC
jump
---
A scary celebration has broken out at the Graveyard Party. Zombies are twirling around a coffin with their dance partners while others are popping out from behind tombstones or running through the mausoleum. A disco ball shines brightly above the fun!

Approx. size (H x W x D): 8.27" x 11.02" x 10.75" (21cm x 28cm x 27.3cm)
Year Released: 2019
Made of: Polyresin
Product type: Sights & Sounds
Control switch: Volume control and Power Switch for all functions
Electrical: Adaptor included
Current: This unit will draw approx. 380mA current at 4.5V DC
A scary celebration has broken out at the Graveyard Party. Zombies are twirling around a coffin with their dance partners while others are popping out from behind tombstones or running through the mausoleum. A disco ball shines brightly above the fun!

Approx. size (H x W x D): 8.27" x 11.02" x 10.75" (21cm x 28cm x 27.3cm)
Year Released: 2019
Made of: Polyresin
Product type: Sights & Sounds
Control switch: Volume control and Power Switch for all functions
Electrical: Adaptor included
Current: This unit will draw approx. 380mA current at 4.5V DC
Shipping & Returns
jump
---
Shipping & Returns
Shipping
Most products may be shipped via standard ground (delivered in 3-7 business days) or Expedited (1 business day). Orders placed by 11:00 AM Central Time using the Expedited option will ship the same day. View Full Shipping Policy and Pricing ›
Returns
If your Michaels purchase does not meet your satisfaction, you may return it within six months (180 days) of purchase. To return an item, the item must be new, unused and in its original packaging. You may return the item to a Michaels store or by mail. View Full Return Policy ›
From the Manufacturer
jump
Customer Reviews
Lemax® Spooky Town® Graveyard Party
is rated out of
5
by
3
.
Rated

4

out of

5
by
Don1031
from
Like all the great features
I like all the great moving features. The up and down zombies behind the tombstone, the casket with the opening and closing. There is an issue with the track of the zombies chasing each other. Our first one rubbed somewhere in the back and made a bad grinding noise. We returned that one and got another. This one has a spot in the front where one of the pieces rubs, but it is not real bad and may quit once the piece is broken in. Lemax needs to work on how the pieces are glued on the track to make sure it runs correctly.
Date published: 2020-08-03
Rated

5

out of

5
by
Sheabear
from
Great piece for your Spooky Town graveyard!
The Graveyard Party is an awesome piece with a lot of things going on. There's animation with the dancing zombies as well as some that pop up from behind tombstones. The music is great and this is a pretty well lit piece. It will definitely be one of the highlights of an cemetery set-up.
Date published: 2020-07-30
Rated

5

out of

5
by
COnavarro
from
Dancing with the the Dead!
I love this piece!! Reminds me of the Haunted Mansion from Disneyland. With pop ups behind grave stones. Grim Reeper overlooking the party. Coffin pop up and the dead chasing eachother.
Date published: 2020-07-23