Lemax® Isle of Creepy Jacks
Lemax® Isle of Creepy Jacks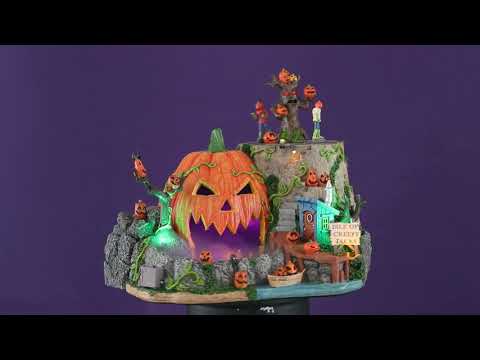 Video
Lemax® Isle of Creepy Jacks
Details
https://canada.michaels.com/en/lemax-isle-of-creepy-jacks/10662824.html
---
Isle of Creepy Jacks has a massive Jack-o'-lantern cave with spooky fog emerging from the pumpkin's mouth. This Michaels Exclusive item features pumpkin-headed figures creepily rotating—taking over the entire island. Hand painted with fine detail, the Isle of Creepy Jacks will make a great addition to your Halloween décor.

Approx. size (H x W x D): 6.69" x 12.05" x 10.24" (17cm x 30.6cm x 26cm)
Year released: 2021
Made of: Polyresin
Product type: Sights & Sounds
Control switch: On/Off push switch
Electrical: Adaptor included
Current: This unit will draw approx. 349mA at 4.5V DC
Michaels Exclusive
Isle of Creepy Jacks has a massive Jack-o'-lantern cave with spooky fog emerging from the pumpkin's mouth. This Michaels Exclusive item features pumpkin-headed figures creepily rotating—taking over the entire island. Hand painted with fine detail, the Isle of Creepy Jacks will make a great addition to your Halloween décor.

Approx. size (H x W x D): 6.69" x 12.05" x 10.24" (17cm x 30.6cm x 26cm)
Year released: 2021
Made of: Polyresin
Product type: Sights & Sounds
Control switch: On/Off push switch
Electrical: Adaptor included
Current: This unit will draw approx. 349mA at 4.5V DC
Michaels Exclusive
jump
---
Isle of Creepy Jacks has a massive Jack-o'-lantern cave with spooky fog emerging from the pumpkin's mouth. This Michaels Exclusive item features pumpkin-headed figures creepily rotating—taking over the entire island. Hand painted with fine detail, the Isle of Creepy Jacks will make a great addition to your Halloween décor.

Approx. size (H x W x D): 6.69" x 12.05" x 10.24" (17cm x 30.6cm x 26cm)
Year released: 2021
Made of: Polyresin
Product type: Sights & Sounds
Control switch: On/Off push switch
Electrical: Adaptor included
Current: This unit will draw approx. 349mA at 4.5V DC
Michaels Exclusive
Isle of Creepy Jacks has a massive Jack-o'-lantern cave with spooky fog emerging from the pumpkin's mouth. This Michaels Exclusive item features pumpkin-headed figures creepily rotating—taking over the entire island. Hand painted with fine detail, the Isle of Creepy Jacks will make a great addition to your Halloween décor.

Approx. size (H x W x D): 6.69" x 12.05" x 10.24" (17cm x 30.6cm x 26cm)
Year released: 2021
Made of: Polyresin
Product type: Sights & Sounds
Control switch: On/Off push switch
Electrical: Adaptor included
Current: This unit will draw approx. 349mA at 4.5V DC
Michaels Exclusive
Shipping & Returns
jump
---
Shipping & Returns
Shipping
Most products may be shipped via standard ground (delivered in 3-5 business days) or Expedited (1 business day). Orders placed by 11:00 AM Central Time using the Expedited option will ship the same day. View Full Shipping Policy and Pricing ›
Returns
If your Michaels purchase does not meet your satisfaction, you may return it within two months (60 days) of purchase. To return an item, the item must be new, unused and in its original packaging. You may return the item to a Michaels store or by mail. View Full Return Policy ›
From the Manufacturer
jump
Customer Reviews
Lemax® Isle of Creepy Jacks
is rated out of
5
by
41
.
Rated

5

out of

5
by
Eiowan9
from
Exactly what we need
Couldn't believe how fast the Lemax halloween decor sold out thos year. Fortunately was able to find all the pieces that my family was interested in purchasing this year and the beginning of our Halloween town began.
Date published: 2021-09-18
Rated

4

out of

5
by
Chances are
from
Awesome lighting
Awesome lighting but does not fog or mist very much at all and no sound Still a great piece to add to your collection
Date published: 2021-09-15
Rated

5

out of

5
by
Kkenzie16
from
Massive!
This is probably my favorite out of the collection this year. I was really worried that it was going to show up broken but whatever Michaels store it came from did a phenomenal job wrapping it before shipping (so thank you!). I didn't realize how big it was gonna be but it's still cute nonetheless and the fog portion is really cool!
Date published: 2021-09-12
Rated

5

out of

5
by
Anonymous
from
Works Perfect!
I read some previous reviews about how their foggers weren't working. However, we read the instructions and set ours up and we turned on the fogger and it worked immediately. It's smokes really well and the lights are perfect. You can see the pumpkin figures shadows dance across the wall which I love. So happy I bought this. Even if the fogger didn't work it's still a great piece and I love it regardless.
Date published: 2021-09-11
Rated

5

out of

5
by
cvb2
from
Love the fog! and it's quiet!
I was worried that the motor for the items turning would be too loud but it is pretty darn quiet. Also love that you don't necessarily need to leave on the fog machine all the time. It is a tad bigger than I was expecting next to some of the other pieces, but it is still one of my faves! (Please Michaels, upload video of these items with no soundtrack in the bkg, we want to know if items motors make any noises or if the display has sound!)
Date published: 2021-09-09
Rated

1

out of

5
by
Daisy 101
from
Broken…
I was so excited to get this set up and it won't make the fog. I'm so disappointed. I would return it but my Michael's in Idaho Falls but the store hasn't gotten anything on and they do t think they will.
Date published: 2021-09-09
Rated

5

out of

5
by
Wilkee
from
Isle of Ceepy Jacks
Love this piece! The details are awesome. I plan to use it with Point Dread since both have the pumpkin head people. It's great that magnets hold the tree and pumpkin head people so you could change out to pirates if you didn't like them. It also would go great in a carnival section.
Date published: 2021-09-05
Rated

5

out of

5
by
Jennyvmarie
from
Absolutely obsessed!
My new favorite piece! The detail is amazing, the colors it lights up to gives my town a whole new vibe. Lastly, the fog gives it the perfect creepy mood.
Date published: 2021-09-04
Rated

4

out of

5
by
Lemax Collector AZ
from
Nice, but beware of fogger
Nice piece, but a bit overpriced -- and be careful with the fogger. The fogging mechanism did not work initially -- in fact, we almost returned it. But after waiting a day, it eventually started working, and now it seems pretty reliable. Glad we didn't return it, because it's doubtful we would have found another (what is up with the stock issues this year?).
Date published: 2021-09-03
Rated

5

out of

5
by
ben1steelers
from
2021 Lemax Spooky Town
Great price, one of the best Lemax Spooky Town items in a while
Date published: 2021-09-02
Rated

4

out of

5
by
cc99
from
Love it But...
I really love this piece, however the only drawback is when the fog is turned on the moisture from the fog creates condensation on the table it is set on. Be aware of this when setting up to put it on something that is waterproof or something to absorb the moisture. Overall, this is really a cool piece. Its sturdy and I like how the pumpkin accessories are magnetic to attach to the piece. This is a great piece to add to a pumpkin patch theme.
Date published: 2021-09-02
Rated

5

out of

5
by
ScTay
from
Unique statement piece
By far the most unique piece lemax has ever put out. Even though it's a unique building you could easily put it in your pumpkin patch or with the pumpkin themed carnival rides (the pumpkins left the isle to join the carnival lol)
Date published: 2021-09-02
Rated

2

out of

5
by
Tracey1980
from
Fog doesn't work
I wanted to like this, but there were two things wrong: the motor is very loud when the tree turns and also the fog does not work. The red light blinks even when water levels are full but no fog appears. Quite disappointing as I waited so long for it to ship.
Date published: 2021-08-30
Rated

5

out of

5
by
Ktneis
from
Smokin Pumpkin
We love this Spookytown Ise of Creepy Jacks pumpkin with so many interactive things on it. The smoke is easy to do and looks amazing!
Date published: 2021-08-28
Rated

5

out of

5
by
WAMATL
from
Fantastic - very unique and well done!
Everything you would hope for is in this piece. The level of detail is excellent and the overall design is exceptional. Lemax should use model as the benchmark for future designs. It's weird to me how this was released at the same time as The Horrid Haunted Hotel. The Horrid Haunted Hotel reminds me of a Little Tikes toy. The features should have a purpose and compliment the design, not distract from it!
Date published: 2021-08-27
Rated

5

out of

5
by
Joycecj
from
Best peace in 2021
To me this is one of the best pieces lemax spooky town has put out. Just absolutely amazing built very well heavy. The fog is fabulous. I found two of them and bought them both. What can I say it is a wonderful wonderful peace..
Date published: 2021-08-22
Rated

2

out of

5
by
IrishFan77
from
Fogging unit came malfunctioning.
It's an awesome detailed piece. Would be a 5 star minus the fact it came with a bad sensor. The red light to warn you of low water, flashed even at the most full level. It will not stop flashing even switching the wick out. It is sold out now, so after I ordered early I'm very disappointed. Lemax has horrible shipping and supply issues this year? Very annoying. Make sure you check yours right away if you were lucky enough to get one.
Date published: 2021-08-21
Rated

4

out of

5
by
Jess2893
from
Awesome
I love this piece, it's very well done although some improvements could have been done. There is no music and the top piece that spins is just a plain gray plastic, it should have been covered with a green velvet or something. But none the less I am very excited to add this to my village.
Date published: 2021-08-18
Rated

5

out of

5
by
ClairBear19
from
Beautiful But Fog Didn't Work
I can't give this anything less than a 5 star even if I had to return it and ended up with nothing as it is out of stock. The piece itself is amazing: the colors, detail, craftsmanship. I just couldn't get the fog to work for the life of me. It seemed to be missing the component that goes on top of the wick. I will try to order again. Great piece!!!
Date published: 2021-08-17
Rated

3

out of

5
by
Row row
from
Fog did not work
The details and lighting spot on beautiful. Very nice to see during the day and enjoy at night with the lights on. The fog part did not work at all for me. The main feature of this product is the fog. The magnet and wick were loose in the pumpkin so during delivery ride. I read and followed directions that were in the instructions. It's just a pond that lights up without fog. They are out of stock so can't get replacement. I will buy again because I do like this one a lot. It does not have sound even though the description says it.
Date published: 2021-08-13
Rated

5

out of

5
by
AngPcola
from
My new favorite
Love this piece! It's very detailed and the magnetic features are great to help keep figures from breaking. Our favorite part is the water & fog effect. It took me a little while to get it going (I soaked the wick in water and made sure it was sitting high in the hole). It looks great.
Date published: 2021-08-12
Rated

4

out of

5
by
Dropdeadcupcakes
from
Love it except no sound
I was so excited to purchase this! Fog and sound for the price! I unpacked it and kept trying to find out how to turn the sound on since in the description above even says sound and so does the box.. i then watched a video on YouTube and it says it doesn't have sound which I think is kinda unfair when it says sound on the box an description above.. but I still love the fog I just was hoping for a little spooky sound to add to it. A little false advertisement in my opinion.. but still beautiful to look at!
Date published: 2021-08-12
Rated

5

out of

5
by
Helder41
from
Love it
What can I say about this. Such a great piece added to my collection. been collecting since 2019 and every year they keep coming out with great collection. The details are superior.
Date published: 2021-08-10
Rated

5

out of

5
by
Bread Guy
from
One of the best Lemax Spookytown pieces released!
This piece has amazing lighting, detail, and features. The animation is clean, and seems as if it will last (also simple enough that it possibly could be repaired if need be). The fogger works spectacularly, and the piece was fully intact and functional when I removed it from the box (and there were plenty of replacement wicks). While many people complain about the use of polyresin over ceramic in recent years, I feel like this piece is very durable, hefty, and strong, and it was the right choice to go with seeing as it comes in contact with water. Definitely one of the best that Lemax has released in recent years.
Date published: 2021-08-04