Lemax® Isle of Creepy Jacks
Lemax® Isle of Creepy Jacks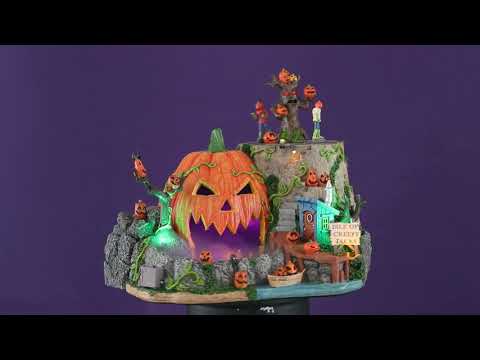 Video
Lemax® Isle of Creepy Jacks
Details
https://canada.michaels.com/en/lemax-isle-of-creepy-jacks/10662824.html
---
Isle of Creepy Jacks has a massive Jack-o'-lantern cave with spooky fog emerging from the pumpkin's mouth. This Michaels Exclusive item features pumpkin-headed figures creepily rotating—taking over the entire island. Hand painted with fine detail, the Isle of Creepy Jacks will make a great addition to your Halloween décor.

Approx. size (H x W x D): 6.69" x 12.05" x 10.24" (17cm x 30.6cm x 26cm)
Year released: 2021
Made of: Polyresin
Product type: Sights & Sounds
Control switch: On/Off push switch
Electrical: Adaptor included
Current: This unit will draw approx. 349mA at 4.5V DC
Michaels Exclusive
Isle of Creepy Jacks has a massive Jack-o'-lantern cave with spooky fog emerging from the pumpkin's mouth. This Michaels Exclusive item features pumpkin-headed figures creepily rotating—taking over the entire island. Hand painted with fine detail, the Isle of Creepy Jacks will make a great addition to your Halloween décor.

Approx. size (H x W x D): 6.69" x 12.05" x 10.24" (17cm x 30.6cm x 26cm)
Year released: 2021
Made of: Polyresin
Product type: Sights & Sounds
Control switch: On/Off push switch
Electrical: Adaptor included
Current: This unit will draw approx. 349mA at 4.5V DC
Michaels Exclusive
jump
---
Isle of Creepy Jacks has a massive Jack-o'-lantern cave with spooky fog emerging from the pumpkin's mouth. This Michaels Exclusive item features pumpkin-headed figures creepily rotating—taking over the entire island. Hand painted with fine detail, the Isle of Creepy Jacks will make a great addition to your Halloween décor.

Approx. size (H x W x D): 6.69" x 12.05" x 10.24" (17cm x 30.6cm x 26cm)
Year released: 2021
Made of: Polyresin
Product type: Sights & Sounds
Control switch: On/Off push switch
Electrical: Adaptor included
Current: This unit will draw approx. 349mA at 4.5V DC
Michaels Exclusive
Isle of Creepy Jacks has a massive Jack-o'-lantern cave with spooky fog emerging from the pumpkin's mouth. This Michaels Exclusive item features pumpkin-headed figures creepily rotating—taking over the entire island. Hand painted with fine detail, the Isle of Creepy Jacks will make a great addition to your Halloween décor.

Approx. size (H x W x D): 6.69" x 12.05" x 10.24" (17cm x 30.6cm x 26cm)
Year released: 2021
Made of: Polyresin
Product type: Sights & Sounds
Control switch: On/Off push switch
Electrical: Adaptor included
Current: This unit will draw approx. 349mA at 4.5V DC
Michaels Exclusive
Shipping & Returns
jump
---
Shipping & Returns
Shipping
Most products may be shipped via standard ground (delivered in 3-5 business days) or Expedited (1 business day). Orders placed by 11:00 AM Central Time using the Expedited option will ship the same day. View Full Shipping Policy and Pricing ›
Returns
If your Michaels purchase does not meet your satisfaction, you may return it within two months (60 days) of purchase. To return an item, the item must be new, unused and in its original packaging. You may return the item to a Michaels store or by mail. View Full Return Policy ›
From the Manufacturer
jump
Customer Reviews
Lemax® Isle of Creepy Jacks
is rated out of
5
by
31
.
Rated

1

out of

5
by
RCPD
from
Awesome...while it worked
Loved it so much until the fogger stopped working....changed the wick , water level is fine and still nothing...cant exchange it since its out of stock at all the stores near me...invested in a lot of the lemax collection this year hoping this is not going to be a common theme
Date published: 2021-09-22
Rated

5

out of

5
by
spooky collector
from
It's a challenge to choose a favorite, but it's 1
This one is a must! If you love pumpkins, fog and motion, this one is special.
Date published: 2021-09-20
Rated

5

out of

5
by
Eiowan9
from
Exactly what we need
Couldn't believe how fast the Lemax halloween decor sold out thos year. Fortunately was able to find all the pieces that my family was interested in purchasing this year and the beginning of our Halloween town began.
Date published: 2021-09-18
Rated

4

out of

5
by
Chances are
from
Awesome lighting
Awesome lighting but does not fog or mist very much at all and no sound Still a great piece to add to your collection
Date published: 2021-09-15
Rated

5

out of

5
by
Kkenzie16
from
Massive!
This is probably my favorite out of the collection this year. I was really worried that it was going to show up broken but whatever Michaels store it came from did a phenomenal job wrapping it before shipping (so thank you!). I didn't realize how big it was gonna be but it's still cute nonetheless and the fog portion is really cool!
Date published: 2021-09-12
Rated

5

out of

5
by
Anonymous
from
Works Perfect!
I read some previous reviews about how their foggers weren't working. However, we read the instructions and set ours up and we turned on the fogger and it worked immediately. It's smokes really well and the lights are perfect. You can see the pumpkin figures shadows dance across the wall which I love. So happy I bought this. Even if the fogger didn't work it's still a great piece and I love it regardless.
Date published: 2021-09-11
Rated

5

out of

5
by
cvb2
from
Love the fog! and it's quiet!
I was worried that the motor for the items turning would be too loud but it is pretty darn quiet. Also love that you don't necessarily need to leave on the fog machine all the time. It is a tad bigger than I was expecting next to some of the other pieces, but it is still one of my faves! (Please Michaels, upload video of these items with no soundtrack in the bkg, we want to know if items motors make any noises or if the display has sound!)
Date published: 2021-09-09
Rated

1

out of

5
by
Daisy 101
from
Broken…
I was so excited to get this set up and it won't make the fog. I'm so disappointed. I would return it but my Michael's in Idaho Falls but the store hasn't gotten anything on and they do t think they will.
Date published: 2021-09-09