Lemax® Caddington Village™ The Candy Cane Works
Lemax® Caddington Village™ The Candy Cane Works
Lemax® Caddington Village™ The Candy Cane Works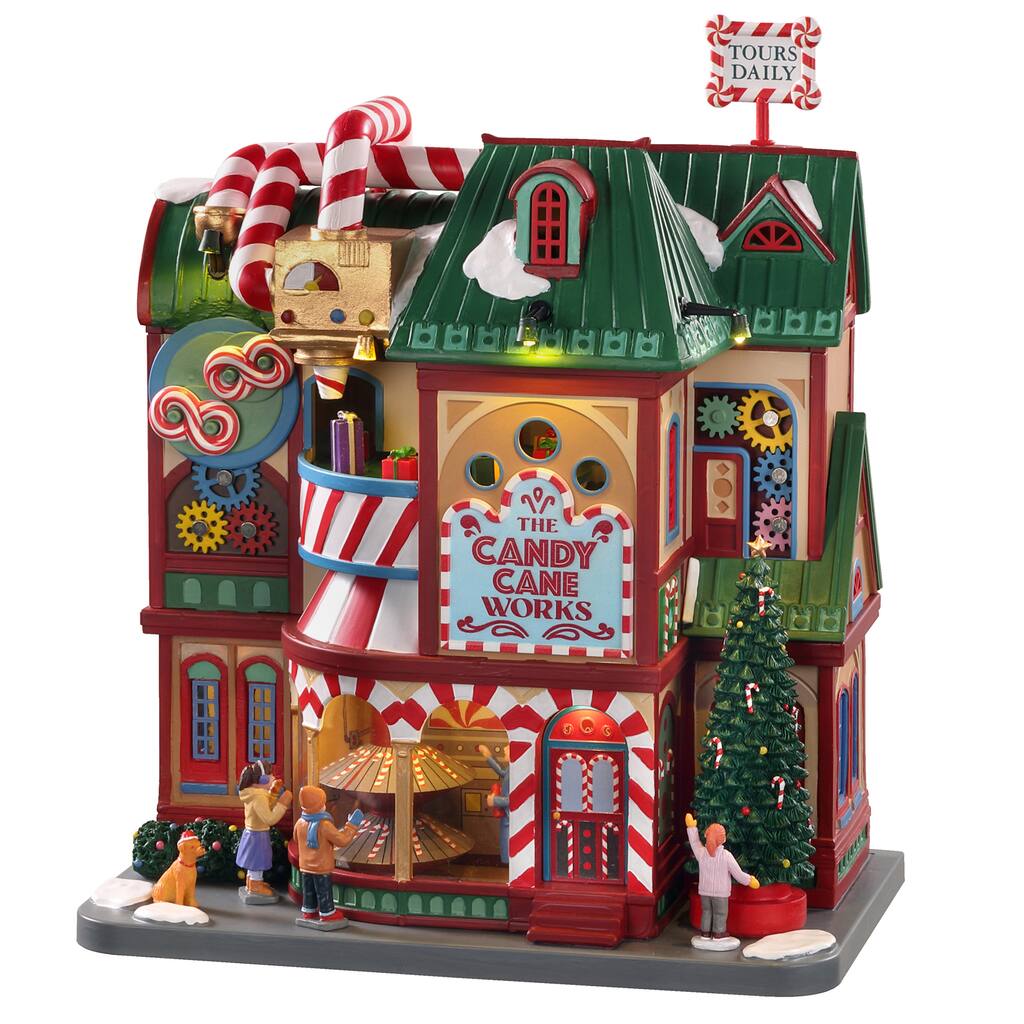 Details
https://canada.michaels.com/en/lemax-caddington-village-the-candy-cane-works/10639094.html
---
The Candy Cane Works is a fun and imaginative addition to any Lemax Christmas village. Gears and candy cane cogs spin in sync as presents and candy canes rotate on conveyor belts. A woman works inside as children gather at the windows to watch the colorful factory roaring to life.

Approx. size (H x W x D): 9.84" x 9.25" x 5.91" (25cm x 23.5cm x 15cm)
Year Released: 2020
Made of: Polyresin
Product type: Sights & Sounds
Control switch: Volume control and Power Switch for all functions
Electrical: Adaptor included
Current: This unit will draw approx. 420mA current at 4.5V DC
The Candy Cane Works is a fun and imaginative addition to any Lemax Christmas village. Gears and candy cane cogs spin in sync as presents and candy canes rotate on conveyor belts. A woman works inside as children gather at the windows to watch the colorful factory roaring to life.

Approx. size (H x W x D): 9.84" x 9.25" x 5.91" (25cm x 23.5cm x 15cm)
Year Released: 2020
Made of: Polyresin
Product type: Sights & Sounds
Control switch: Volume control and Power Switch for all functions
Electrical: Adaptor included
Current: This unit will draw approx. 420mA current at 4.5V DC
jump
---
The Candy Cane Works is a fun and imaginative addition to any Lemax Christmas village. Gears and candy cane cogs spin in sync as presents and candy canes rotate on conveyor belts. A woman works inside as children gather at the windows to watch the colorful factory roaring to life.

Approx. size (H x W x D): 9.84" x 9.25" x 5.91" (25cm x 23.5cm x 15cm)
Year Released: 2020
Made of: Polyresin
Product type: Sights & Sounds
Control switch: Volume control and Power Switch for all functions
Electrical: Adaptor included
Current: This unit will draw approx. 420mA current at 4.5V DC
The Candy Cane Works is a fun and imaginative addition to any Lemax Christmas village. Gears and candy cane cogs spin in sync as presents and candy canes rotate on conveyor belts. A woman works inside as children gather at the windows to watch the colorful factory roaring to life.

Approx. size (H x W x D): 9.84" x 9.25" x 5.91" (25cm x 23.5cm x 15cm)
Year Released: 2020
Made of: Polyresin
Product type: Sights & Sounds
Control switch: Volume control and Power Switch for all functions
Electrical: Adaptor included
Current: This unit will draw approx. 420mA current at 4.5V DC
Shipping & Returns
jump
---
Shipping & Returns
Shipping
Most products may be shipped via standard ground (delivered in 3-7 business days) or Expedited (1 business day). Orders placed by 11:00 AM Central Time using the Expedited option will ship the same day. View Full Shipping Policy and Pricing ›
Returns
If your Michaels purchase does not meet your satisfaction, you may return it within six months (180 days) of purchase. To return an item, the item must be new, unused and in its original packaging. You may return the item to a Michaels store or by mail. View Full Return Policy ›
From the Manufacturer
jump
Customer Reviews
Lemax® Caddington Village™ The Candy Cane Works
is rated out of
5
by
5
.
Rated

4

out of

5
by
Sjp68
from
Perfect addition
We bought this yesterday and it's a perfect addition to our other Lemax pieces. It started squeaking about an hour in. I'm going to attempt to add the machine oil as suggested. I hope it works. Our Lemax set is for our autistic child and the squeaking really upsets him.
Date published: 2020-11-18
Rated

5

out of

5
by
UncleWoody62
from
I'm Addressing the Squeeking....
Hey Folks, I'm just a Christmas Village lover too! With these sight and sound models that have moving parts, you need to treat them as you would a Lionel Locomotive! Keeping dust, snow, pet hair... etc.,, away from the movements inside. During the season... I take cotton swabs and clean off gears and axels that I Can easily reach. Straighten out a paper clip, and add a drop of sewing machine oil to it. Then, use only that much oil to apply to moving gears, rods... etc. The noise will Stop! When packing it up. Give it a good dusting ..... clean with cotton swabs... minimal oil... and she will be ready for next year. PS. I'd keep these out of the attic if possible. Really. Hope this helps! Any further info... google oiling a Lionel Loco. That's the best info!
Date published: 2020-11-15
Rated

3

out of

5
by
Carrieleigh711
from
Mixed review
This is far from plastic as someone mentioned. As always the detail is beautiful and the outside quality is premium but I always have problems with them working. The candy cane lane came yesterday and it's already squeaking as the wheels turn....
Date published: 2020-11-08
Rated

3

out of

5
by
MominTX
from
I wanted to love it
I really fell in love with this when I saw it online. I purchased it. Imagine my surprise when I take it out of the box today and the item is mostly plastic. I'm very disappointed. For the price that I paid elsewhere, it should be better quality
Date published: 2020-11-07
Rated

5

out of

5
by
Naba
from
Christmas Village
Look forward to seeing the Christmas Village set up every year. Adding the pieces creates a story for the little village. My grandson has fun setting it up.
Date published: 2020-10-22