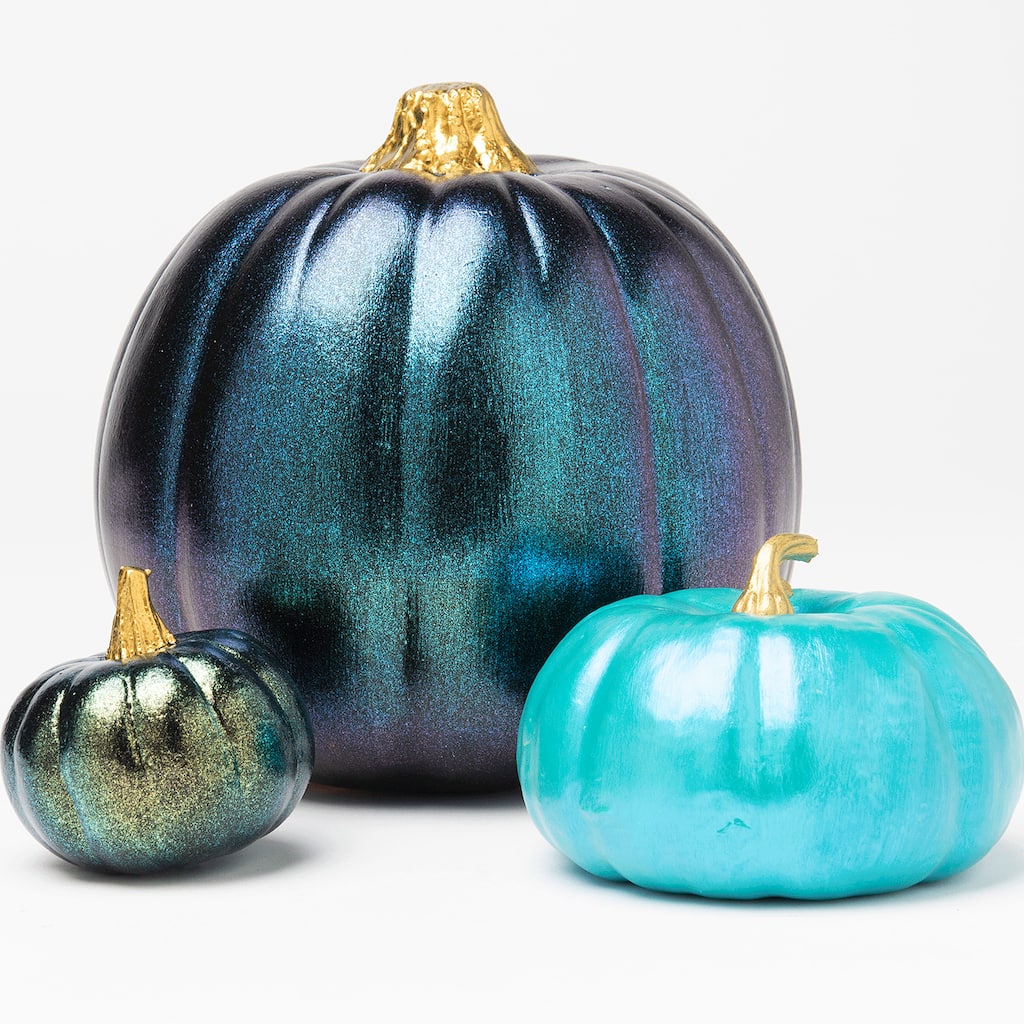 About an hour
Beginner
Beginner
You're new to the skills necessary to complete this project, or maybe you've tried them just once or twice before.
dragonfly shimmer pumpkins
Create shimmering iridescent pumpkins to add to your Halloween décor with FolkArt® multi-surface paints. They are easy to use and come in a variety of colors and finishes!
Step 1
Create shimmering iridescent pumpkins to add to your Halloween décor with FolkArt® multi-surface paints. They are easy to use and come in a variety of colors and finishes! Step 1 Basecoat your large and small pumpkins with Pure Black multi-surface paint. Let dry. Step 2 Add Dragonfly Glaze™ on top of the dry Pure Black paint. Repeat with two or more coats until desired look is achieved. Let dry. Step 3 Paint your medium pumpkin with Aqua Color Shift™ paint and let dry. Repeat with two or more coats until desired look is achieved. Let dry. Step 4 Paint all three of your pumpkin stems with Bright Gold multi-surface paint. Let dry. Share your project photos with #MakeItWithMichaels
https://canada.michaels.com/en/dragonfly-shimmer-pumpkins/B_88385.html
https://canada.michaels.com/en/folkart-dragonfly-glaze-acrylic-top-coat/10597786.html
Paper Towel
Water Basin
Paper Plate (or Palette Paper)
Step 1
Create shimmering iridescent pumpkins to add to your Halloween décor with FolkArt® multi-surface paints. They are easy to use and come in a variety of colors and finishes! Step 1 Basecoat your large and small pumpkins with Pure Black multi-surface paint. Let dry. Step 2 Add Dragonfly Glaze™ on top of the dry Pure Black paint. Repeat with two or more coats until desired look is achieved. Let dry. Step 3 Paint your medium pumpkin with Aqua Color Shift™ paint and let dry. Repeat with two or more coats until desired look is achieved. Let dry. Step 4 Paint all three of your pumpkin stems with Bright Gold multi-surface paint. Let dry. Share your project photos with #MakeItWithMichaels
+ View More