NEEDLE EMBROIDERY SIZE 5
NEEDLE EMBROIDERY SIZE 5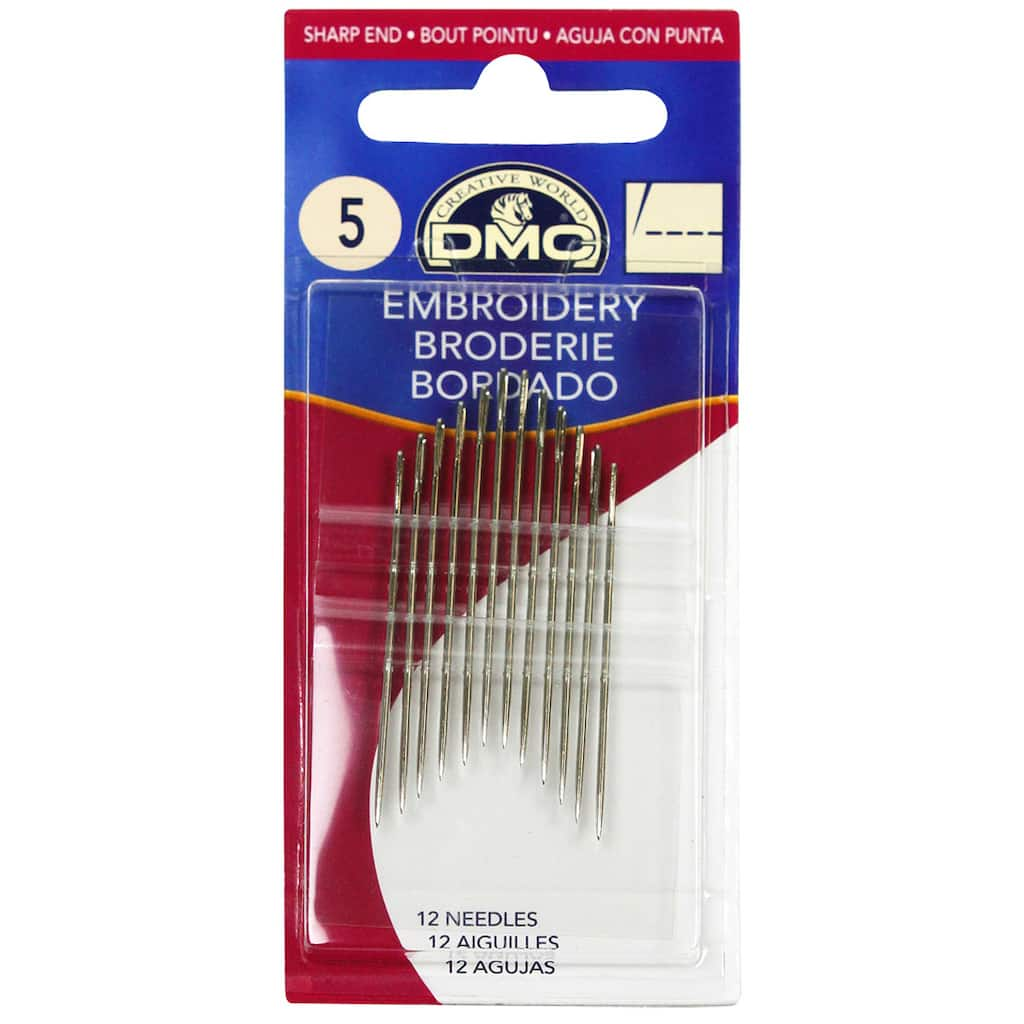 Details
https://canada.michaels.com/en/dmc-embroidery-needles/10327703.html
Variations
Please Select a Color

Size:
Shipping & Returns
jump
---
Shipping & Returns
Shipping
Most products may be shipped via standard ground (delivered in 3-5 business days) or Expedited (1 business day). Orders placed by 11:00 AM Central Time using the Expedited option will ship the same day. View Full Shipping Policy and Pricing ›
Returns
If your Michaels purchase does not meet your satisfaction, you may return it within two months (60 days) of purchase. To return an item, the item must be new, unused and in its original packaging. You may return the item to a Michaels store or by mail. Effective 11/27/2022 (or November 27, 2022) Clearance sales are considered final, sold AS IS and are not returnable for a refund or exchange. View Full Return Policy ›
From the Manufacturer
jump
Customer Reviews
DMC® Embroidery Needles
is rated out of
5
by
16
.
Rated

5

out of

5
by
Mirjam
from
Does the job!
Good needles, they do the job and for a reasonable price.
Date published: 2019-01-08
Rated

1

out of

5
by
suzzeew
from
Poorest quality - Literally unusable
I do a lot of small needle work. These needles arrived and I was literally unable to thread them. I removed each one from it's package and could not get even a common sewing thread through the eye on any of them. These are embroidery needles and should accommodate embroidery thread. I put on my magnifying reading glasses and then looked through my magnifying lamp to try to devise the problem. The eye of each of these needles was "rough" on the inside... Very rough... like the manufacturer skipped a step making them. Horrible.
Date published: 2018-09-24
Rated

2

out of

5
by
ahavarshi
from
too small loopholes
The holes in these needles are too small to fit the thread in. Granted, I am a beginner but I match rather a larger loophole, less frustrating.
Date published: 2018-07-08
Rated

5

out of

5
by
Soprano1
from
Sharp and Easy to Use
These needles were sharp and easy to use, would buy again.
Date published: 2018-04-07
Rated

5

out of

5
by
Churlgurl
from
Love these needles
I have used DMC embroidery needles for many years. Very high quality.
Date published: 2018-04-02
Rated

3

out of

5
by
Marys55
from
Very nice variety
I like the fact that you can buy a variety pack or a pack with the same size. Makes life easier.
Date published: 2018-01-16
Rated

3

out of

5
by
Perseus
from
They're sharp and thread easy, but short
Now using beading needles for freehand embroidery.
Date published: 2017-11-27
Rated

5

out of

5
by
mtdaisy
from
The only needle to use!
Great product and does not rust over time which is a plus to me.
Date published: 2017-11-06