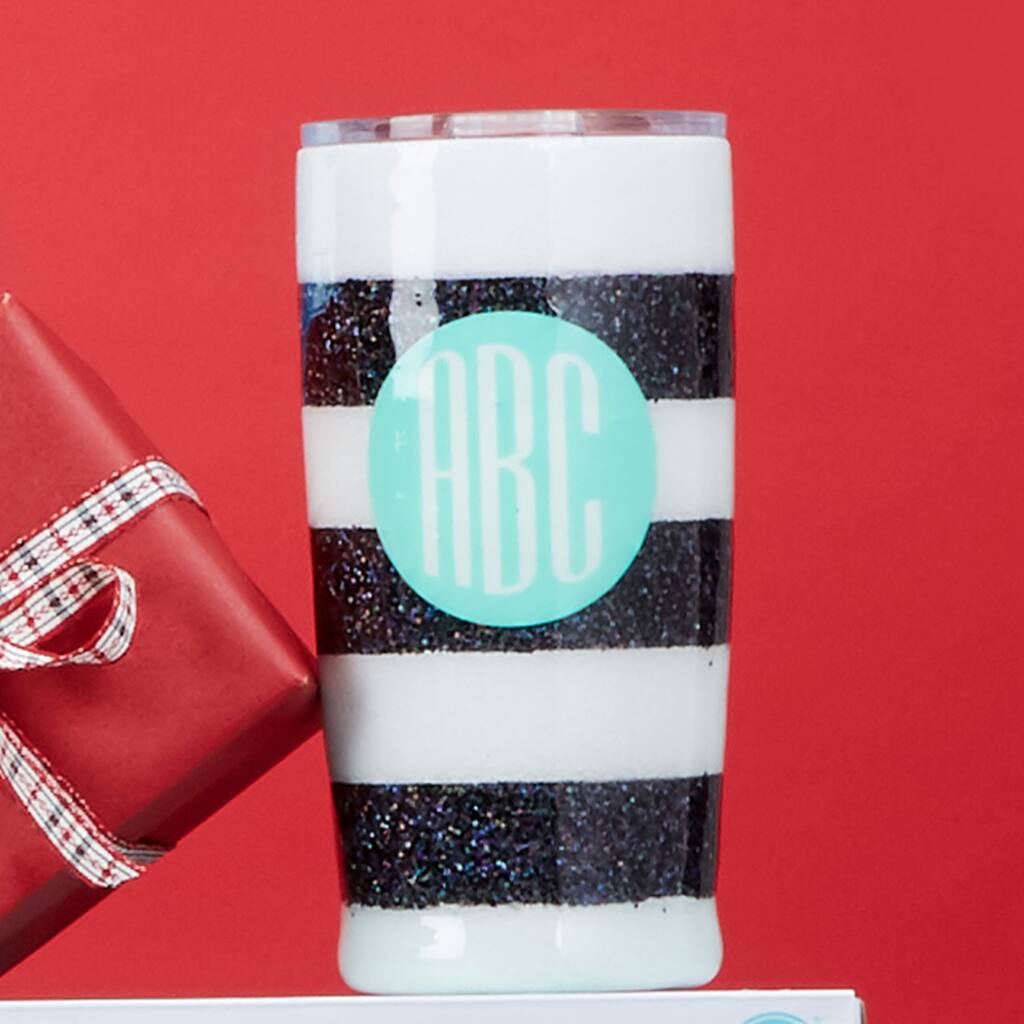 Over an hour
Intermediate
Intermediate
You're somewhat experienced with the skills necessary to complete this project, but you haven't mastered all the elements, yet.
christmas décor guide: cricut® striped monogram tumbler
Create this personalized Striped Monogram Tumbler at home with the easy-to-use Spin It™ motorized rotary drying tool. It has an adjustable grip that fits most tumbler diameters and the rotating arm gives you evenly dried coats on your customized projects.
Step 1
Create this personalized Striped Monogram Tumbler at home with the easy-to-use Spin It™ motorized rotary drying tool. It has an adjustable grip that fits most tumbler diameters and the rotating arm gives you evenly dried coats on your customized projects. Step 1 Remove the lid of your tumbler and set it aside. Paint the entire outside surface of your tumbler with white paint and let dry. Add another coat and set aside to dry. Step 2 While your tumbler is drying, cut your vinyl. Click here for the design in Cricut® Design Space™. Step 3 Now, click on 'Shapes' in the left panel and click the circle. Size it to 2½" and design your monogram within the circle. Slice out the monogram. Be sure to change the color of your monogram so your Cricut® knows to prompt the color change when cutting. TIP: Use the monogram in the design as a guide and delete before you click 'Make It'. Step 4 Click 'Make It' in the upper right corner and then click 'Continue' in the lower right corner of your screen. Step 5 Place your vinyl, grid-side down, onto your cutting mat and load it into your Cricut® machine. Select 'Vinyl' as your material and follow the prompts to cut. Once the machine has finished cutting, gently peel the vinyl away from your mat. TIP: Watch the left panel in your preview screen so you know what color vinyl to load when cutting. Step 6 Use scissors to cut away the vinyl around the cuts. Step 7 Next, use your weeder tool to peel away the remaining negative space surrounding the strips, circle and monogram. TIP: When you're done, only the vinyl strips, circle and monogram should be left on the backer paper. Set the vinyl name aside. Step 8 Measure your tumbler, vertically, and determine how to evenly space your stripes. Use a pencil to lightly mark. Step 9 Gently peel the vinyl strips, one at a time, from the backer paper and wrap around your tumbler where you want white stripes. Burnish the edges of the vinyl very well so it has a firm bond with the tumbler. Step 10 Paint the exposed center portion of your tumbler with black paint. Use a pouncing motion with a foam brush (included in the prep kit). Let dry and repeat for a thicker second coat. Let dry. Step 15 Paint the black stripes with Mod Podge® and sprinkle a generous amount of black chunky glitter. Let dry. If needed, you can repeat this step to add more glitter. Let dry. Step 16 Remove the vinyl over the white sections. Patch any white paint, if needed. Let dry. Step 17 Repeat Step 15 with white extra fine white glitter over the white paint. Step 18 Put on a pair of the gloves included in the prep kit and mix epoxy as noted in the directions. Mix only what is needed for one layer at a time. TIP: For one layer, use the measuring cups included in the prep kit and measure part A to the first line. Pour it into a clear cup and then repeat for part B. Stir for two full minutes. Be sure to scrape the sides and bottom of the cup when stirring. Step 19 Place your tumbler onto the Spin It™ tool. Adjust the grip as needed for a snug fit. Step 20 Turn on the tool to a slow speed and pour a little of your epoxy mixture onto your tumbler. Spread it evenly. Repeat until the entire tumbler is covered. Turn the speed up a little and run your gloves fingers over the cup in long even strokes to continue to spread the epoxy evenly. Step 21 Allow your tumbler to spin on the Spin It™ tool for four hours. Step 22 To add your monogram, cut a piece of transfer tape that's just a bit larger than the monogram. Peel away the tape's backer paper and place the tape, sticky-side down, over the vinyl. Burnish the vinyl so that it's completely stuck to the tape. Step 23 Gently peel the white backer paper from the cut-out monogram, which now should be stuck to the transfer tape. Step 24 Hold the transfer tape with
https://canada.michaels.com/en/christmas-d%C3%A9cor-guide--cricut%C2%AE-striped-monogram-tumbler/B_88025.html
Products

20000797

20000629

20000629

30198191318
https://canada.michaels.com/en/we-r-memory-keepers-spin-it-chunky-polyester-glitter/10587753.html
Step 1
Create this personalized Striped Monogram Tumbler at home with the easy-to-use Spin It™ motorized rotary drying tool. It has an adjustable grip that fits most tumbler diameters and the rotating arm gives you evenly dried coats on your customized projects. Step 1 Remove the lid of your tumbler and set it aside. Paint the entire outside surface of your tumbler with white paint and let dry. Add another coat and set aside to dry. Step 2 While your tumbler is drying, cut your vinyl. Click here for the design in Cricut® Design Space™. Step 3 Now, click on 'Shapes' in the left panel and click the circle. Size it to 2½" and design your monogram within the circle. Slice out the monogram. Be sure to change the color of your monogram so your Cricut® knows to prompt the color change when cutting. TIP: Use the monogram in the design as a guide and delete before you click 'Make It'. Step 4 Click 'Make It' in the upper right corner and then click 'Continue' in the lower right corner of your screen. Step 5 Place your vinyl, grid-side down, onto your cutting mat and load it into your Cricut® machine. Select 'Vinyl' as your material and follow the prompts to cut. Once the machine has finished cutting, gently peel the vinyl away from your mat. TIP: Watch the left panel in your preview screen so you know what color vinyl to load when cutting. Step 6 Use scissors to cut away the vinyl around the cuts. Step 7 Next, use your weeder tool to peel away the remaining negative space surrounding the strips, circle and monogram. TIP: When you're done, only the vinyl strips, circle and monogram should be left on the backer paper. Set the vinyl name aside. Step 8 Measure your tumbler, vertically, and determine how to evenly space your stripes. Use a pencil to lightly mark. Step 9 Gently peel the vinyl strips, one at a time, from the backer paper and wrap around your tumbler where you want white stripes. Burnish the edges of the vinyl very well so it has a firm bond with the tumbler. Step 10 Paint the exposed center portion of your tumbler with black paint. Use a pouncing motion with a foam brush (included in the prep kit). Let dry and repeat for a thicker second coat. Let dry. Step 15 Paint the black stripes with Mod Podge® and sprinkle a generous amount of black chunky glitter. Let dry. If needed, you can repeat this step to add more glitter. Let dry. Step 16 Remove the vinyl over the white sections. Patch any white paint, if needed. Let dry. Step 17 Repeat Step 15 with white extra fine white glitter over the white paint. Step 18 Put on a pair of the gloves included in the prep kit and mix epoxy as noted in the directions. Mix only what is needed for one layer at a time. TIP: For one layer, use the measuring cups included in the prep kit and measure part A to the first line. Pour it into a clear cup and then repeat for part B. Stir for two full minutes. Be sure to scrape the sides and bottom of the cup when stirring. Step 19 Place your tumbler onto the Spin It™ tool. Adjust the grip as needed for a snug fit. Step 20 Turn on the tool to a slow speed and pour a little of your epoxy mixture onto your tumbler. Spread it evenly. Repeat until the entire tumbler is covered. Turn the speed up a little and run your gloves fingers over the cup in long even strokes to continue to spread the epoxy evenly. Step 21 Allow your tumbler to spin on the Spin It™ tool for four hours. Step 22 To add your monogram, cut a piece of transfer tape that's just a bit larger than the monogram. Peel away the tape's backer paper and place the tape, sticky-side down, over the vinyl. Burnish the vinyl so that it's completely stuck to the tape. Step 23 Gently peel the white backer paper from the cut-out monogram, which now should be stuck to the transfer tape. Step 24 Hold the transfer tape with
+ View More