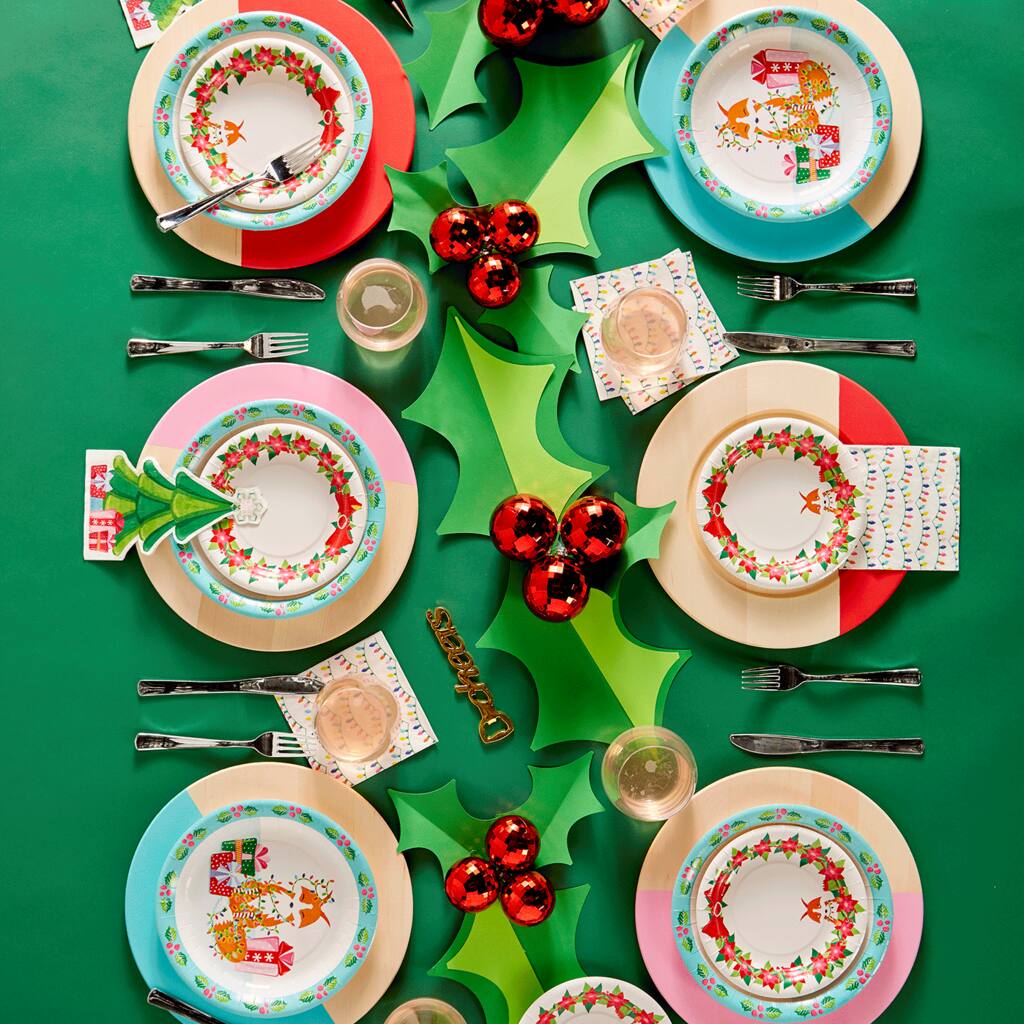 About 30 minutes
Beginner
Beginner
You're new to the skills necessary to complete this project, or maybe you've tried them just once or twice before.
christmas décor guide: color-blocked wood chargers
Add a pop of color to your table wityh these Color-Blocked Wood Chargers! You can match the color of your charger to your Christmas decorations to make your place settings a slightly more formal-but-fun piece of the table. 
Step 1
Add a pop of color to your table wityh these Color-Blocked Wood Chargers! You can match the color of your charger to your Christmas decorations to make your place settings a slightly more formal-but-fun piece of the table. Step 1 Use tape to mark off the charger at various angles. Press firmly. Step 2 Dip a Spouncer™ into your paint and tap the color all over one side of the tape line until the area is evenly covered with paint. Add a second coat, if needed. Step 3 Peel off the tape and let the paint dry. TIP: Do not set food directly on the wood chargers as they are not food safe. Use a dinner plate bewteen the charger and your food. Share your project photos with #MakeItWithMichaels
https://canada.michaels.com/en/christmas-d%C3%A9cor-guide--color-blocked-wood-chargers/B_88274.html
Products

20000629

You'll Need:

1

Color: Berry Red
Size: 2 oz

Color: Berry Red
Size: 2 oz

Color: Berry Red
Size: 2 oz

20000629

You'll Need:

1

Color: Pink Bliss
Size: 2 oz

Color: Pink Bliss
Size: 2 oz

Color: Pink Bliss
Size: 2 oz
https://canada.michaels.com/en/multi-surface-premium-satin-acrylic-paint-by-craft-smart-2oz/10514121.html
Step 1
Add a pop of color to your table wityh these Color-Blocked Wood Chargers! You can match the color of your charger to your Christmas decorations to make your place settings a slightly more formal-but-fun piece of the table. Step 1 Use tape to mark off the charger at various angles. Press firmly. Step 2 Dip a Spouncer™ into your paint and tap the color all over one side of the tape line until the area is evenly covered with paint. Add a second coat, if needed. Step 3 Peel off the tape and let the paint dry. TIP: Do not set food directly on the wood chargers as they are not food safe. Use a dinner plate bewteen the charger and your food. Share your project photos with #MakeItWithMichaels
+ View More