Caron® Latte Cakes™ Yarn
Caron® Latte Cakes™ Yarn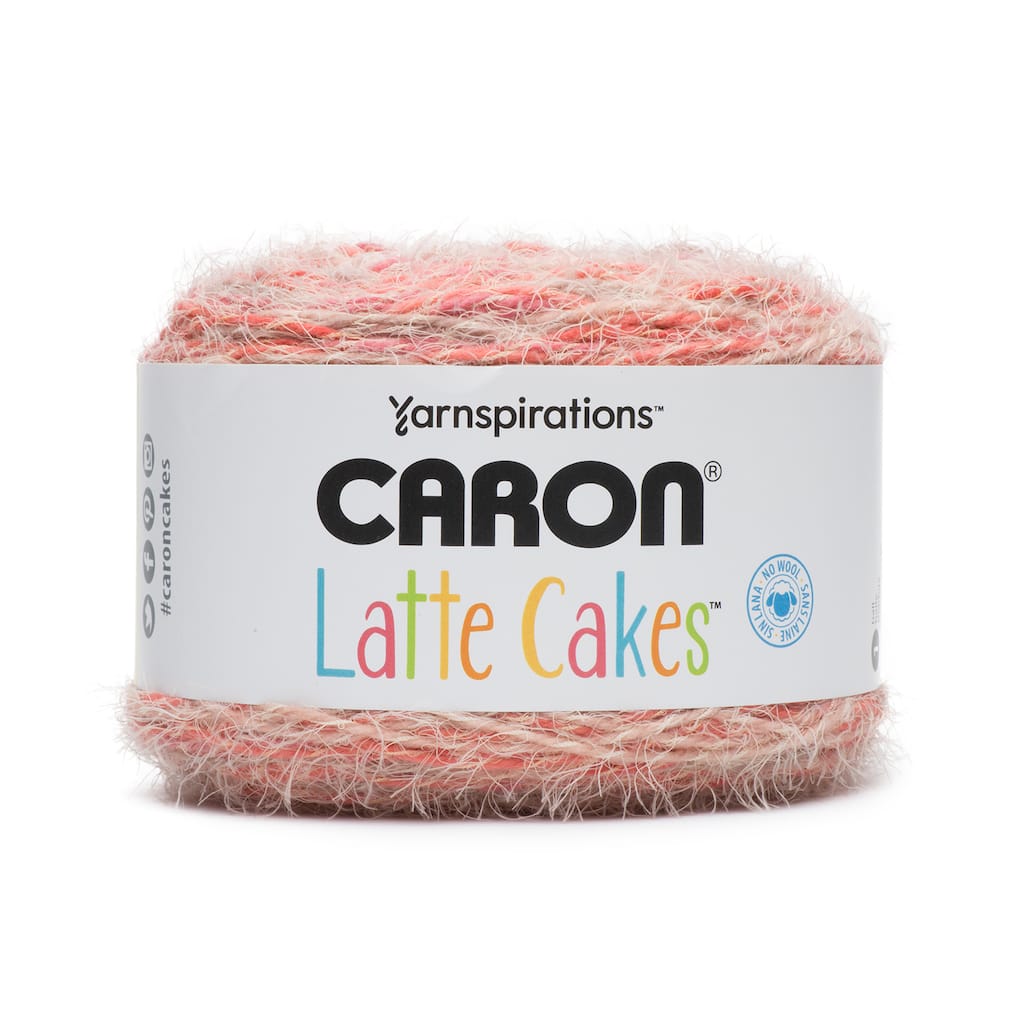 Details
https://canada.michaels.com/en/caron-latte-cakes-yarn/10558461.html
Variations
Please Select a Color

Size:

Please Select a Size
---
Caron Latte Cakes Yarn is a soft and luxurious textured yarn that's self-striping and perfect for creating shawls and accessories. Create luxurious gifs or personal pieces for your home.

Weight: Bulky (5)

Contents: 58% Acrylic, 42% Nylon
Skein Weight: 8.8 oz/ 257 g
Yardage: 530 yd/ 485 m

Knitting Gauge:
15 sts - 20 rows = 4" (10 cm)
Crochet Gauge:
12 sc - 13 rows = 4" (10 cm)

Suggested Knitting Needle:
6.5 mm, US - 10.5
Suggested Crochet Hook:
6.5 mm, US - K/10.5
Caron Latte Cakes Yarn is a soft and luxurious textured yarn that's self-striping and perfect for creating shawls and accessories. Create luxurious gifs or personal pieces for your home.

Weight: Bulky (5)

Contents: 58% Acrylic, 42% Nylon
Skein Weight: 8.8 oz/ 257 g
Yardage: 530 yd/ 485 m

Knitting Gauge:
15 sts - 20 rows = 4" (10 cm)
Crochet Gauge:
12 sc - 13 rows = 4" (10 cm)

Suggested Knitting Needle:
6.5 mm, US - 10.5
Suggested Crochet Hook:
6.5 mm, US - K/10.5
jump
---
Caron Latte Cakes Yarn is a soft and luxurious textured yarn that's self-striping and perfect for creating shawls and accessories. Create luxurious gifs or personal pieces for your home.

Weight: Bulky (5)

Contents: 58% Acrylic, 42% Nylon
Skein Weight: 8.8 oz/ 257 g
Yardage: 530 yd/ 485 m

Knitting Gauge:
15 sts - 20 rows = 4" (10 cm)
Crochet Gauge:
12 sc - 13 rows = 4" (10 cm)

Suggested Knitting Needle:
6.5 mm, US - 10.5
Suggested Crochet Hook:
6.5 mm, US - K/10.5
Caron Latte Cakes Yarn is a soft and luxurious textured yarn that's self-striping and perfect for creating shawls and accessories. Create luxurious gifs or personal pieces for your home.

Weight: Bulky (5)

Contents: 58% Acrylic, 42% Nylon
Skein Weight: 8.8 oz/ 257 g
Yardage: 530 yd/ 485 m

Knitting Gauge:
15 sts - 20 rows = 4" (10 cm)
Crochet Gauge:
12 sc - 13 rows = 4" (10 cm)

Suggested Knitting Needle:
6.5 mm, US - 10.5
Suggested Crochet Hook:
6.5 mm, US - K/10.5
Shipping & Returns
jump
---
Shipping & Returns
Shipping
Most products may be shipped via standard ground (delivered in 3-5 business days) or Expedited (1 business day). Orders placed by 11:00 AM Central Time using the Expedited option will ship the same day. View Full Shipping Policy and Pricing ›
Returns
If your Michaels purchase does not meet your satisfaction, you may return it within two months (60 days) of purchase. To return an item, the item must be new, unused and in its original packaging. You may return the item to a Michaels store or by mail. View Full Return Policy ›
From the Manufacturer
jump
Customer Reviews
Caron® Latte Cakes™ Yarn
is rated out of
5
by
22
.
Rated

5

out of

5
by
SissyKap
from
Easy to work with and very soft but always sold ou
Can never get enough for a large project. All the colors are not available.
Date published: 2020-08-10
Rated

5

out of

5
by
Aloka
from
Made beautiful scarfs!
I bought one Caron latte cake to make a scarf and it turned out beautiful. Since then I have purchased more wool to make more and all of them turned out great, a nice wool to work with and the scarfs are so soft. With self isolation I needed some projects and am well ahead to share some nice gifts next Christmas. :)
Date published: 2020-05-07
Rated

1

out of

5
by
Rambonboo
from
Never in stock
I love the Caron Latte Cakes yarn but you never have it in stock and no one else carries it. What can be done to resolve this issue?
Date published: 2020-05-07
Rated

4

out of

5
by
RIO_D
from
Nice Yarn....BUT...
I crocheted a sweater with this and color controlled it, love the yarn, but all my skeins had knots in them (reason why I only gave it 4 stars), which I had to undo and make a Russian join with them. A few knots I left alone since the yarn is forgiving as far as hiding the knots since it's pretty fuzzy. Frogging was no problem with this yarn, very forgiving, so was the sizing after I made the sweater. Love the colors and really enjoy the yarn. I will make sure not to dry it in my clothes drying and just lay it flat as another reviewer suggested. I will continue to purchase Caron Latte Cakes, love the feel as I work with it, easy on the hands.
Date published: 2020-03-30
Rated

5

out of

5
by
victheart
from
DO NOT MACHINE DRY
I absolutely love the look and feel of this yarn! It is soft, plush, luxurious and easy to work with. It looks like an expensive mohair or Angora yarn to me. Thanks to a previous reviewer, I made a sample swatch, washed it and machine dried on low. It doesn't look or feel the same at all. I would definitely recommend laying your item flat to dry. Another point of interest is that this yarn is called a bulky #5 yarn on the label. I would consider it to be more of a #4 at best. Some might call it even a #3. Many thanks to the previous reviewer. She saved my garment from ruin.
Date published: 2020-02-27
Rated

3

out of

5
by
AuntNoNO
from
Soft and nice to knit with but...
I have worked with 6 different "cakes" now. My finished projects (hat , scarf, poncho) turned out lovely but all 6 cakes had issues. One changed color - noticeably- in the middle of the cake. All 6 were tangled in the middle, It would have to be a very special project to go thru the untangling nightmare again.
Date published: 2020-01-20
Rated

5

out of

5
by
Magicat
from
So soft and squishy!
This yarn is a joy to work with, nice stitch definition, easy to frog, and creates a very plush finished product.
Date published: 2020-01-18
Rated

3

out of

5
by
Philly Mama 57
from
Wonderful but..
Very soft yarn that works into projects that don't look homemade. However, my skein had an entire section that wasn't fuzzy. Cutting that section out would have changed the width of stripes. I didn't ball the yarn, as it's not a habit for my crocheting but I will do so next time I buy this yarn. Bottom line...terrific yarn that needs to be examined before starting a major project.
Date published: 2019-12-29
Rated

5

out of

5
by
Crochet9
from
Excellent Yarn
This is my favorite yarn. I've made hats, cowls, mittens, and shawls. It is very easy to work with and is super soft. I have not had any problem with shedding. Highly recommend! I do wish there were more colors.
Date published: 2019-12-19
Rated

4

out of

5
by
Lenorau
from
Purchased lattes cakes
Love the latte cakes. Hope more color variety is coming soon. Website useablity great. Online purchase great. Only con, shipping charge fee is a bit costly along with extended time to deliver a tad bit longer than expected.
Date published: 2019-12-05
Rated

5

out of

5
by
jmnykrckt
from
Easy to Work With and So Very Soft
I mix this yarn with another finer weight yarn of a similar colour and the result is spectacular.
Date published: 2019-11-14
Rated

5

out of

5
by
K9ann
from
This yarn is wonderful!!
This yarn is sooooo soft and pretty and a joy to work with and even though it is fuzzy, it is not difficult to work with especially if you have to frog something.
Date published: 2019-11-09
Rated

5

out of

5
by
KozyKittyCrochet
from
My favorite yarn
I've been crocheting for 50 years and this is the best yarn I have ever worked with! It's soooo soft and the weight is perfect for making shawls and cardigans, they drape perfectly when finished. I had no problems with shedding or splitting when working with this yarn. I'm so happy they brought it back, I was afraid it had been discontinued permanently
Date published: 2019-10-23
Rated

4

out of

5
by
Ap5545
from
Super soft
Super soft! 4 Stars for softness. Worked up okay, however it kind shed quite a bit, and was messy to work with. The finished products turned out nice and cozy (hat, scarf, mittens)!
Date published: 2019-09-28