Caron® Latte Cakes™ Yarn
Caron® Latte Cakes™ Yarn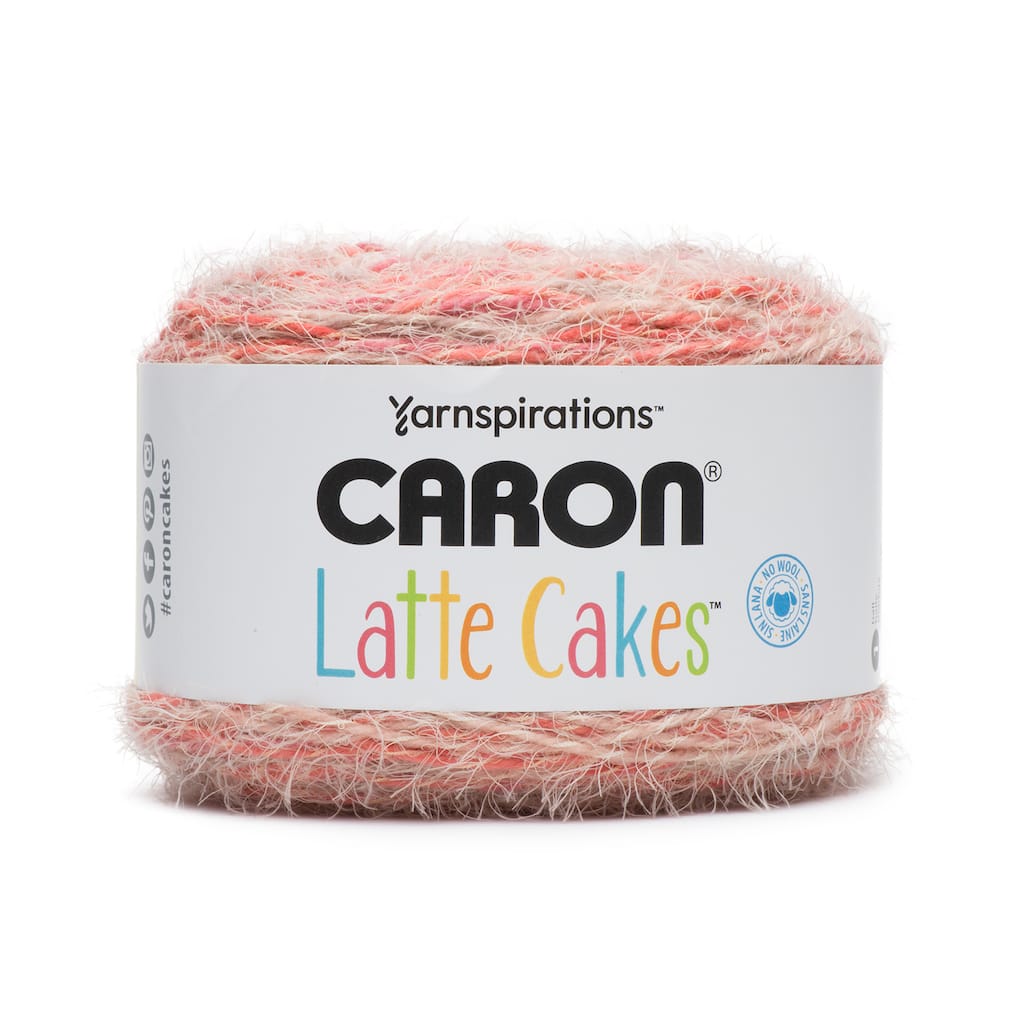 Details
https://canada.michaels.com/en/caron-latte-cakes-yarn/10558461.html
Variations
Please Select a Color

Size:

Please Select a Size
---
Caron Latte Cakes Yarn is a soft and luxurious textured yarn that's self-striping and perfect for creating shawls and accessories. Create luxurious gifs or personal pieces for your home.

Weight: Bulky (5)

Contents: 58% Acrylic, 42% Nylon
Skein Weight: 8.8 oz/ 257 g
Yardage: 530 yd/ 485 m

Knitting Gauge:
15 sts - 20 rows = 4" (10 cm)
Crochet Gauge:
12 sc - 13 rows = 4" (10 cm)

Suggested Knitting Needle:
6.5 mm, US - 10.5
Suggested Crochet Hook:
6.5 mm, US - K/10.5
Caron Latte Cakes Yarn is a soft and luxurious textured yarn that's self-striping and perfect for creating shawls and accessories. Create luxurious gifs or personal pieces for your home.

Weight: Bulky (5)

Contents: 58% Acrylic, 42% Nylon
Skein Weight: 8.8 oz/ 257 g
Yardage: 530 yd/ 485 m

Knitting Gauge:
15 sts - 20 rows = 4" (10 cm)
Crochet Gauge:
12 sc - 13 rows = 4" (10 cm)

Suggested Knitting Needle:
6.5 mm, US - 10.5
Suggested Crochet Hook:
6.5 mm, US - K/10.5
jump
---
Caron Latte Cakes Yarn is a soft and luxurious textured yarn that's self-striping and perfect for creating shawls and accessories. Create luxurious gifs or personal pieces for your home.

Weight: Bulky (5)

Contents: 58% Acrylic, 42% Nylon
Skein Weight: 8.8 oz/ 257 g
Yardage: 530 yd/ 485 m

Knitting Gauge:
15 sts - 20 rows = 4" (10 cm)
Crochet Gauge:
12 sc - 13 rows = 4" (10 cm)

Suggested Knitting Needle:
6.5 mm, US - 10.5
Suggested Crochet Hook:
6.5 mm, US - K/10.5
Caron Latte Cakes Yarn is a soft and luxurious textured yarn that's self-striping and perfect for creating shawls and accessories. Create luxurious gifs or personal pieces for your home.

Weight: Bulky (5)

Contents: 58% Acrylic, 42% Nylon
Skein Weight: 8.8 oz/ 257 g
Yardage: 530 yd/ 485 m

Knitting Gauge:
15 sts - 20 rows = 4" (10 cm)
Crochet Gauge:
12 sc - 13 rows = 4" (10 cm)

Suggested Knitting Needle:
6.5 mm, US - 10.5
Suggested Crochet Hook:
6.5 mm, US - K/10.5
Shipping & Returns
jump
---
Shipping & Returns
Shipping
Most products may be shipped via standard ground (delivered in 3-5 business days) or Expedited (1 business day). Orders placed by 11:00 AM Central Time using the Expedited option will ship the same day. View Full Shipping Policy and Pricing ›
Returns
If your Michaels purchase does not meet your satisfaction, you may return it within two months (60 days) of purchase. To return an item, the item must be new, unused and in its original packaging. You may return the item to a Michaels store or by mail. View Full Return Policy ›
From the Manufacturer
jump
Customer Reviews
Caron® Latte Cakes™ Yarn
is rated out of
5
by
26
.
Rated

5

out of

5
by
Ladylyn
from
Extremely soft!
I initially bought this yarn to add a little something to a dreamcatcher I was going to make, which I did. Several months later, a friend of mine sent me a picture of a hat and it hit me like a ton of bricks what I could do with the remaining yarn I had left over from my dreamcatcher. So off to races I went! I made a hat and I decided I wanted to make an infinity scarf to match. This yarn is sooo soft to work with and I was surprised it did NOT tangle. I still can't figure out why it's called a "bulky" yarn because, to me, it's between a #3 and #4. I haven't washed anything I've made out of it yet, so I can't say one way or the other if it will hold up. But, I decided to make two more sets of hats and scarves, for my granddaughters, so I guess I will have to wait to see if they stand up to a washer and dryer. There is one thing negative I can add. I wish this yarn came in solid colors.
Date published: 2021-09-12
Rated

5

out of

5
by
Crochet entuciast
from
This product is marvelous.
Love the latte cakes. I'm a late comer into the crochet world and I love it. The yarn is amazing to work With I agree with some of the people, you don't have solid .colors but the white.l got into this project now I don't have enough material to work with it and I can't find it nowhere, what am I going to do? You are the only one that carries this yarn. It's so soft and so eazy to work with. Help!!! Love you Michaels but sos!
Date published: 2021-09-05
Rated

5

out of

5
by
Yarnlover74
from
This Yarn is the Creme De La Creme
I Love how soft it is and the way it works up! Just Beautiful!!
Date published: 2021-08-21
Rated

2

out of

5
by
Cindy679
from
Latte cakes and other sales
It's too bad shut-ins can't get the same price as people that can walk into the store and buy these things. The real sales are only happening in the store I cannot buy the same price to have them shipped at home very frustrating all my money spent on medical bills so when yarn I want comes on sale for 99 cents I can't get it in three states around me nobody has it for sale online what's with that
Date published: 2021-08-06
Rated

5

out of

5
by
CynLV
from
Soft and fluffy - my fave!
This yarn is so soft and the eyelash strands make it super fluffy when worked up. It is so smooth it is actually a bit slippery. I switched from metal needles to bamboo to prevent stitches from sliding off my needles.
Date published: 2021-08-01
Rated

4

out of

5
by
Darg
from
Wrong Size Suggested Crochet needle
suggested crochet hook says 6.5mm or R. a 6.5 mm hook is a K hook
Date published: 2021-03-04
Rated

5

out of

5
by
Nevada Nell
from
Beautiful
This yarn is just gorgeous. I'm knitting a simple seed stitch rectangular shawl because I didn't want intricate stitches to take away from the yarn. It's joy to work with. It just glides across my bamboo needles. I highly recommend this yarn!
Date published: 2021-01-23
Rated

4

out of

5
by
Anonymous
from
Great yarn
Love Caron latte cake. Need more solid colors. Where can I find roasted tomatoes and blueberry mist? Need to finish my project!,,
Date published: 2021-01-02