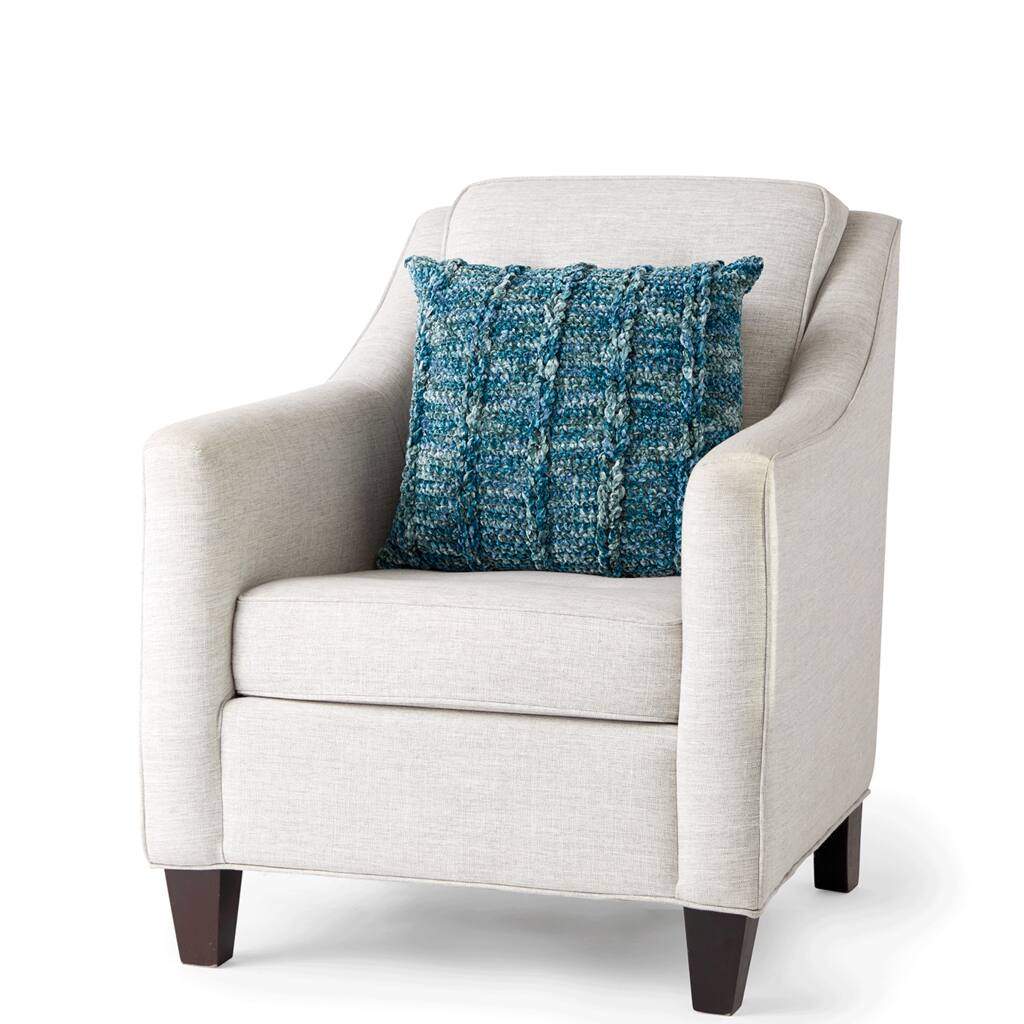 Over an hour
Beginner
Beginner
You're new to the skills necessary to complete this project, or maybe you've tried them just once or twice before.
bernat® crushed velvet™ crochet braidy bunch pillow
A simple-to-work series of single crochet, chains and slipped stitches create this impressive braided pillow. 'Bridges' are achieved using chain stitches and slipped stitches, then looped through each other during finishing to create bold braids. It's a fantastic crochet pillow that's dialed-up with the luxurious effect of Bernat® Crushed Velvet™.
Step 1
A simple-to-work series of single crochet, chains and slipped stitches create this impressive braided pillow. 'Bridges' are achieved using chain stitches and slipped stitches, then looped through each other during finishing to create bold braids. It's a fantastic crochet pillow that's dialed-up with the luxurious effect of Bernat® Crushed Velvet™. FINISHED MEASUREMENT: Approx 20" [51 cm] square GAUGE: 12 sc and 14 rows = 4" [10 cm] INSTRUCTIONS: Ch 83. 1st Row: (RS). 1 sc in 2nd ch from hook. 1 sc in each ch to end. Turn. 82 sc. 2nd Row: Ch 1. 1 sc in each of first 7 sc. *Ch 8. Skip next 8 sc. 1 sc in each of next 7 sc. Rep from * to end of row. Turn. 3rd Row: Ch 1. 1 sc in each of first 7 sc. *1 sc in each of next 8 ch. 1 sc in each of next 7 sc. Rep from * to end of row. Turn. Rep 2nd and 3rd rows for pat until piece from beg measures 40" [101.5 cm], ending on a 3rd row. Fasten off. Chain Links: With RS facing, twist 1st horizontal bar at foundation row to form loop. Draw 2nd horizontal bar through 1st bar without twisting. Rep, drawing next bar through previous bar without twisting until all bars have been worked. Sew last loop to second last loop to secure. FINISHING: Fold piece in half. Sew 2 sides. Insert Pillow form. Sew rem side closed. ABBREVIATIONS: Approx = Approximately Beg = Beginning Ch = Chain(s) Rem = Remain(ing) Rep = Repeat RS = Right Side Sc = Single Crochet Share your project photos with #MakeItWithMichaels
https://canada.michaels.com/en/bernat-crushed-velvet-crochet-braidy-bunch-pillow/B_88394.html
https://canada.michaels.com/en/bernat-crushed-velvet-crochet-braidy-bunch-pillow/B_88394.html
Step 1
A simple-to-work series of single crochet, chains and slipped stitches create this impressive braided pillow. 'Bridges' are achieved using chain stitches and slipped stitches, then looped through each other during finishing to create bold braids. It's a fantastic crochet pillow that's dialed-up with the luxurious effect of Bernat® Crushed Velvet™. FINISHED MEASUREMENT: Approx 20" [51 cm] square GAUGE: 12 sc and 14 rows = 4" [10 cm] INSTRUCTIONS: Ch 83. 1st Row: (RS). 1 sc in 2nd ch from hook. 1 sc in each ch to end. Turn. 82 sc. 2nd Row: Ch 1. 1 sc in each of first 7 sc. *Ch 8. Skip next 8 sc. 1 sc in each of next 7 sc. Rep from * to end of row. Turn. 3rd Row: Ch 1. 1 sc in each of first 7 sc. *1 sc in each of next 8 ch. 1 sc in each of next 7 sc. Rep from * to end of row. Turn. Rep 2nd and 3rd rows for pat until piece from beg measures 40" [101.5 cm], ending on a 3rd row. Fasten off. Chain Links: With RS facing, twist 1st horizontal bar at foundation row to form loop. Draw 2nd horizontal bar through 1st bar without twisting. Rep, drawing next bar through previous bar without twisting until all bars have been worked. Sew last loop to second last loop to secure. FINISHING: Fold piece in half. Sew 2 sides. Insert Pillow form. Sew rem side closed. ABBREVIATIONS: Approx = Approximately Beg = Beginning Ch = Chain(s) Rem = Remain(ing) Rep = Repeat RS = Right Side Sc = Single Crochet Share your project photos with #MakeItWithMichaels
+ View More